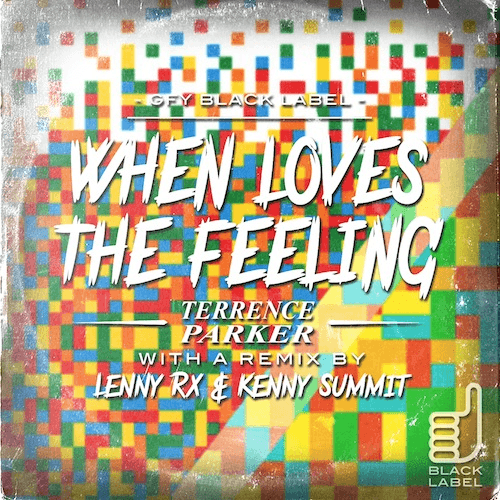 Terrence Parker – When Loves The Feeling
Ok, let's see some hands in the air for some gigantic classic piano house vibes!! Detroit House Music Legend Terrence Parker reveals his monstrous new single 'When Loves The Feeling' for GFY Black label. Armed with pure house feeling and a flavour of "how we used to do..", 'When Loves The Feeling' brings amore right back to dance floor central where it belongs, with it's bumping 90's bass and classic beats laced with highly infectious vocal and classic piano hooks. On remix duty are label boss' Kenny Summit and Lenny RX who inject some punchy beats, dramatic breakdowns to tear the house down!
Terrence Parker is a high respected producer, remixer and DJ of the classic sound of Detroit House Music, He is also known as the pioneer of the music genre known as ³Inspirational House Music²! As a DJ, Terrence Parker (known to many as "TP") has become legendary for his quite uncommon yet skillful turntablism style of playing House Music. TP has performed as a DJ in 27 countries (more than 200 hundred cities) throughout the world. These events range from night clubs, to music festivals with more that 100,000 people. Since 1988, TP has released a huge amount productions on various labels from Studio K7, Network/Six6, KMS, Simply Soul, Deconstruction, Superb Ent, his own first label venture, Intangible Records and major labels – Universal, EMI, Virgin, and Sony/BMG. These include top 20 hit songs, 'Love's Got Me High' (with 2012 remixes by Marc Romboy and Jimpster), 'The Question' and albums including 'Detroit After Dark'.
Terrence's most recent remix projects include Mark Fanciulli's, 'Sacrifice' (Saved Records), Yotam Avni ft. Chris Dockins' 'That's What The World Needs' (Seasons Records) and Rotvic's 'Classic Age' (D-Edge Records). TP also has remixed projects for major recording artists including Kelly Rowland, Vickie Winans, Lyfe Jennings, Michelle Williams, Wyclef feat Akon, Beyonce & Shakira, Kanye West, Christina Aguilera, Shaun Escoffery, Amerie, Chris Brown and many more. Terrence has also been busy working on his own new projects with artists like Reno Ka, Kelly Gunn and Coco Street for his own label, Parker Music Works. His high quality music productions, remixes, and DJ skills have been recognised by organiaations such as the Detroit Historical Museum's History of Techno International Exhibit and Indiana State University's Department Of African American Music And Culture.
GFY Black Label, launched earlier this year, is partnership between LA's Good For You Records boss, DJ and Producer, Kenny Summit and New York native Lenny RX who has been a staple in the underground dance scene in the NYC area for over a decade. So far the guys have unleashed fantastic releases from Angel Moraes ft Chanel 'Stay With Me' and from Techno legend, Misjah with 'Paradisaeidae'. GFY Black Label have forthcoming releases from J Paul Getto, Terrence Parker, Eddie Amador, Tedd Patterson, JR From Dallas, Lenny Rx and Kenny Summit ¬ stay tuned!..