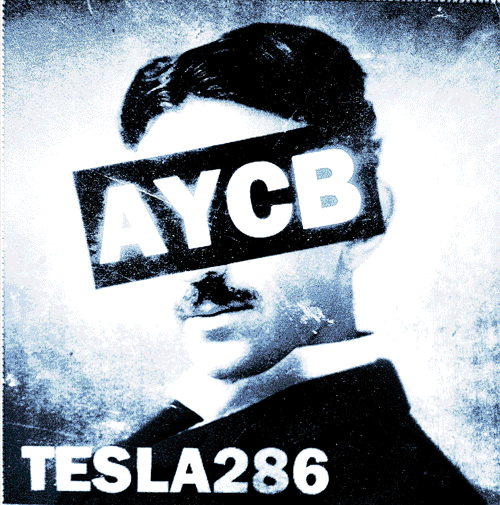 Tesla286 – Zukunft
The Zukunft (future) is over. The machine-dreams has been dreamed, the future shock has lost its terror. Compared to the complexity and contrariness of our technologically advanced presence, the utopias and dystopias of the last century has become a vague description of the here and now. Total monitoring? Check. Cyberspace? Check. A man on the moon? Check! We tried to achieve the future so fast, that our thinking could hardly keep up with it. Newer than now? Difficult to imagine. Also and especially not when it comes to electronic music. The new arises from the old, a well-established method since the brainchild of sampling, gets a whole new quality in an interconnected world. The linearity of time crumbles away in our unlimited digital archives, in which styles and cultures, movement and countermovement are collocated, ever-present in unison. It is sufficient to regroup the set pieces from the past and the present over and over again to connote the new, the forward direction.
Tesla286 just does not do that. The well-known stranger, whom self-mystification just fits the mould every bit as his synonym, stops the clocks and takes a look back. He simulates a past where the future still had a future. The 11 exact electro-replicas of the current album move within the realms of a tight historical framework, somewhere between Asimov, Dopplereffekt and mid-nineties Detroit.
With 'Umlaufbahn' we will be absorbed in the magnetic atmosphere of a planet. 'Tesla's Oscillator' clearly cites Herbie Hancock's ' Rockit' from 1984 and is reminiscent of the futurism of Detroit-electro-wave from a beat of another decade. The title track 'Zukunft' presses every button in the science fiction narratives between Star Wars and the subaquatic warriors of the Drexciya universe. The cold machine rhythm of the hypnotic tracks lead us back again and again to the fears of a generation, which mistrusts and simultaneously promotes technical progress. Not before 'Meteorite over Pankow' strikes a more optimistic tone, which originates from overlooking the imminent extinction of the human race (or at least of Berlin).
Tesla286 has created a fan-fiction version of a long-gone era with 'Zukunft', which reflects our own nostalgic look on the once-upon-a-time-future. We pinpoint that our discomfort over the consequences of the technical progress didn't really change over the last few decades. There is almost a comforting hint to the power of fear over the new, a stabilising human coefficient, which makes this album so newsworthy.
An album of remixes from Zukunft will feature later including remixes from DJedjotronic, Jonas Kopp, Alexander Kowalski, SCNTST, housemeister, Jan Driver, Dave Tarrida and Dinamite.
01. Umlaufbahn
02. Tesla's Oscillator
03. Radius
04. Zukunft
05. Frequency Society
06. Magnetic Fields
07. Robot Love
08. Wurmloch
09. Time
10. Meteroite Over Pankow
11. Telepathie
www.housemeister.info
http://soundcloud.com/tesla286
http://twitter.com/mrtesla286