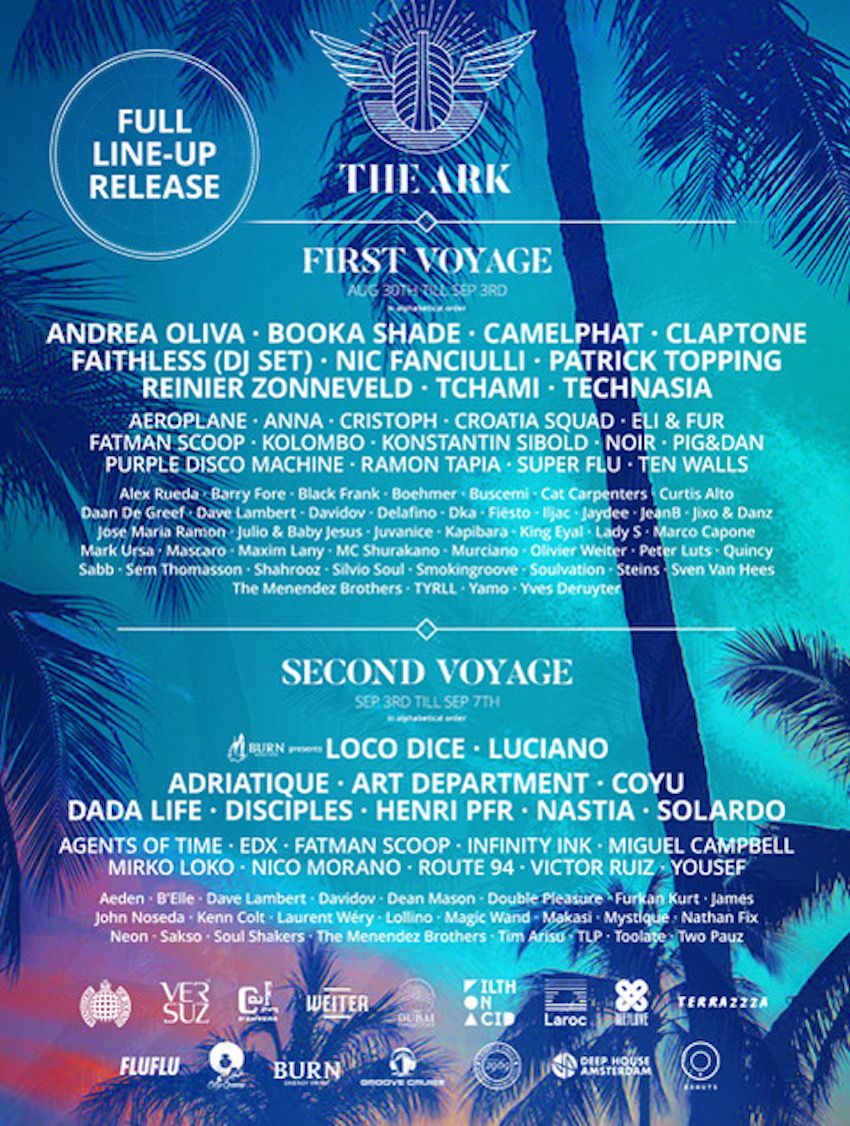 The Ark Cruise Festival Announce Two Cruises & Full Lineup For 2018
111 DJs – 4 stage hosts – 2 voyages
From 30/08 – 03/09 and from 03/09 – 07/09
As the 2018 edition gets ever closer, THE ARK is now revealing the whole of its impressive line-up, featuring 111 DJs over four stages hosted by 15 leading dance brands. The names on the line-up are completely different for both departures (from August 30th to September 3rd and September 3rd to 7th) thereby allowing you to chose the one that best suits you this summer, and each one is a mix of established names and young talents featuring a mix of names such as Booka Shade, Loco Dice, Faithless (DJ set), Nastia, Patrick Topping, Luciano, Nic Fancuilli, Andrea Oliva, Miguel Campbell, Camelphat, Claptone, Yousef and many many more.
More than ever in 2018, THE ARK is focusing on a 'mature sound', so a wide selection of electronic music genres are addressed, with extra attention to house and deep-house. These styles perfectly match the intimate club spirit of the four different stages spread across the stunning Vision of the Seas cruise ship, including an impressive open air stage on the upper deck around the pool.
Those who opt for the first sailing will be presented with names such as Booka Shade, Camelphat, Claptone, Nic Fanciulli and Patrick Topping. All of these big name house tastemakers not only dominate the turntables but also the charts, such as Cameplhat with 'Cola' and Claptone with 'No Eyes'. Best to these, there is also room for a heavy dose of retro with none other than Sister Bliss, the ravishing DJ behind the Faithless hit machine. She makes her appearance for a 'Faithless DJ Set'. There will also be a lot of Belgian DJ stars on board including Buscemi, Sven van Hees and Yves Deruyter and 'young gods' like Curtis Alto and Sem Thomasson.
Passengers who opt for the second sailing will be served by DJs like Adriatique, Art Department, Dada Life, Loco Dice, Luciano and THE ARK's very own Henri PFR. These are assisted by 'hit machines' such as Fatman Scoop and Infinity Ink, and here too, the Belgian sound is well represented with John Noseda, Kenn Colt, Mystique, Neon, TLP, and more.
The ARK consists of more than just parties for this sensational 2018 edition: good food and drink, sport and relaxation, beauty and wellness and discovering the ports and islands where the ship will moor are also an integral part of the experience. Our special guest chefs, mixologists and yoga instructors will be announced next week to add even more temptation to the trips.
Ticket prices start from €149 per person for the shortest package of 2 days / 1 night and from €649 per person for the basic package of 5 days / 4 nights. There is also a 4 days, 3 nights package available from €549.
All practical info and tickets: http://theark.cruises/
Voyage 1 Lineup: Booka Shade – Camelphat – Claptone – Faithless (Dj Set) – Nic Fanciulli – Patrick Topping – Reinier Zonneveld – Tchami – Technasia – Aeroplane – Andrea Oliva – Anna – Cristoph – Crotia Squad – Eli & Fur – Fatman Scoop – Kolombo – Konstantin Sibold – Noir – Pig & Dan – Purple Disco Machine – Ramon Tapia – Super Flu – Ten Walls – Alex Rueda – Barry Fore – Black Frank – Boehmer – Buscemi – Cat Carpenters – Curtis Alto – Daan De Greef – Dave Lambert – Davidov – Delafino – Dka – Fiësto – Iljac – Jaydee – Jean B – Jixo & Danz – Jose Maria Ramon – Julio & Baby Jesus – Juvanice – Kapibara – King Eyal – Lady S – Marco Capone – Mark Ursa -Mascaro – Maxim Lany – Mc Shurakano – Murciano – Olivier Weiter – Peter Luts – Quincy – Sem Thomasson – Shahrooz – Silvio Soul – Smokingroove – Soulvation – Steins – Sven Van Hees – The Menendez Brothers – Tyril – Yamo – Yves Deruyter.
Voyage 2 Lineup: Adriatique – Art Department – Coyu – Dada Life – Disciples – Henri Pfr – Loco Dice – Luciano – Nastia – Solardo – Agents Of Time – EDX – Fatman Scoop – Infinity Ink – Miguel Campbell – Mirko Loko – Nico Morano – Route 94 – Victor Ruiz – Yousef – Aeden – B'elle – Dave Lambert – Davidov – Dean Mason – Double Pleasure – Furkan Kurt – James – John Noseda – Kenn Colt – Laurent Wery – Lollino – Magic Wand – Makasi – Mystique – Nathan Fix – Neon – Sakso – Soul Shakers – The Menendez Brothers – Tim Arisu – Tlp – Toolate – Two Pauz.
​Stagehosts: Age of Love / Burn Energy Drink Residency / Café d'Anvers / City Queens / Deephouse Amsterdam / Filth on Acid / Flu Flu / GROOVE CRUISE / La Folie Douce Méribel Courchevel / Laroc Club / Ministry of Sound / Terrazzza / The Dubai Connection / Versuz / Weiter
​
About The Ark 2018
The Ark 2018 has two different sailing dates from 30/08 to 03/09 and from 03/09 to 07/09. Within these two dates, passengers can choose from six different departure options. We are working together again with cruise company Royal Caribbean International who will use the ship Vision of the Seas. This ship will also be transformed into a luxurious floating festival with no less than four different stages, including an impressive open air stage on the upper deck around the pool. But of course the cruise will consist of much more than parties. Culinary experts will make the guests feel at home in one of the many restaurants and they can use all the facilities of the ship, while THE ARK will add a whole series of extra activities.
http://www.ark.cruises/en
www.facebook.com/theark
www.instagram.com/thearkcruise
Extra activities on board:
Vitality Spa & Fitness Center
Yoga
Beauty Salon
Solarium
Two Pools
Six Whirlpools
Rock-climbing Wall
Mini Golf
Basketball court
Jogging Track
Video Arcade
Outdoor Movie Screen
Boutiques
Movie Theatre
Art & Photo Gallery
Casino Royale