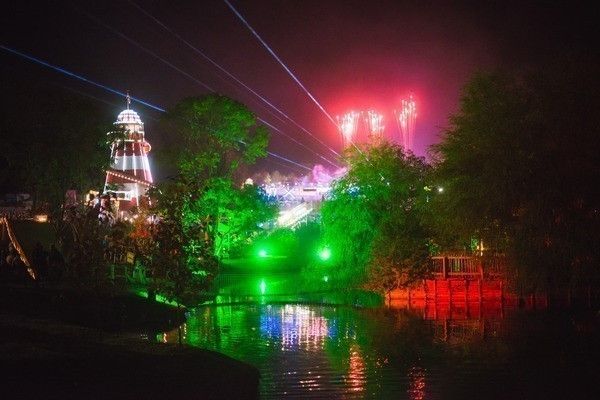 The Best Bestival Ever
Bestival 2014 was a record breaker! Our four-day Desert Island Disco was an incredible paradise filled with the coolest castaways having the best party of all time. Ever.
Rocking our magical Desert Island location and casting their spell across a sea of sequins, we had headline sets from OutKast, Foals and Chic featuring Nile Rodgers, plus unbelievable disco action from Major Lazer, Disclosure, London Grammar, Basement Jaxx, Sven Väth, Annie Mac, Chase & Status, DJ Yoda, and The Cuban Brothers. There was more off the hook dancefloor behaviour at our brain-exploding rave boat The Port, the debut of our Invaders of the Future and Reggae Roots stages, the return of BBC Introducing and the magnificence of The Big Top hosted by BBC 6 Music, making it an incredible year for catching the best music around.
But as ever it's not just about the music, there was food glorious food at the brand new Feast Collective, delicious cocktails at Josie da Bank's Jam Jar Bar, jaw-dropping genius at Caravanserai, glam joy at the Grand Palace of Entertainment, madness and mayhem in the Ambient Forest, pageantry aplenty with the amazing Carnival Parade, and some especially epic fancy dress from you lot, our beloved Bestivalites, who make this festival so special.
Rob da Bank says: "I've just washed the glitter and magic Isle of Wight dust out of my hair for the third time since Monday and all I can think of are all the happy smiling faces of our best Bestival crowd yet. Hedonistic, fun and a bit wonky seemed to sum it up but you guys were looking after each other beautifully tooŠ which after four days of partying is a must! Too many outstanding musical moments from headliners OutKast, Foals and Nile Rodgers, through to Beck, Basement Jaxx and a tear-jerking London Grammar, and too many amazing smaller bands to mention. Away from the noise the Feast Collective set the benchmark for festival food from now on, the Amphitheatre fell in love with spoken word and Shakespeare, we supported and raised money for a shed load of charities and Island ventures and, uh yeah, we broke the world record for the biggest disco ball. Boom! All in all a vintage Bestival, and we're so glad you chose Bestival. Once the dust has settled, do the sensible thing and get onboard for 2015… See you in the magical fields in a year".

And here's what some of the ace acts and Bestival-goers have to say:
"Bestival, you're the best!" – Nile Rodgers (Chic)
"Bestival was absolutely magical last night, thanks to everyone and Rob da Bank". – Foals
"Thank you so much Bestival, the Best of the Festivals!" – Disclosure
"Bestival – the Best festival in the world." – Annie Mac
"This is literally the best way we could finish the summer" – Clean Bandit
"… I swear to god the crowd at Bestival might have been one of the best crowds I ever played for in the UK.. THANK U" – Diplo
"Great end to the festival season at Bestival last night." – Chase & Status
"Wow Bestival was a funking blast!" – Craig Charles
"What a beautiful, f*cking messy weekend this is, this is my favourite festival". – Kate Tempest
"I think this is the most number of people we've ever played for". – London Grammar
"It's so amazing to be back here. I've played three or four times in this tent – if ever there was a festival to end festivals it's this one." – SBTRKT
"Thank you @Bestival nothin like it, most likely the greatest festival on the planet. Ta for havin us, won't forget soon xx". – The Kooks
"Bestival is a really happy place. The energy I witnessed in the short time I was there had a really crazy affect on me. I can't describe it well in words, it was just an intense feeling of 'togetherness'. All I know is that I need to feel that again and I will be back for the whole weekend next year whether I play or not.. I still haven't been able to get Ms. Jackson out of my head. Outkast played it just before I had to leave. Everyone smiling, hugging, on each other's shoulders all singing along together.. it was not easy to drag myself away from that. Thank you for having me, I hope everyone is recovering well!" – Bella Sarris
"Possibly the best weekend I've had, ever". Professor Green
"I am in heaven. Can I move in please? It's SO awesome. Thank you a million times over xxxx". – Edith Bowman
Pushing the boundaries of mind blowing spectacle to new levels, there's also the small matter of our GUINNESS WORLD RECORDS title for the largest Disco Ball. Glittering like a bejewelled colossus in the Magic Meadow, it topped the tape at a record breaking 10.33 metres, it's as high as a three storey building, is covered in 2,500 mirrored tiles that would stretch out for a kilometre if you laid them end to end, and is filled with 350 cubic metres of air; equivalent to one thousand beach balls!
Marking a monumental end to the 11th Bestival, our record breaking joy was followed by the disco kings themselves, Chic featuring Nile Rodgers, and their utterly magnificent Desert Island Disco finale set. Emotional and predictably next level, it was brimming with a pantheon of the greatest hits that have benefitted from Nile's golden touch, and was brought to a close with our legendary and exquisitely beautiful fireworks.
As the dust settles, plans for Bestival 2015's Isle of Wight adventures are already underway and it's going to be a corker! So if you want join us, put 10th – 13th September 2015 in your diary and grab an early bird ticket when they go on sale on Friday 12th September at 9am through Ticketline www.ticketline.co.uk/bestival-tickets / 0844 888 4410
Finally for now, we want to say a massive great big thank you to everyone who came to Bestival 2014 for making it so ace! See you next year!