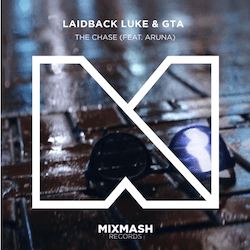 Laidback Luke & GTA - The Chase (ft. Aruna)
Mixmash boss Laidback Luke's massive hit 'The Chase' alongside GTA featuring Aruna has received the remix treatment from a host of promising up-and-comers, with the package due for release on the 8th February. To celebrate its imminent release, two of the five new edits will be available to download for free from the 25th January until the remix compilations release date.
The chosen track giveaways come from KANDY & Herve Pagez and CMC$ & Pyrodox and will be available to download for free via the Mixmash Soundcloud page as a thank you to the fans and a taste of what's to come in 2016!
'The Chase' is the second single from Laidback Luke's latest album, 'Focus', which was released on November 6th via Mixmash – his much anticipated first LP since 2002's 'Electronic Satisfaction'.
CMC$ & Pyrodox put a laidback yet bass-heavy dubstep-influenced spin on the track, whereas KANDY & Herve Pagez's take on the record features attention-grabbing drums from the start.
The remix EP will feature three more edits from HITS 'O' GOOD, Cesqeaux & Mike Cervello and Evangelos & Subshock remix, each with a very different take on the track.
Available to download for free for a limited time only, these two offerings are the perfect sneak peak into the complete remix EP for 'The Chase'!
For more information on Mixmash, please visit:
https://www.facebook.com/MixmashRecords/
https://twitter.com/MixmashRecords
https://soundcloud.com/mixmash-records