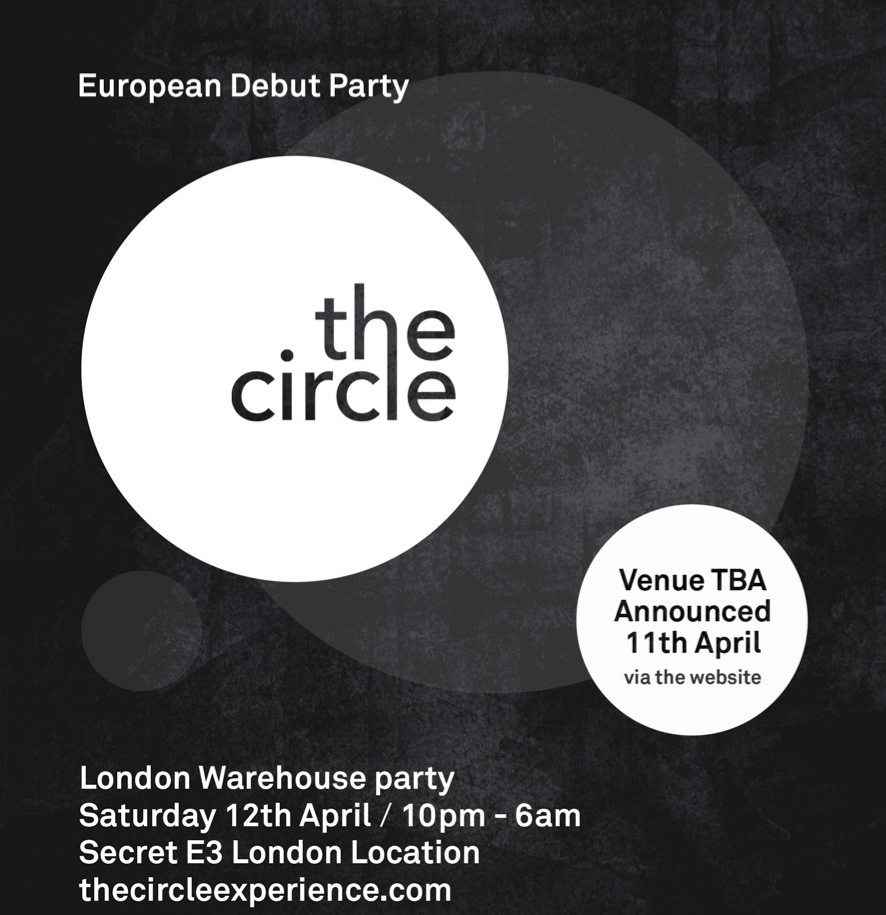 The Circle with Alex Arnout & Clive Henry
On Saturday 12th April, a bold, new and exciting party experience will land in East London, bringing a touch of mystery back to the capital's underground clubbing landscape. Boasting a world class line up featuring sets from Alex Arnout and Clive Henry, The Circle will also showcase a wealth of added production guile too; aerial acrobats, on stage performers and a 'bouncing room', housing a mysterious inflatable structure that has to be seen to be believed, are all to be drafted in to add to the unique make-up of the night. From the cavernous rooms of a secret E3 location, The Circle is set to send shockwaves across the capital.
Officially registered The Circle members attend for free and are set to walk into a party like nothing they will have experienced before. Not only will it feature an extraordinary mix of leading international artists, The Circle will also transform a secretive East London space into the ultimate rave utopia, offering up a sensory feast of music, art and live performance.
On music duties will be a line up of truly world class artists, representing a diverse cross section of both house and techno, with CircoLoco regular and FUSE resident Alex Arnout set to top the bill. No stranger to the London scene, Alex cut his teeth in Ibiza and has spent the past two decades playing some of the world's biggest clubs. Following up in room one will be fellow DC-10 resident Clive Henry, who, after pioneering his own brand of tech-house as one half of Peace Division, has become a regular feature at some of London's most revered parties. Support will come from talented DJs Darren Doherty and James Jackson.
Leading proceedings in room two, Mihai Popoviciu is considered one of the most innovative eastern European producers of electronic music today. His first vinyl release in 2005 was snapped up by DJ Hell's Gigolo Records, with further releases on esteemed labels such as Diynamic, Hudd Traxx and Fear Of Flying cementing his reputation on the scene. Alex Celler is set to represent the deeper tech-house sound alongside respected residents Marcelo Demarco and The Brisboys getting the party started in style.
For information on how to register as a member of The Circle, please visit their website or official facebook page or alternatively, for guaranteed entry tickets can be purchased from Resident Advisor – See below for links.
Area 1: Alex Arnout // Clive Henry // Darren Doherty // James Jackson
Area 2: Alex Celler // Mihai Popoviciu // Marcelo Demarco // Brisboys
Buy tickets here: http://bit.ly/1ctP7jx
For more information on The Circle, please visit:
http://www.thecircleexperience.com/
https://www.facebook.com/be.in.the.CIRCLE