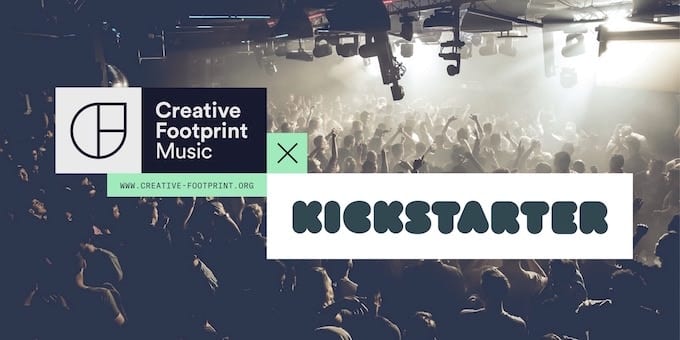 The Creative Footprint fights club closures with Kickstarter
The Creative Footprint (CFP) fights negative gentrification, one nightclub at a time.

The innovative new project from Berlin's Clubcommissioner Lutz Leichsenring and Amsterdam's Night Mayor Mirik Milan has officially launched in New York City. The extensive study involves gathering data about every single music venue in NYC, and works closely with the city's nightlife scene to find solutions to problems around gentrification.

Following the successful repeal of the city's institutionally racist Cabaret Law and the announcement of a new Office of Nightlife, New York City is entering an exciting period of activism after dark. The Creative Footprint brings 15+ years of experience from two of the world's foremost nightlife experts to the city's vibrant movement, and will arm the scene with necessary data to better protect itself.

Using foundational data from official partners Resident Advisor and Ad Hoc, CFP hired 18 New York-based data researchers and works with local experts (venue owners, promoters, and artists) to analyze and verify the data. The end result will be a rich insight into the current live music and clubbing landscape of New York, and a vital look at the true effects of negative gentrification on the city's diverse nightlife scenes.

"It's very rare that creative scenes have enough data to support their arguments when it comes to gentrification," notes Leichsenring, himself a former venue owner in Berlin and the official spokesperson for the 220-member Clubcommission since 2009. "The Creative Footprint is a way for us to work with communities to gather their data and hold governments and developers accountable for how they affect their scenes."

The team will present their findings in Q1 of 2018 at NightCamp—a two-day intensive workshop series which brings together promoters, venue owners, stakeholders, government representatives and global nightlife experts. Backed by Lutz and Mirik's vast experience influencing city politics, NightCamp combines policy, data analysis and grassroots organizing to bring active solutions to problems, and helps to shape the agenda of the city's incoming Office of Nightlife.

Today, the Creative Footprint launched its Kickstarter campaign to fund NightCamp NYC. Patrons can donate to receive NightCamp tickets, as well as tickets to seminal NYC clubs/promoters Output, House of YES!, TBA, Avant Gardner/Brooklyn Mirage, Good Room, Friends & Lovers, Brut and Twice As Proper, all of whom are official partners and supporters of the project.

NightCamp will be a workshop series that engages attendees in establishing the most pressing problems highlighted by New York's music scene (e.g. making your illegal space legal, overcoming zoning regulations, coalition building, NYPD relations etc.), and will pair the nightlife community with relevant city officials, and help to bridge the natural gaps that exist in the scene.

"In Amsterdam, we have seen the positive results that occur when you bring all of the voices—from the highest rungs of the city government, to the kids in line for the club—to the table," explains Milan, a longstanding party promoter-turned-Night Mayor of Amsterdam. Widely considered the first Night Mayor figure, he has played an instrumental role in bringing the nightlife advocacy movement worldwide. "Positive change can really occur when you have diverse opinions and open minds."

+ About Lutz Leichsenring

Lutz Leichsenring is the founder of the Creative Footprint, and one of the world's leading authorities on protecting creative industries.

Since 2009, Lutz has been the spokesman and executive board member for the Berlin Clubcommission. He has fought tirelessly for the rights of Berlin's vast underground club scene by organizing demonstrations, conferences, workshops and by speaking at round tables and parliamentary committees.

+ About Mirik Milan

Mirik Milan is the current Night Mayor of Amsterdam, and longtime creative director of some of the Dutch capital's most celebrated events.

Since 2012, he has played an instrumental role in the reshaping of Amsterdam's nightlife scene into one of the most vibrant and economically robust in the world. His innovative position is fast becoming replicated in major nightlife-focused cities around the world, like New York, Paris and London.