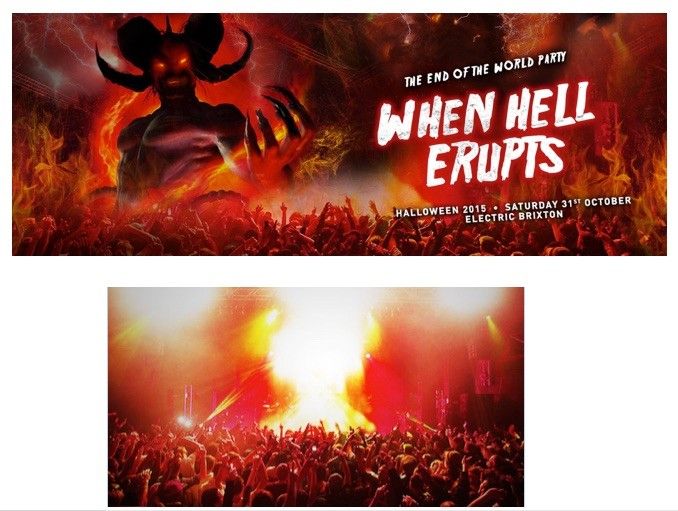 The End Of The World Party comes to Electric Brixton
Having smashed 8 recent sell out choker block London End of the World Parties, the crew are back in town for one spectacular night only, of course…HALLOWEEEEEEN

But…do you want the good news or the bad news?

The bad news is that on Saturday 31st October, Satan himself will be breaching Hell's Gates and releasing it's depraved hoards of evil demons into London.

The good news… Well there isn't any.

However, while the rest of the world freaks out and cries and stuff, we're going to gather together all the people we love, lock ourselves in the Electric Brixton, barricade the doors, get smashed, and party for as long as we can until The Devil and his minions come and destroy us.

Alongside The End Of The World Parties resident DJ's playing your last requests, the night sees a special show from 'The Church' https://vimeo.com/117852095.

They bring their raucous interactive party experience and parody of a Deep South Pentecostal church brimming with the best soul, blues and disco tunes to the End of the World, fresh from festivals including The Secret Garden Party, Isle of Wight Festival, Bestival and the Edinburgh Fringe. Think Sister Act on speed!
So, if you want one last chance to live out your dreams, come to the party to end all parties, aka your last night ever.

The End Of The World Party is about living tonight like it's your last night ever. No holding back. No regrets. Do what you always wanted to do. Be who you always wanted to be and dance until you explode.
DRESS CODE:

It's Halloween people, you know the deal. But it is the End of the World after all so it's probably best to look incredible. Nobody wants to die looking like trash.
MUSIC POLICY:
It's your last chance to dance, so you choose the music. Post the tracks you want to hear on the event wall. They can be any era, any genre. Pick your ultimate party tunes, no misery!
ALSO FEATURING:

A raucous interactive live show from The Church // Ultimate party tunes to see the end of the world in // Confession Wall // Ego Massage Last Ever Selfie // lots of unnecessary amounts of serious Satan glitter

Don't miss out on the early bird tickets & all the latest End Of The World news:
www.ENDWORLDPARTY.com