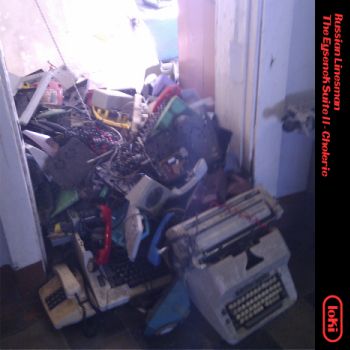 Russian Linesman - The Eysenck Suite II – Choleric
The Russian Linesman makes music to capture his feelings and emotions – an audio diary, comprising analogue sounds fully enclosed in a digital sarcophagus. The catalyst for this latest, bold, four-part musical project was located in a tattered old book (unearthed from his parents' loft) and explores the psychology of Hans Eysenck's four temperamental categories and the emotions they encompass, a project that the British Psychological Society have already endorsed in their recent review of 'Suite I' here:http://thepsychologist.bps.org.uk/finding-melancholic-balance.
This ambitious and intriguing project has also already resulted in an in-depth Russian Linesman feature for 'Suite I' at leading leftfield site Ransom Note: http://www.theransomnote.com/music/track-by-track/track-by-track-russian… a wide-ranging interview at DMCWorld: http://www.dmcworld.net/uncategorized/russian-linesman, along with guest mix slots at respected radio stations Sonica FM (Ibiza) and FM4 (Austria), with much more to come, including 'An Evening With…' feature for BBC 6Music's excellent Nemone's Electric Ladyland show.
A disparate collection of respected DJs and Producers including Max Cooper, Steve Miller (Afterlife), C-Jay (Bedrock), Samy Birnbach (DJ Morpheus), and Quivver (on John Digweed's Transitions Radio Show), have also been incredibly supportive of this enigmatic artist, who has become a somewhat cult figure over the past eleven years, crossing paths with other mavericks such as James Holden, Nathan Fake, Ryan Davis, Applescal and Laurent Garnier, along the way.
'The Eysenck Suite II – Choleric' is the second instalment of this experimental aural jigsaw puzzle and is focused on the Russian Linesman's musical interpretation of the choleric temperament that is characterised by an anxious and sometimes aggressive temper, resulting in restless behaviour that eventually gives way to periods of impulsive and optimistic activity. The name refers to the unsettled burning yellow bile in the stomach of a troubled soul. As a visual reference point, the Linesman has selected one of his travelogue photographs taken at an abandoned communist prison in Tallinn (Estonia) as the artwork for this release (see above). This EP is not intended to be a comforting listening experience.
"I have tried to encapsulate that feeling of things starting to spiral out of control. Delayed homeward bound train journeys… Over-caffeinated fidgeting in confined spaces… Standing in the snow too long on a cold October night… Existing in our media bubbles, our horizons narrower than ever before. This EP is going to try and take its pound of flesh, just like the choleric temperament does." – Russian Linesman
Although he use's James Holden's favourite software – Jeskola Buzz – the Russian Linesman writes all his music on acoustic guitar and piano, harking back to a past spent touring as an acoustic singer/songwriter playing folk music. This ethos has evolved into recording with vocals as well, before everything is heavily edited and drowned in electronic sounds.
"I find this method of writing allows me to find more curious melodies and give the songs an organic spine. I use lots of found sounds too, with the intention of recreating feelings and settings for my stories. Some of the finished songs still contain snippets of the vocals, guitars or pianos, while others will be fully enclosed in a digital sarcophagus." – Russian Linesman
A musical diarist who deeply values his chosen form of expression as art inspired by his physical and emotional travels through life, he has released numerous singles, EPs and two studio albums. For the uninitiated to gain an insight into the workings of the Russian Linesman's mind, his last album ('Nostalgia Story' 2013) was a sprawling thirty-seven-song flood of inspiration that was recorded live in one take, whereas 'The Eyesenck Suite I-IV' is the result of four solid years of dedicated writing and numerous re-records.
"Sonically and musically, I finally feel I have conclusively recreated what I have been feeling in my head all this time." – Russian Linesman
This new series of four EPs will be released at bi-monthly intervals throughout the year:
The Eysenck Suite I Melancholic (loki010) – Released 27th March 2017
The Eysenck Suite II Choleric (loki011) – Release Date 29th May 2017
The Eysenck Suite III Sanguine (loki012)
The Eysenck Suite IV Phlegmatic (loki013)
More Info:
www.twitter.com/russianlinesman
www.soundcloud.com/russianlinesman
https://soundcloud.com/lokirecordings
www.residentadvisor.net/dj/russianlinesman
www.discogs.com/artist/447757-Russian-Linesman
https://www.beatport.com/label/loki-recordings/15992
https://play.spotify.com/artist/3sIH8lHWLGHJMenpRCSmMv
https://www.facebook.com/Russian-Linesman-42077279998/