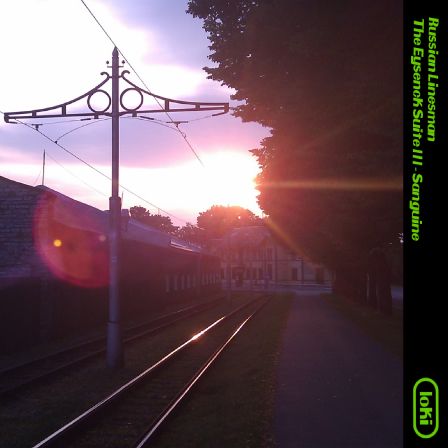 Russian Linesman - The Eysenck Suite III – Sanguine
A reviewer recently described the Russian Linesman as a "modern day composer", and that's a description that fits well with his creative ethos. 'The Eysenck Suite III – Sanguine' is the third in a series of four EPs – 'The Eysenck Suite I-IV' – that explore the psychology of Hans Eysenck's four temperamental categories and the emotions they encompass, a project that the British Psychological Society have already endorsed in their recent review of 'Suite I' here: http://thepsychologist.bps.org.uk/finding-melancholic-balance.
This new series has already seen the enigmatic artist receive support and plaudits from a disparate collection of respected DJs and Producers, including Max Cooper, Steve Miller (Afterlife), C-Jay (Bedrock), Nemone (BBC 6Music), Samy Birnbach (DJ Morpheus), and Quivver (on John Digweed's Transitions Radio Show). The Russian Lineman has become a somewhat cult figure over the past eleven years, crossing paths with other mavericks such as James Holden, Nathan Fake, Ryan Davis, Applescal and Laurent Garnier, along the way.
'The Eysenck Suite III – Sanguine' is the next instalment of his experimental aural jigsaw puzzle and is focused on the Russian Linesman's musical interpretation of the sanguine temperament that is characterised by cheery optimism – the type of people whom are pleasant to be around. According to the Greeks, the Sanguine type has a particularly abundant supply of lifeblood. This 3rd EP is characterised by a jubilant and wholesome sound. Forget the past, the future shouldn't be a burden, just enjoy the now.
A musical diarist who deeply values his chosen form of expression as art inspired by his physical and emotional travels through life, the Russian Linesman has released numerous singles, EPs and two studio albums. For the uninitiated to gain an insight into the workings of the Russian Linesman's mind, his last album ('Nostalgia Story' 2013) was a sprawling thirty-seven-song flood of inspiration that was recorded live in one take, whereas 'The Eyesenck Suite I-IV' is the result of four solid years of dedicated writing and numerous re-records.
"Sonically and musically, I finally feel I have conclusively recreated what I have been feeling in my head all this time." – Russian Linesman
Although he use's James Holden's favourite software – Jeskola Buzz – the Russian Linesman writes all his music on acoustic guitar and piano, harking back to a past spent touring as an acoustic singer/songwriter playing folk music. This ethos has evolved into recording with vocals as well, before everything is heavily edited and drowned in electronic sounds – an audio diary, comprising analogue sounds fully enclosed in a digital sarcophagus. A recent Q&A with Magazine Sixty gives even more insight into his methods: http://www.magazinesixty.com/russian-linesman-qa/
More Info:
www.twitter.com/russianlinesman
www.soundcloud.com/russianlinesman
www.soundcloud.com/lokirecordings
www.facebook.com/Russian-Linesman-42077279998/
www.residentadvisor.net/dj/russianlinesman
www.beatport.com/label/loki-recordings/15992
www.discogs.com/artist/447757-Russian-Linesman
https://play.spotify.com/artist/3sIH8lHWLGHJMenpRCSmMv