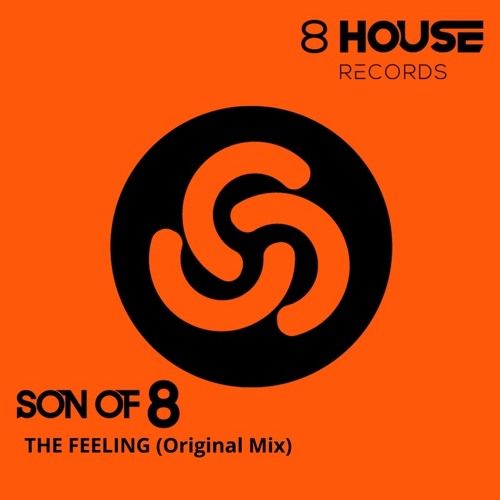 Son Of 8 - The Feeling
Son of 8's recent overhaul of releases on 8 House Records has demonstrated their relentless ability to bang out production after production, with each one dipping in and out of experimental house sounds from a whole plethora of influences. However, this is only just the beginning. Their next instalment, 'The Feeling' represents everything that 8 House stands for – underground house music at its best. A duo of tracks that delve into tech and deep house sounds, with a sprinkling of electro thrown in for good measure. The label owners have taken standards to a whole new level with this release, and it's easy to see why Oliver Heldens, Don Diablo, and Pep and Rash have supported them in the past.
Full of groove and swing, the Original Mix's vocal hook fits perfectly with the stabbing, jaunty synth movements that allow the track to flow. With euphoric summer-worthy moments throughout, this record would fit perfectly in an underground basement club or being boomed out of a terrace over-looking a beach. A flawless production that lives up to Son of 8's ever-growing sterling reputation. On producing 'The Feeling,' they said:
"The Feeling' Original Mix was a track we did a year or two ago when we were working with a lot of great deep house sounds in the studio that we had made. Future house was very in vogue and was including our production as there were some great tracks out along those lines that we liked. We blended that with a classic house vibe and a vocal we had sitting in the studio for a while. We decided to bring it bang up to date with our club mix putting in a lot of the tech sounds, vocal distortion, and a heavy bass line that is similar to our recent releases that have really been working in the club."
The Dub Mix focuses on a more minimal approach. A stripped back vocal with a bass-heavy backbeat that embraces a tech-house vibe from the off. This one will do some serious damage on the dancefloor with its classic build-ups and devastating drops that will have the room shaking in no time. A fist-pumping banger of a record, that although has its own feel and style, still somehow maintains the unmistakeable raw energy of Son of 8 – this is a craft that they have well and truly mastered. On the Dub Mix they said:
"For the Dub Mix we took influence from the tracks we play out. We are really supporting a lot of DJs at the moment with a house and tech house cross vibe. If you listen to our weekly radio show 'Our House' you can get a feel for the style that we DJ in our weekly Super 8 mixes on the show."
Excelling themselves with every release, it's easy to see why Son of 8 and 8 House Records are making such monumental waves over such a short space of time. Big sounds for big stages, you'll be soon be having 'The Feeling' with this EP.
Son of 8
https://www.facebook.com/sonof8/
https://twitter.com/sonof8music
https://soundcloud.com/sonof8
8 House Records
https://www.facebook.com/8houserecords/
https://twitter.com/8houserecords
https://soundcloud.com/8houserecords