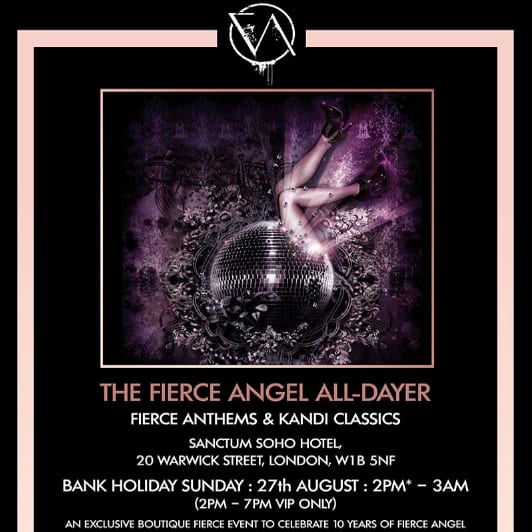 The Fierce Angel: 10 Years Fierce (Charity Event)
Fierce Angel are back end of August for their biggest bank holiday event to date! The Label are celebrating 10 years of supplying quality tunes and more importantly to raise money for the 'Traunts' Charity which help children in need. This charity works in conjunction with great charities such as Childline, NSPCC, Teenage Cancer Trust and Nordoff Robbins. Make sure you get yourself involved! This will be the very last charity event of the year. Here you will be joined the legendary Hed Kandi crew including Stonebridge, Mark Doyle, Andy Norman, Matt Collins & Paul Wilkins, plus Francis Radick Ronan, Adam Hornblow, a Very Special Live PA from one and only Katherine Ellis.
The day will consist of a VIP afternoon of Bottega Balearic Beats up on the roof terrace, and a night of club classics in the main room. All the classic anthems from the early days of Head Kandi through to the last 10 years of Fierce Angel. You are guaranteed a fully Fierce experience, with lashings of glitter and glamour and the finest partygoers!
Fierce Angel's three previous parties have raised over £6k for our selected charity 'Truants' which consists of the charities: Nordoff Robbins, Childline / NSPCC and The Teenage Cancer Trust. Their auctions have also seen people acquire limited edition merchandise, recording sessions, holidays and limited edition artwork. This is truly an experience not to miss out on!
THE FIERCE ANGEL: 10 YEARS FIERCE (CHARITY EVENT)
[SUNDAY 27TH AUGUST]
You can buy your tickets here
https://skiddle.com/e/13011237
Fierce Angel Online
http://www.facebook.com/fierceangels
https://www.thefutureisfierce.com
http://www.sanctumsoho.com