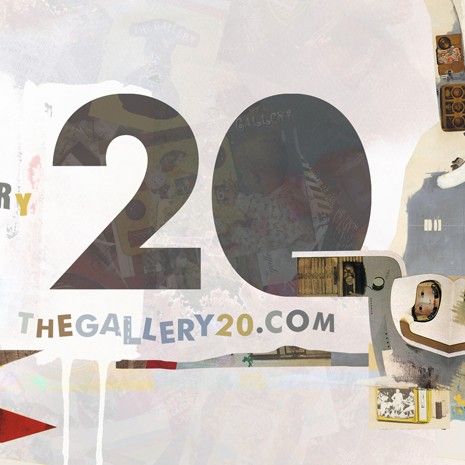 The Gallery celebrates 20 Years
The Gallery celebrates 20 years with 4 special parties.
The Gallery celebrates its landmark twentieth birthday with a flagship anniversary party at Ministry of Sound on Friday 10th April and 3 other parties on The Road To The Gallery's 20th. These include a riverboat party with Aly & Fila on Friday 27th February, a free members' party at Ministry on Friday 20th March, and an exclusive members party and one-off retrospective exhibition at Paperworks in Elephant & Castle on Friday 3rd April.
A milestone seldom reached in clubland, it holds special significance for London's clubbers – an occasion to evoke laser tinged memories across two decades. What started off at Turnmills in 1995 for a one-off gathering of just fifty people has grown to what can legitimately be considered the biggest longest running weekly Friday night on the planet. Now based at Ministry of Sound after moving south of the river in 2008, The Gallery will continue to provide the capital's electronic music soundtrack for the next twenty years and beyond
Having welcomed esteemed resident DJs down the years including Judge Jules, Sister Bliss of Faithless, Sander Van Doorn, Tall Paul and Markus Schulz (the latter two of which are current residency holders), The Gallery gave notable London club debuts to some of the world's biggest DJs, including Tiesto and Armin Van Buuren amongst others. But with a fan base famous for its loyalty, the night has forged a reputation for being more than just music, providing an unrivalled sense of dancefloor unity and the catalyst for lifelong friendships and even the odd marriage or two.
However, birthdays aren't just for reminiscing about good times gone by. It's important also to look towards the future, a central part of The Gallery's the forward thinking ethos that's helped them cement such a renowned legacy. In addition to the weekly club shows, The Gallery will curate a number of special and one off events to begin the celebrations early, and to give something back to The Gallery faithful, as a thank you for their unwavering support over the past twenty years.
This road to the 20th anniversary culminates on Friday 10th April at Ministry of Sound, welcoming Gallery favourites W&W. After tireless efforts to secure Willem and Wardt for this momentous occasion, the Dutch duo returns for a first time since December 2013. Where a capacity crowd witnessed one of the Ministry's most memorable festive celebration! Expect a customary energetic performance from the duo, crowned by those obligatory classics for an emotional birthday sing along.
Head to the birthday mini-site for more information, The Gallery timeline, memories and more:
http://thegallery20.com/
THE ROAD TO THE GALLERY'S 20TH BIRTHDAY:
Fri 27th Feb – All Hands On Decks VII
River Thames
Boat party with Aly & Fila
Friday 20th March – Free Gallery Members Party
Ministry of Sound
Andy Moor V Lange, Rank 1, plus special guest Heatbeat

Friday 3rd April – Re_Generate
An exclusive 20th birthday party and one-off retrospective exhibition for Gallery members, featuring vintage artwork and music from the past two decades. At The Paperworks venue in Elephant & Castle – situated next to Ministry of Sound. Very special DJ Guests TBA.
The Gallery 20th Birthday at Ministry of Sound Friday 10th April
The Box:
W&W plus special guests
Did You Know? Gallery 20 Years Trivia!
1. The Gallery has played over 480,000 records throughout its twenty-year reign.
2. Over 1.5 million clubbers have passed through The Gallery's hallowed doors.
3. The Gallery has hosted DJs from over 50 countries around the world.
4. Bizarre items handed into The Gallery's lost property include a prosthetic leg, prescription spectacles and a tin of Heinz Baked Beans.
5. Following a motorbike accident, DJ Steve Lee once played sitting down, with his leg in plaster resting on a cardboard box.