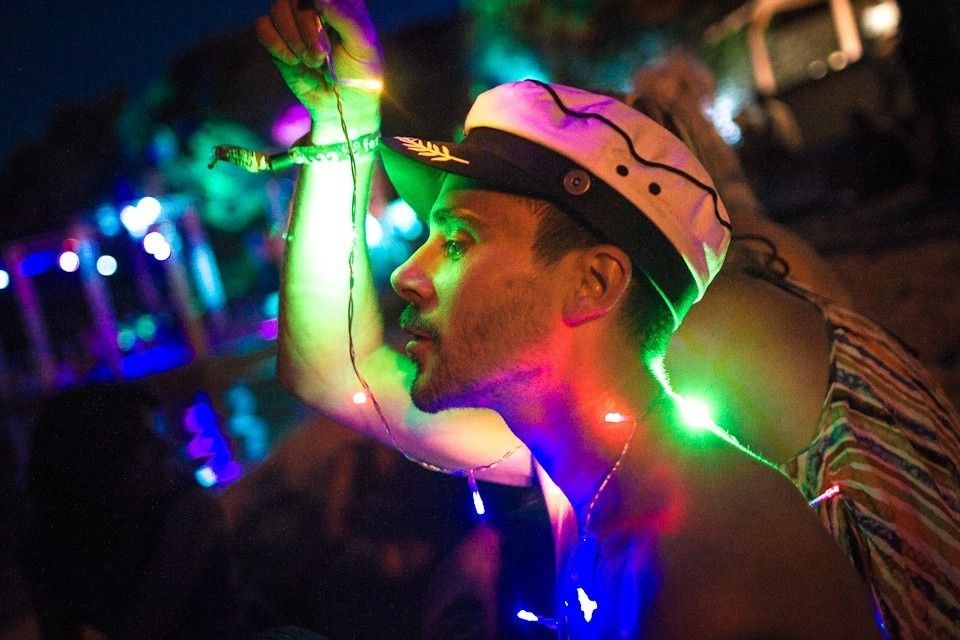 The Garden Festival and Electric Elephant Croatia – Double Whammy News
Two of Croatia's founding Adriatic odysseys, The Garden Festival and Electric Elephant, take place across the 2nd – 9th and 10th – 14th July respectively. Entering its 9th season, The Garden Festival inspired the whole now burgeoning scene in Croatia, and Electric Elephant followed a couple of years after, and reaches its 7th year in this summer. Remaining sublimely intimate, open-minded and warm-hearted, they both offer unique experiences in a truly mesmerising setting in Tisno on the Dalmatian coastline. Individually harnessing together the finest elements of a festival and holiday experience as one, they also offer special Double Whammy tickets for £150 for both events, sound-tracked by a global roster of live music and DJs across a vibrantly wide palette of sounds to dance under the sun and stars.
First up is Garden fave Theo Parrish who returns to the party. And this time he is not alone with Teddy's Get Down, playing a live set with full band for the first time in 10 years. He is bringing a brilliant quartet of support around him for his new show, featuring Amp Fiddler on keys, Akwasi Mensah on bass, Duminie DePorres on electric guitar and ex-Electric Wire Hustle member Myele Manzanza. This promises to be something very special indeed on Monday 7th July at The Garden Festival.
Over to Electric Elephant; as well as playing a very special extended 6 hour set on Sunday at the beautiful Beach Bar and also playing at Barbarella's on Wednesday 9th July, New York's Deep Space resident Francois K has just been announced for special Monday boat party upon the legendary Argonaughty. Tickets go on sale here from Thursday 29th May: http://www.skiddle.com/whats-on/Croatia/The-Garden/Mon-Daytime-Boat-Monday-Mystery-Boat-with-Francois-K-(Deep-Space)-amp-Joe039s-Bakery/12166154/
And this weekend over the 23rd-25th May, a little further north along the coast, The Garden Zadar reopens for the summer. Perched upon the historic walls of the stunning old city, The Garden is a fully outdoor bar and restaurant serving great food and drink all day and long into the night. This is the place which opened before The Garden Festival, and saw the very first pioneers coming over to the country, and inspired what is now one of the world's epicentres for music festivals. Check here for more info: www.facebook.com/events/1499328820295318
And finally there are still a variety of options for cheap flights to Croatia for both festivals, check here: www.thegardenfestival.eu/newsitem/flight-update-20-05-14
Latest The Garden Festival 2014 Lineup:
Live: Andre Bratten, Crazy P Soundsystem, Genius of Time, KiNK, Paqua, Quantic Live, Session Victim, Theo Parrish – Teddy's Get Down, Seven Davis Jnr.
DJs: Aartekt, Adam Allias, Adam Shelton, Adjowa, Amp and Deck, Anthony Mansfield, Autocycle, Axel Boman, Baba Stiltz, Bad Passion DJs, Begin, Belfast Music Club DJs, Ben UFO, Bicep, Big Danny Kane, Bing Ji Ling, Bobby Beige, Brawther, Catz 'n Dogz, Cedric Maison, CFSN DJs, Christophe, Craig Richards, Damiano Von Erkhert, Dan Beaumont, Dan Wild, Darshan Jesrani (Metro Area), Davis, Dax, Dean Sunshine Smith, Deano Ferrino, Delano Smith, Detroit Swindle, Discomendments, Dorisburg, Eats Everything, Eddy Ramich, Eric Duncan, Ewan Pearson, Fantastic Man, Feel The Real, Felix Dickinson, Francois K, Futureboogie DJs, Galactic Boogie DJs, Galen, Good Life DJs, Greg Wilson, Hackman, Hesseltime, Hidden Agenda DJs, House Of Disco DJs, Jaime Fiorito, James Holroyd, Jan Kincl Zero, Jen Dickinson, Jimi Yolo, Jimmy B, Jogarde, Josh Tweek, Jukes of Hazard, Justin Martin, Justin Vandervolgen, Katie Barber, Krankbrother DJs, Last Waltz Djs, Leftfoot DJs, Leftside Wobble, Leo Forssell, Levon Vincent, Luca LTJ Trevisi, Lukas, Marcel Vogel, Mark Seven, Marmat, Max Graef, Maxxi Soundsystem, Medlar, Memoryman aka Uovo, Midland, Mislav, Neil El Diablo, No Fakin', Olof Uhlin, Orkun Bozdemir, Outboxx, Paddy Freeform, Paramida, Pardon My French DJs, Paul Hutchinson, PBR Streetgang, Peak & Swift, Pete Leung, Phil Mison, Prosumer, Pytzek, Ray Mang, Rollerboys, Sebastian Spring, Shuya Okino (Kyoto Jazz Massive), Simon Morell, Solar, Somethingsounds DJs, Soul Clap, Steve Cobby, Stu Patterson, Studio 89 DJs, Studio Barnhus, Subb-An, The Pool DJs, The Revenge, Tiago, Tim Sweeney, Tom Frank, Tom Hopkins, Tom Rio, Tristan Da Cunha, Under Bron DJs, Underground Paris, Waifs and Strays, Wild Fantasy, William Collins, Willie Burns, Wolf and Lamb, Wolf DJs, Young Marco.
The Garden Festival 2014
Weds 2nd – Weds 9th July 2014
@ The Garden Tisno, Petrica Glava 34, 22240 Tisno, Croatia
Tickets: £120
Double Whammy tickets for The Garden Festival and Electric Elephant: £150
Latest Electric Elephant 2014 Lineup:
Tom Findlay (Groove Armada) DJ set, Simian Mobile Disco (DJ set), Derrick May, Francois K, Norman Jay (Good Times), Chez Damier, Motor City Drum Ensemble, Horse Meat Disco, FCL, Prosumer, Justin Robertson, Munk, Emperor Machine, Ashley Beedle, Soul Jazz Soundsystem, Awesome Tapes From Africa, Rahaan, Max Essa, Begin, The Numero Group, Chris Duckenfield, Sean Johnston (Hardway Bros./ALFOS), Unabombers, Stevie Kotey (Ambassadors Reception), Ruf Dug, Lowlife, Down To The Sea & Back – Kelvin Andrews & Balearic Mike, Kabal – Winston & Pipes, Idiots Are, Winning – Jake Manders & Louis Finch, Thunder, wOnK (Soul Mekanik), Krysko, Man Power (Hivern/Correspondant), 2 Billion Beats, Will TRAMP!, Neil Diablo, Il Bosco, (Red Laser Records), Matt Ward (Wet Play/Piccadilly Records), Joe's Bakery, Hustle DJs, Kosmonaut, Billy Scurry, Leon Sweet, Nick Acid Tree, Jan Hammered,, Steve O'Connor, Martin Davies, Home Grown DJs, Ola, Engine DJs, Funky Navigation, Civilisation DJs and Darren Stewart.
Electric Elephant
Thurs 10th – Mon 14th July 2014
@ The Garden Tisno, Petrica Glava 34, 22240, Tisno, Croatia
Full weekend tickets: £120
Double Whammy pass with Electric Elephant and The Garden Festival: £150
www.electricelephant.co.uk