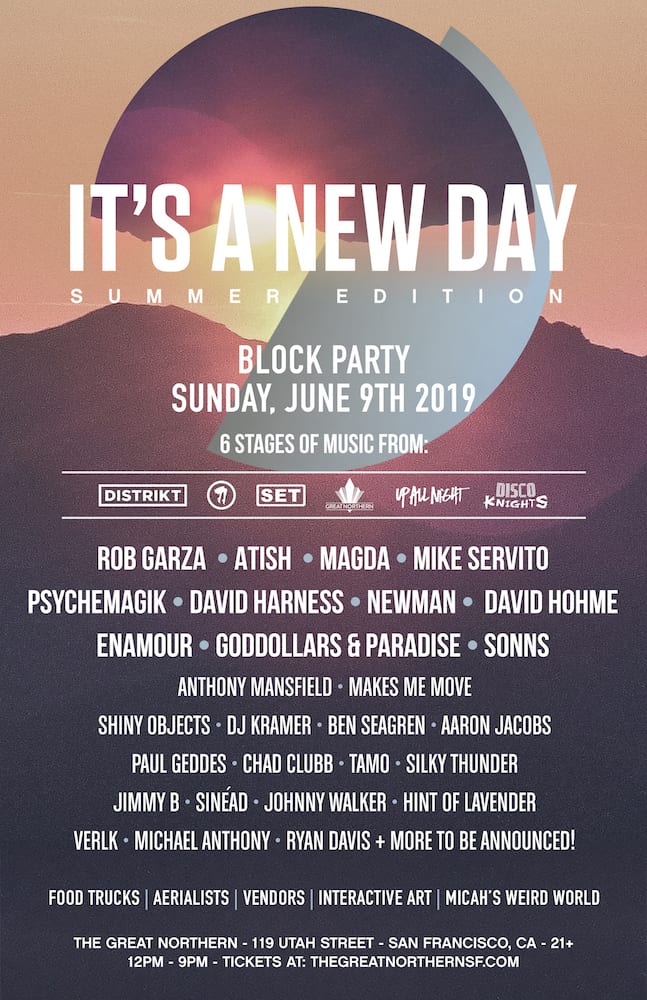 The Great Northern Announces Debut 'It's A New Day' Summer Edition Block Party
The Great Northern nightclub in San Francisco is to expand its acclaimed 'It's A New Day' block party series with the addition of a new Summer Edition, taking place on June 9th. Since 2017, 'It's A New Day' has taken place every New Year's Day and the newly announced Summer Edition reflects the increasing popularity of this unique event. Spread across three blocks outside The Great Northern, revellers can expect a world class line up of credible, electronic music talent, an interactive playground, art installations, freshly made cocktails, food trucks, aerial performances and six stages of music hosting local and international artists from different facets of the electronic music world. Some of the west coast's leading brands and promoters will host stages, including; A Club Called Rhonda, Disco Knights, DISTRIKT, SET and Up All Night. Already confirmed to deliver the grooves to the cool and the colourful as they party in the sunshine, are; Rob Garza (Thievery Corporation), Atish, Magda, Mike Servito, Psychemagik, Newman, Enamour, GODDOLLARS & Paradise, and SONNS as well as key figures in the San Francisco electronic music scene, such as David Harness, Anthony Mansfield, DJ M3, Shiny Objects and more, helping to maintain the 'big family' vibe for which 'It's A New Day' block parties have become so well known. Tickets for 'It's A New Day' Summer Edition start at $40 from www.thegreatnorthernsf.com.
The Great Northern is redefining the block party, mixing the dance floor atmosphere of the best underground electronic music clubs with an open, festival atmosphere. Since the first 'It's A New Day' in 2017, the event has become an institution and has paved the way for other block parties to spring up, creating a new and exciting clubbing movement in San Francisco. The Summer Edition of 'It's A New Day' promises to take this experience to new levels of credibility and enjoyment.
San Francisco-based producer and co-founder of Thievery Corporation, Rob Garza, infuses his own house and nu-disco artistry into every one of his productions, boasting a perceptive and powerful style that is sure to move the block party masses. Atish also steps up to the decks. Co-founder of the Manjumasi record label and owner of the Late Night Tonite! Party series, he has cultivated a devoted following around the world with mixes that turn deep melodies and sophisticated rhythms into musical journeys.
Polish-born, Detroit-raised Magda is a phenomenon in her own right. She made her name touring with Richie Hawtin and released seminal albums on his Minus label. Now hugely in demand around the world, this avant-garde artist is a standout figure in the global techno community and is sure to bring something special to San Fran. Detroit techno stalwart Mike Servito also plays and will showcase his deep mixing skills and a sonic palette inspired by the likes of Claude Young, D Wynn, Derrick Carter and Mike Huckaby.
The list of quality artists keeps going with Psychemagik, David Harness, Newman, David Hohme, Enamour, GODDOLLARS, Paradise, SONNS, Anthony Mansfield, DJ M3, Shiny Objects and many more across six individual stages, with hosts who have years of experience in putting on incredible parties in amazing locations, including Burning Man. However, even more than the DJs and the host brands, it's the friendly, knowledgeable crowds, who come together to enjoy the carefully curated electronic grooves, who ensure that 'It's A New Day' block parties are an unforgettable experience.
Taking place inside and outside of The Great Northern, one of the west coast's most exciting, up-and-coming venues, this jaw-dropping block party reflects The Great Northern's ethos; focus on quality and bring the most talented names in the electronic music universe to the people of San Fransisco on a weekly basis. Its 2019 programming is a surefire indicator that the team can be trusted to deliver on expectations for their first ever, 'It's A New Day' Summer Edition. This year, The Great Northern has already welcomed the likes of ANNA, Osunlade, Ame, Adriatique, Dusky, Project Pablo, Nick Warren, Guy J and John Monkman, with Eats Everything, Rodriguez Jr, Butch, Audiojack, Joyce Muniz, and more on the way in the remainder of May alone.
'It's A New Day' Summer Edition is set to redefine block parties and their standing in club culture. Taking place all day from 12pm to 9pm, with after party at The Great Northern for those with the stamina, this is one block party not to be missed.