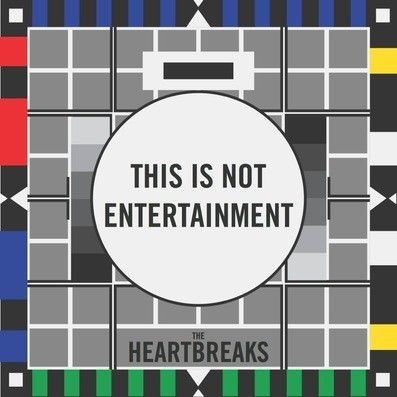 The Heartbreaks – This Is Not Entertainment
The Heartbreaks have announced details of their next single. 'This Is Not Entertainment' will be released on November 3rd via Nusic Sounds. Listen to the track here:
The song is a rallying cry for anyone demoralised, disheartened and sickened by £10k a night DJs who can't DJ, TV talent shows without any talent and 'Ten Things This Grandmother Did With Her Cat, You Won't Believe Number Seven!' clickbait headlines that go nowhere.
The single is released to coincide with a UK headline tour, which sees the band play gigs in Leeds, London, Manchester, Liverpool and Nottingham. See below for dates.
Emerging less than quietly in 2012, The Heartbreaks immediately caused a stir from the shores of Morecambe to the bright lights of London and the even brighter lights of Japan with their debut album 'Funtimes'.
With fans including Bono, Morrissey and Hurts, tours with both of the latter across Europe, a #1 single in Japan with 'Delay, Delay' and fashion plaudits from Saint Laurent's Hedi Slimane and Burberry's Christopher Bailey ("I love their energy, effortless style and very British attitude"), the band returned this year with their new album 'We May Yet Stand A Chance'.
Produced by Dave Eringa (Manic Street Preachers) and full of honest sentiment and acerbic lyrics, the record deals with the demise of character, charm, passion, political opinion, conviction and commitment, with the title and cover championing hope in the face of despair.
Musically it's full of Cowboy Psychedelia, girl-group Motown and Echo and the Bunnymen atmospherics. A majestic, life-affirming pop record of widescreen, triumphant melancholia.
NOVEMBER UK TOUR:
4th Leeds, Oporto
5th London, The Lexington
6th Manchester, Sound Control
8th Liverpool, Evac
28th Nottingham, Bodega
Tickets available at: www.theheartbreaks.net