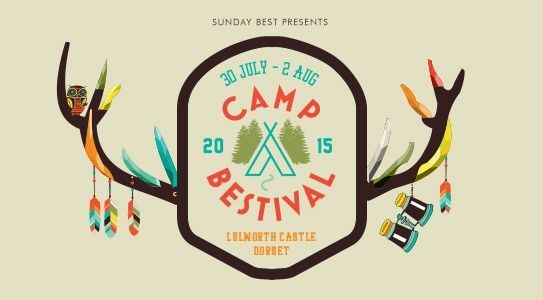 The Hideaway Wellness Retreat and Spa at Camp Bestival
As ever, Camp Bestival 2015 will be brimming with fantastic music, top drawer kids' entertainment, theatre, shows, attractions, activities, poets, authors, talks and so much more, with a generous extra helping of super-wild action thrown in for good measure, as Camp Bestival goes wild! To bring you back to centre after all your Lulworth Castle-based activities this July 30th – August 2nd, we are proud to present our new Wellness retreat and spa; The Hideaway.
Dedicated to finding a little slice of inner peace in the middle of Camp Bestival's joyous hullabaloo, The Hideaway's programme of treatments and classes has been carefully curated with our friends, and al-fresco spa experts, Wild Wellbeing, with the intention that you emerge from The Hideaway feeling rested and radiant.

We're offering a first class programme of yoga classes, with something for everyone, including acro-yoga, beginners' yoga, family classes, kids' sessions, pregnancy yoga, hot power yoga and restorative yoga. Plus there will be morning and evening meditation sessions. Wild Wellbeing believes that meditation is an invaluable tool that has the ability to heal both body and mind. We will offer an opportunity to give voluntary donations at all meditation sessions, all of which will go to www.mind.org.uk
Indulge yourself and complete the holiday; don't miss out on a Hideaway Restorative Massage from our hand-picked team of professional masseuses. With limited sessions available, you'll need to pre-book early to ensure you can enjoy our exclusive full body massage packages, or you could perhaps try one of the 'stimulating quick fix back rubs' or a plethora of other alternative therapies available.
For a daily dose of pampering, head to the soothing atmosphere of the Transformation Station. Bedecked with long mirrors, hair stations, straighteners, comfortable changing, mobile phone charging facilities and more, this area will be beautifully kitted out with handcrafted eco-showers, so you can relish a quick freshen up or a post-treatment relax.
And, if that lot has got you in the mood to commune with nature and boost the endorphins, then why not sign up to one of our amazing Nature Runs? Designed to explore the concept of mindful running, and the connection between ourselves and nature, the runs are suitable for all ages and abilities, led by experts, and are a must for every health conscious and wild family. If you like to be the centre of attention, then signing up for 1:1s in Nature is for you. Following a brief consultation and assessment, you'll experience a personalised hour of fitness coaching in the beautiful countryside surrounding the festival. Expect sweat, laughter and maybe even a few tears!
Or, if unwinding is more your thing, how about booking some blissful, wood-fired hot tub action from Bathing Under The Sky? We're proud to welcome their converted double decker bus and its beautiful hot tubs to the festival for the first time. Because it's Camp Bestival we have some special family time sessions between 01:00pm – 03:00pm. All other sessions are for the grown-ups only to kick back and enjoy a dip in the open air. We recommend you book early. Head here to secure your ticket.
Open all day for early birds and night owls, pop in to The Hideaway at any time to enjoy the restful space in the sunshine, or sit around the campfire at dusk, and feel refreshed.
There's still plenty-more wild Camp Bestival action and adventure to be announced so keep checking into the Website, Facebook, Twitter, Instagram, Pinterest for more information.
Tickets for Camp Bestival 2015 (July 30th to Aug 2nd) are on sale now via: Ticketline, 0844 888 4410