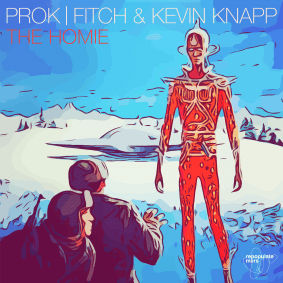 Prok | Fitch & Kevin Knapp - The Homie EP
Brighton's Prok | Fitch team up with Hot Creations' Kevin Knapp for 'The Homie' EP on Lee Foss' Repopulate Mars imprint.
Following a stream of heavy releases from artists like Michael Bibi, Eli Brown and Martin Ikin, not to mention it's 50th release from Manchester star Mason Maynard, Repopulate Mars provides yet again with a dynamic trio of Ben Prok, James Fitch and Kevin Knapp. Debuting on Repopulate Mars last year alongside Shiba San, Knapp had already earnt respect for releasing on labels like Crosstown Rebels, Solä and Truesoul. Meanwhile, Brighton duo Prok | Fitch have proved consistent ubiquity across Beatport charts and dancefloors alike, having appeared on heavyweights like Solid Grooves, Suara and Toolroom.
'The Homie' delivers a contagious bassline groove with sections of layered detuned synths between Kevin Knapp's exemplary vocal verses, before the standout pitched percussion in 'My System' marry vocal chops and bubbling lows.
Prok | Fitch & Kevin Knapp 'The Homie' drops on Repopulate mars on 22nd March 2019.
Tracklist:
1. Prok | Fitch & Kevin Knapp – The Homie
2. Prok | Fitch – My System
https://www.facebook.com/KevinKnappMusic/
https://soundcloud.com/kevin-knapp
https://www.facebook.com/ProkFitch/
https://soundcloud.com/prokfitch