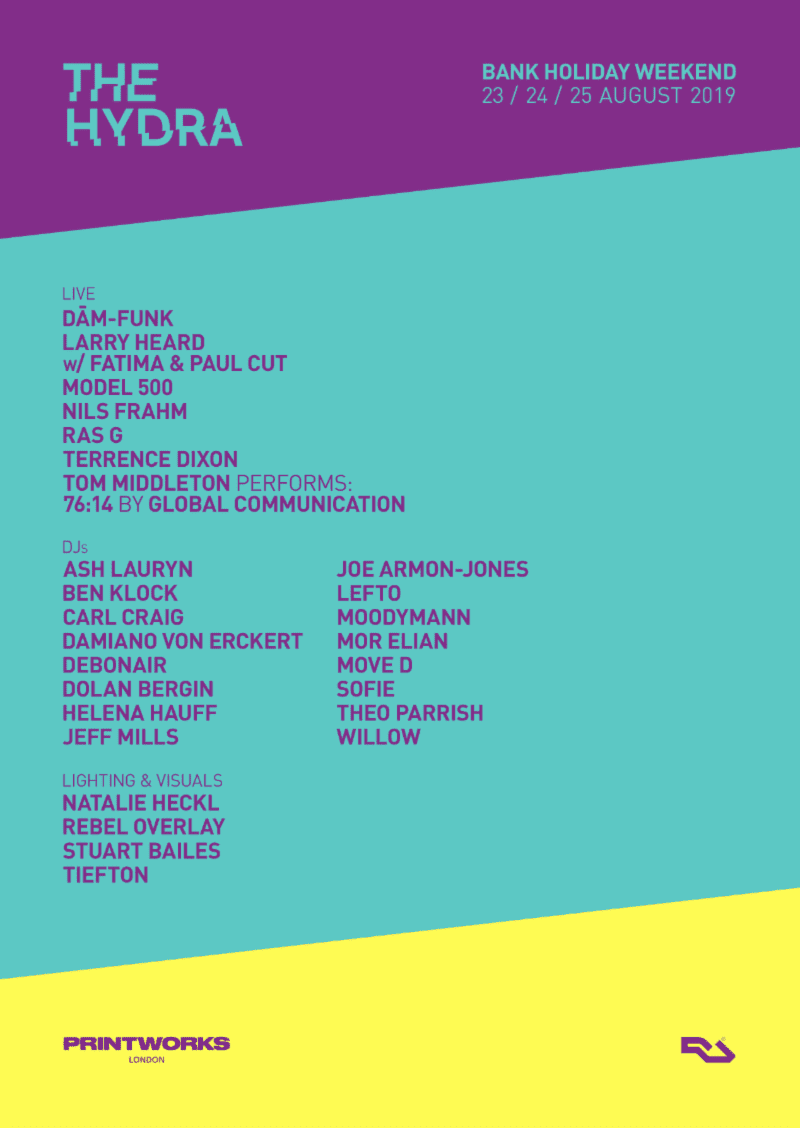 The Hydra Unveil Printworks Weekender
After a short hiatus from this key weekend in the annual music calendar, The Hydra returns to reclaim the August Bank Holiday weekend. Welcoming a collection of artists who represent the foundations of the musical institutions we recognise today, the weekend's music program is also supported by a wealth of emerging talent, all presented with exceptional production for the optimal experience. Ever evolving, The Hydra continue to provide a platform to showcase the most exciting electronic music in London.
Extending across three days of music from Friday 23rd to Sunday 25th August 2019, the long weekend commences with a very special live performance from globally acclaimed composer Nils Frahm for his only London festival set this summer. Supporting Nils Frahm is founding member of pioneering ambient electronic group Global Communication, Tom Middleton, performing an interpretation of the seminal 1994 album '76:14', celebrating 25 years since its release.
Saturday's eleven-hour dancefloor session, pays homage to techno's many textures in the Press Halls with the cosmic sounds of Jeff Mills at the helm. Ben Klock brings his trademark sound to the show and Juan Atkins' Detroit originators, Model 500 play a rare live set. Fused with influences from acid and electro, Helena Hauff has carved out a unique style that never fails to deliver, whilst Terrence Dixon will treat The Hydra faithful to a debut live set of minimal sound design. The rising talents of Fever AM founder Mor Eliancompletes the techno exploration.
In counterpoint to the widescreen ethos of the main room, Printworks' intimate Dark Room will host sets from Move D, Willow, Damiano von Erckert and DEBONAIR.
Reaching the finale on Sunday, the Press Halls will yet again host a roster of pioneers with a distinctly Stateside theme. Larry Heard and DāM-FunK will each perform live. This will be Larry's only London show this year. DJ sets come from Motor City icons Carl Craig, Moodymann and Theo Parrish whilst The Hydra co-Founder Dolan Bergin sets the tone.
Jazz, Soul and Hip Hop as imagined via the prism of electronic music for Dark Room on this one. DJ sets come from Lefto, Joe Armon-Jones, Ash Lauryn and Sofie while The Hydra deliver another rare live performance from California based Ras G, whose latest 'Dance Of The Cosmos' EP is one of the records of the year so far for the organisers.
Upholding the highest production standards, The Hydra have appointed leading industry figures to provide impeccable sound and stunning visuals throughout the weekend.
Adding his flair to both Saturday and Sunday's all-day sessions, Rebel Overlay AKA Spencer Heron is a ground-breaking visual mapping artist. Having supplied visuals for The Hydra's inaugural show in 2012 and ever since, he is now amongst the most sought-after visual artists in his field, working with the likes of Skepta and many others across European and U.S tours.
Having learnt their craft at their Panorama Bar residencies, Lighting Designers Tiefton and Natalie Heckl, have gone on to tour their visual narrative world-wide. Their considered and patient approach perfectly complements the music and helps create an ambiance and atmosphere, which is unique to The Hydra's London shows. The pair have found their home in London having been a regular fixture at The Hydra's shows for some years now.
Nils Frahm's live show will be accompanied by visuals from Stuart Bailes, Nils' own in-house technician.
In a departure from Printworks usual daytime operating hours, Saturday's event will run from 3pm – 2am.
Founders Dolan Bergin and Ajay Jayaram launched The Hydra on the same August bank holiday in 2012. As London's most influential electronic music promoters today, they continue the legacy of boundary-defining music culture in the city. This latest run continues a tradition for them both, having invested their immense passion and extensive knowledge of electronic music into every detail.
Their plans for Autumn / Winter 2019 and the return to the August Bank Holiday weekend in 2020 (and annually thereafter) will soon be revealed…
FRIDAY 23RD AUGUST
7PM – 11PM
LIVE HALLS:
NILS FRAHM LIVE
TOM MIDDLETON PRESENTS 76:14 BY GLOBAL COMMUNICATION
LIGHTING DESIGN: STUART BAILES
SATURDAY 24TH AUGUST
3PM – 2AM
PRESS HALLS:
JEFF MILLS // BEN KLOCK // MODEL 500 LIVE
HELENA HAUFF // TERRENCE DIXON LIVE // MOR ELIAN
DARK ROOM:
MOVE D // WILLOW // DAMIANO VON ERCKERT
DEBONAIR
LIGHTING DESIGN: NATALIE HECKL
VISUALS: REBEL OVERLAY
SUNDAY 25TH AUGUST
12PM – 11PM
PRESS HALLS:
CARL CRAIG // DĀM-FUNK LIVE // LARRY HEARD LIVE
MOODYMANN // THEO PARRISH // DOLAN BERGIN
DARK ROOM
LEFTO & JOE ARMON-JONES DJ SET // RAS G LIVE // ASH LAURYN
SOFIE
LIGHTING DESIGN: TIEFTON
VISUALS: REBEL OVERLAY