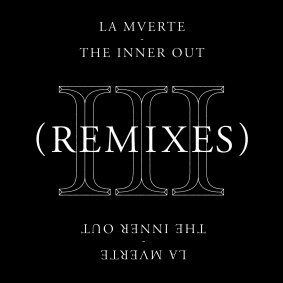 La Mverte - The Inner Out EP
La Mverte's October 2017 album 'The Inner Out' now gets some carefully commissioned remix treatment from exciting artists Mattias Aguayo, In Aeternam Vale and La Mverte himself.
The album, 'The Inner Out', was a unique mix of industrial, disco, new wave and Italo that marked another high point in the Paris producer's discography. Three of the key tracks from it now get fresh reinterpretations that bring plenty of heat to the dance floor.
First up is Chilean Matias Aguayo, the Comeme founder and Kompakt regular with his own distinctive way of looping and layering percussion, voices and drums into intoxicating minimal grooves. His fantastic take on 'Past The Circles' is a raw and rugged machine work out with haunting synths and jerky drums. His own vocals add a human element to the stark robotism all around and ensure maximum destruction.
In Aeternam Vale is rooted in punk-rock nihilism, Kraftwerk coldness and aggressive industrialism, and has been since the eighties. His arresting take on 'The Inner Out' has a wild spirit. Flailing synths and bleeping keys bring a rave element to the dehumanised vocals while strobe lit grooves and stiff stabs make this one brilliantly muscular and macho.
La Mverte then edits 'No Gazing' into a stomping, well swung and steel plated cut. Rumbling bass and metallic hits make it perfectly high impact warehouse material.
These are three wonderfully club focused tracks that deal in plenty of rawness and grit.
Tracklist:
1- Past The Circles (Matias Aguayo version)
2- The Inner Out (In Aeternam Vale remix)
3- No Gazing (La Mverte club edit)