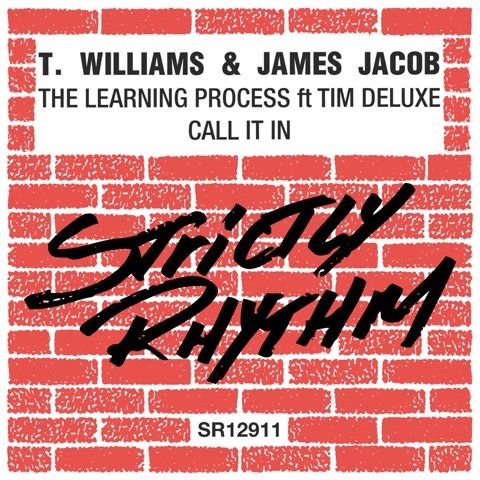 T Williams - The Learning Process
Following the success of 2016's The Point EP, acclaimed producer T. Williamsand James Jacob are back once again with 'The Learning Process', a fine brace of uplifting house that's primed for the dancefloor.
Teaming up where they left off by releasing on seminal NYC house label Strictly Rhythm, the pair's production pedigree and ear for a good groove is once again in full effect, as showcased by their previously revered collaborations on T's Today Tomorrow Records and Kerri Chandler's Madhouseimprint.
'The Learning Process' drafts in Tim Deluxe, the man behind monsters byDouble 99, RIP Productions and crossover hit It Just Won't Do, who reveals a new depth to his abilities as he lays down the core of the track with a classic jazz-funk tinged piano riff. Counterpart 'Call It In' is the yang to the yin of The Learning Process, a rough-hewn direct to the dancefloor jam that's all about that rolling bassline.
Over the last decade West Londoner T has enjoyed major success with releases on labels including Kerri Chandler's Madhouse Records, PMR Records, Local Action and Enchufada, in addition to stand out remixes for the likes of Maya Jane Coles and Disclosure.
Having formed several celebrated labels including the most recent Conchalongside Julio Bashmore, it's not surprising his Afro-influenced production style sees the producer again team up with seminal US house imprint Strictly Rhythm, who have played a pivotal role in defining the sound of house music throughout the '90s and continue to set the trend, with recent releases from emerging talents William Djoko, Bodhi and Apexape proving they still have their finger firmly on the pulse.
'The Learning Process' is available now on Strictly Rhythm.
Tracklist:
1) Learning Process Ft. Tim Deluxe
2) Call It In