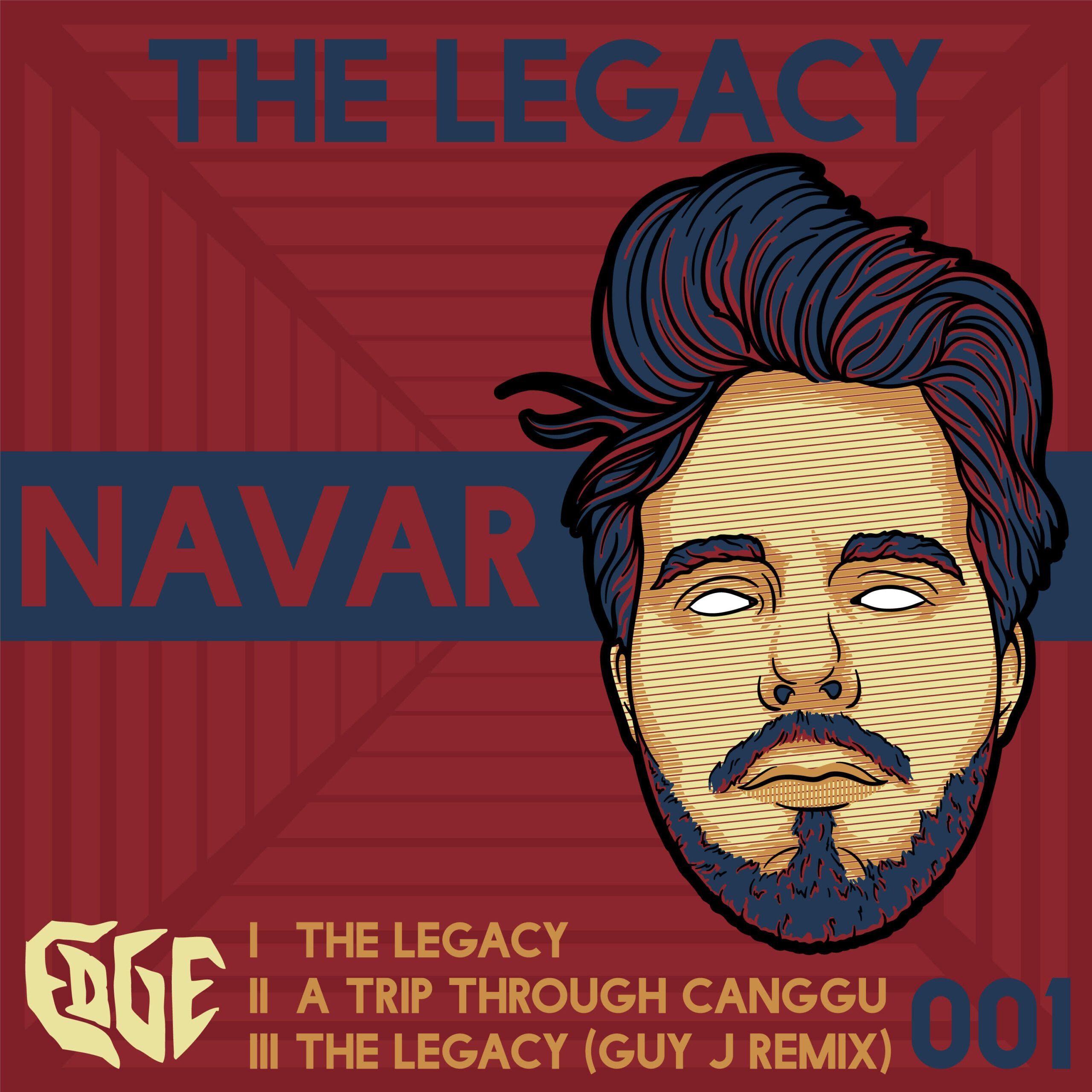 Navar - The Legacy
Early support from Undercatt, MODD, Ruede Hagelstein, Kolsch, Hernan Cattaneo, Adriatique, Nick Warren, Guy J, Khen, Luke Brancaccio, Sahar Z, Paul Thomas, Roy Rosenfeld, Fairchild
At the heart of Belgium's nightlife lies Edge. An electronic music concept that has invigorated Antwerp's club scene. Conceptualized in 2013 by Eran Aviner and Dave Schamisso, Edge has played host to the world's finest electronic music talent in John Digweed, Hernan Cattaneo, Guy J, Lee Burridge, Kiasmos and more. As a DJ and artist, Eran remains one of Belgium's most cutting edge talents, having his music showcased on world class imprints including Hernan Cattaneo's Sudbeat Music and Guy Mantzur's Plattenbank Records. Now after months of anticipation, Edge unveils their flagship record label with a brand new EP from Navar alongside a remix from Guy J.
As one of the underground's most creative talents Navar has shaped a sound of his own. His soulful qualities and organic design have led to signings on Guy J's Lost & Found Records and Canadian behemoth microCastle. A sparse release schedule has only made the love for his sound stronger and his Edge debut all the more anticipated. Leading the release off is its title and showcase piece 'The Legacy'. Built around a free flowing melodic storyboard, Navar works tonal motifs and warm swells with haunting atmospherics and harmonic refrains. Emotive and timeless in equal measure, it makes for an enchanting eight minute journey, sitting as one of the Dutch artist's most accomplished works to date. One where he reached a new sonic space and looked forward into the future. As he describes, "'The Legacy' is made out of particles, formed in creative bursts, that led to a road of luck and belief, presenting a bright prospect for the future, a road where no one else but you can create your destiny."
The lone interpretation of 'The Legacy' is provided by Guy J. Regarded as one of electronic music's most emotive producers; the Israeli born, Malta based artist has found a home on John Digweed's Bedrock Records, while cultivating his own Lost & Found Records into one of the world's most elite imprints. A long history with Edge has seen Guy headline four events in the last three years and now in fine fashion he has a hand in launching the label with a superb rendition of 'The Legacy'. On a backbone of organic beats, dusty percussion and quirky electronics, runs a storyboard of daring, detuned melodies. Astral in design and oh so poignant, it's a fresh, out of the box production from one of electronic music's most creative minds.
The companion piece 'A Trip Through Canggu' comes in deeper and equally engaging. Rippling waves of bass set a warm foundation for luminous tones, meandering melodies and grainy percussion to charm the senses. It's one Navar holds close to his heart, pulling inspiration from his time in Bali and reflecting on all aspects of life. As he describes, "It's about the spirit you believe in, to all the questions I've been walking through, to really know what the other person thinks & feels. To all those who've trusted my personality, and shared their interest, this isn't a goodbye, but it's a gift for all the wonderful things you kept believing in. Having an open communication with my mind, body and soul, orchestrated by the heart. Life needs a pause sometimes, to enjoy the beautiful people around you, each with their own unique energy, which you appreciate and learn from. When honest energy is given, it can give a lot of spirit in return."
A stunning debut for Edge's flagship imprint and with a bevy of interesting projects in the pipeline this certainly bodes for an exciting future amongst the industry's elite.