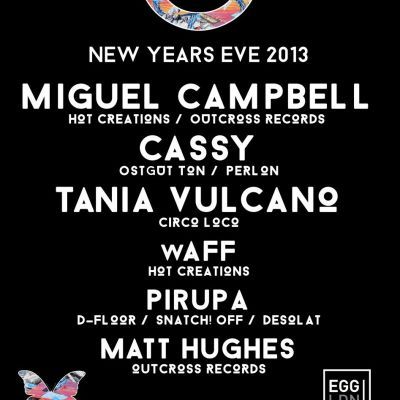 The One Announces more names… Cassy, Miguel Campbell and Matt Hughes
Although an already mouth watering party has been announced for EGG on New Year's eve, the people behind new night The One have readied some more essential names… joining Pirupa, wAFF and Taniao Vulcano will be Panorama Bar regular, Circo Loco favourite and recent fabric mix CD star Cassy, Outcross boss and Hot Creations man Miguel Campbell and label artist Matt Hughes as well as more than 20 upcoming DJs from all across the UK, each with their own style.
New headliner Cassy is a regular in the best Berlin clubs, as well as places like Trouw in Amsterdam and Rex in Paris, and she is an upstanding member of the deep house community who has mixed it up for official series for Cocoon and Panorama Bar in the past, whilst Miguel Campbell is part of the new school of house heroes, with his latest full length joining the dots between disco, house, 80s pop and retro creamy stylings with ease.
For over a decade, next addition Matt Hughes has been producing music, combining elements of funk, disco and house music. Heavilyinfluenced by Daft Punk, the sound of their productions, the compression, sound of the kick drum, the emotion and soul, is all part of how he sounds today.He's been part of the Outcross family since 2006 so is a welcome person to complete this line-up.
On top of the great music all night long from previously announced guests Tania Vulcano, wAFF and Pirupa, the famed London club will be decked out with extra production that will transform the space. There will be an Ibiza themed garden, live percussion players, fireworks, dancers, Cafe Mambo resident DJ Dee Montero playing from his deep bag of bliss and so much more.
Full line up
Miguel Campbell (Hot Creations/ Outcross Records)
Cassy (Ostgut Ton/ Perlon)
Tania Vulcano (Circo Loco)
wAFF (Hot Creations)
Pirupa (D-Floor/ Snatch! OFF/ Desolat)
Matt Hughes (Outcross)
The Willers Brothers
Dee Montero (Cafe Mambo Ibiza / Montero Grooves)
Alex Wareing (DirtyByDesign / Funkoloko Music)
David Lee (Submerged / Hat-Club / Manzana)
Alex Ellenger (Toolroom)
Nathan Viva (Viva Ibiza)
Thomas Tesla (Republic Artists/Wasabi Generals)
Darren Gregory (Republic Artists/Wasabi Generals)
Vishaal Laurent (Dysfunctional)
Steve Westover (Flawless/After Hours)
Techfunkers (Jason Hanley & n Manuel)
The Mistaa
Arthur Keen (Republic Artists)
Boletz (Republic Artists)
FunkinL (PPFM)
Eric Gaciag (Egg London)
Jesus Naranjo
Ernesto Ramirez b2b Veloz
Coercion
Jordan Diston
B-Rad (Terminal 266)
+ more TBA
_____________________________
Egg London
11pm – 8am
200 York Way, Kings Cross
London, N7 9AX
020 7871 7111 / [email protected]
Adv from £25 +/ Students /members £25 – more on the night.
Check www.egglondon.net for line up updates