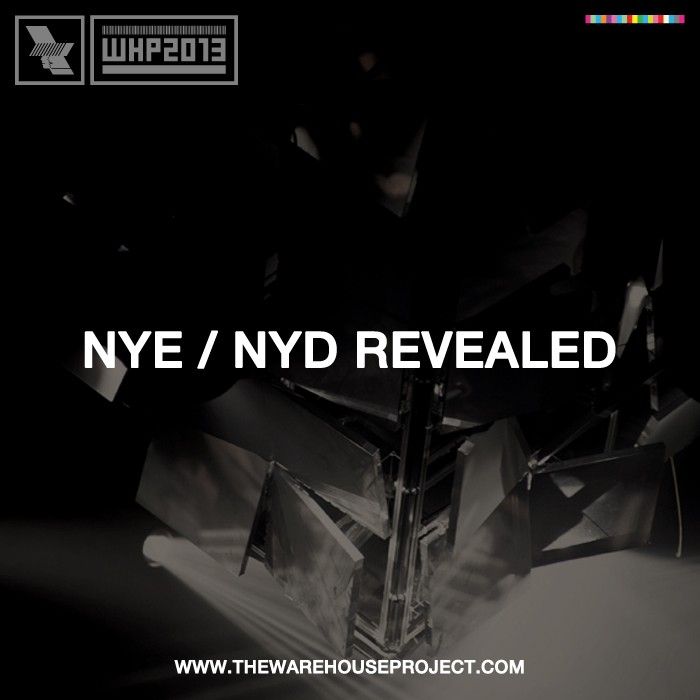 The Warehouse Projcet 2013 Announce New Years Parties
Whilst The Warehouse Project look forward to the start of the New Year, we would like to announce that the WHP season will not take place as normal in 2014. There will be a handful of special events but no full series as there has been for the last 8 years. 2015 marks 10 Years of The Warehouse Project and we will be ready to do that justice. Please stay tuned for all updates.
"Since 2006 when it all started we've had the privilege of booking almost everyone that we wanted to be part of The Warehouse Project. This season especially, the programme is totally beyond where we ever expected it could go. WHP has always been about not standing still and has kept that idea at the forefront. We do have exciting plans for 2014 that should continue that ethos and at the same time it feels like the right moment to perhaps do fewer WHP events and take a break from the current format. Reaching the tenth season in 2015 will be a landmark moment for WHP but of course we have some things in the pipeline before we get to that…"
Sam Kandel, Director, The Warehouse Project.
Please visit www.thewarehouseproject.com/calendar.php for 2013's remaining line-ups.
NEW YEARS EVEN 2013 LINE-UP
Annie Mac, Sasha, James Zabiela, Totally Enormous Extinct Dinosaurs (DJ Set), Andy C, Tiga, Tensnake, Redlight, Waifs and Strays, Maribou State, Waze & Odyssey, Pedestrian, Ejeca, Lil Silva, Krysko & Greg Lord, Eton Messy, PBR Street Gang, Drew Hill, Johnny Dub, Will Tramp, Drop The Mustard
NEW YEARS DAY 2014 LINE-UP
Jamie Jones, Carl Craig, Innervisions: Dixon & Ame (b2b), Maceo Plex, Ben UFO B2B Joy Orbison, The Martinez Brothers, Davide Squillace, Skream, Jackmaster B2B Oneman, George Fitzgerald, Breach, Subb-an, Paul Woolford B2B Midland, T Williams, Prins Thomas, San Soda, Ben Pearce, Krystal Klear, Crazy P, Krysko, Greg Lord, Zutekh DJs
Details
Date: Tue 31st December, 2013
and: Weds 1st January, 2014
Location: The Warehouse Project Trafford Park Rd, Trafford Park M17 1AB
Tickets
Arrow The Warehouse Project
Social Media
Facebook Facebook
Twitter Twitter
Website Website
The full line-up for New Years Eve and New Years Day at The Warehouse Project can now be revealed below. Tickets will go on sale at 9am this Friday 25th October from www.thewarehouseproject.com