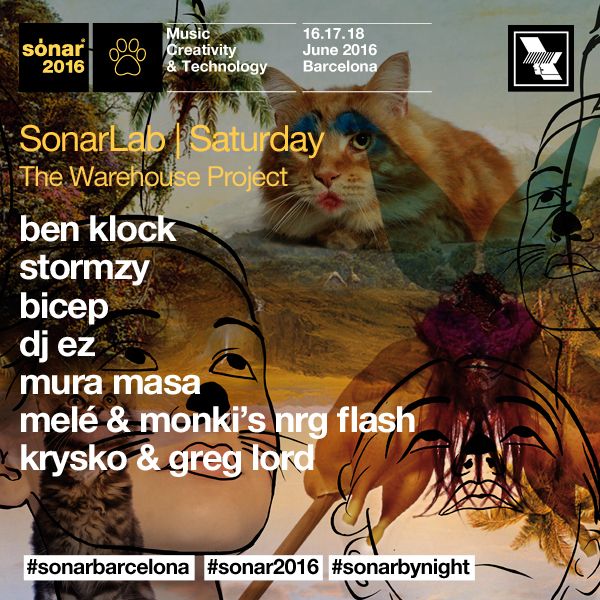 The Warehouse Project host The SonarLab at Sónar By Night
This June, The Warehouse Project join forces with one of Europe's most-respected electronic music events Sónar, to host the SonarLab at Sonar by Night on Saturday 18th June.
Swapping their subterranean carpark home of Store Street in Manchester's central Piccadilly, The Warehouse Project up sticks to take up a privileged position in the vast open air hanger that is SonarLab, just outside of Barcelona's city centre for the mighty Sónar by Night.
The collaboration is a true meeting of minds. Both brands share the same musical vision, love creative venues and unusual spaces. Sónar has always underpinned the values of The Warehouse Project, where music from the fringes is given a spotlight, headline acts make for bold choices and both attract a discerning crowd, not afraid of a sonic challenge.
Ben Kock, Bicep, Stormzy, DJ EZ, Mele & Monki's NRG Flash, Mura Masa and Warehouse Project residents Krysko & Greg Lord will all be playing on the Saturday evening, which will close Sónar16.
"We very excited to announce that we are joining forces with Sonar Festival in Barcelona this year within the programme for Sonar by night. For us there are few reference points or influences which carry as much gravity when it comes to diverse and exciting musical programming. As young bookers and aspiring promoters the annual pilgrimage to Barcelona became essential. It is rare to find The Warehouse Project outside of Manchester but we are so looking forward to our first collaboration with the Sonar team." The Warehouse Project
Full Line-up:
SonarLab | Sónar By Night
Saturday 18th June '16
BEN KLOCK
STORMZY
BICEP
DJ EZ
MURA MASA
MELÉ & MONKI'S NRG FLASH
KRYSKO & GREG LORD

LINKS& FURTHER INFORMATION
www.thewarehouseproject.com
www.sonar.es/en/2016/