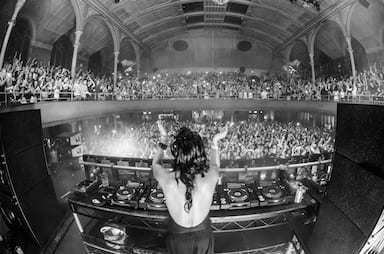 The What Hannah Wants DJ Competition 2015
Hannah Wants launches her search to find the best and brightest DJing talent in the UK.
For the second year running Hannah Wants is hosting a competition to find the UK's homegrown DJ talent.
Hannah is set to announce the dates and cities for the What Hannah Wants UK tour today, 14th December

"I personally know how hard it can be to get that break or opportunity nowadays as a rising DJ. I know there will be so many talented and unique DJ's out there who have not had the chance(s) they perhaps deserve… I want to find that talent!" – Hannah Wants
After a successful search last year, Hannah Wants is launching her What Hannah Wants DJ Competition to find the support acts to bring with her for the 2016 Hannah Wants UK headline tour.
Assessing each entry personally, Hannah hopes to unearth DJs who are yet to have the opportunity to break into the industry, and will award a few lucky winners with the chance to have their name on an event and gain invaluable touring experience.
"My aim is to find a new batch of talented DJ's who I think have both the potential to add something to my event and who I hope will go on to further their DJ career" Hannah has said.
2014's search did just that – with the winners touring alongside Hannah and then going on to enjoy their breakthrough successes. Since being named one of the winners last year, Joshua has played gigs throughout the UK and spent the summer in Ibiza regularly playing at Ibiza Rocks and Sankeys. Speaking of his win, he said:
"It was such a great experience and I genuinely learnt a ton as well. It gave me a confidence boost at a crucial "am I wasting my time?" point… It also created a lot of interest and in turn opportunities afterwards!… For me personally, it's changed my life, after over 10 years of trying to get somewhere this has been the platform to help me launch my career. I am hugely thankful to Hannah and the Wants team for that. The support and guidance has been amazing"
Fellow winner TIMANTI has also made massive strides in her career since the competition, performing at Ibiza Rocks throughout the summer and securing residencies all over London as well as playing exclusive sets at some of the most renowned festivals and clubs in the UK including Bestival, Lovebox, Fabric and Egg.
Entries must be a 60 minute live mix, the first 30 minutes a warm up set, the second 30 minutes progressing into peak-time style, and any mixes that are not mixed live will not be considered. A search all about the art of DJing, Hannah is set on finding somebody with the potential to rise in the industry irrespective as to whether they make music or not.
The deadline for applications is Sunday 13th December 2015. Winners will be notified on the 21st December, and then announced on Monday 4th January alongside the full line up. For more information on applying, see here.
About Hannah Wants
Hannah Wants has moved from up-and-comer to global superstar in the space of just a few short years. Hailing from Birmingham, Hannah is a champion of the new breed of bass-orientated, garage-influenced house of her hometown. Following a life-changing trip to Ibiza in 2010, Hannah worked hard to build a solid fanbase through her unique, energy-filled sets, journey-like mixtapes and successful forays into production, until in 2014 she was crowned both DJ Mag and Mixmag's 'Best Breakthrough DJ' as well as Mixmag's 'Star of the Year'.
Remaining faithful to her core fanbase, Hannah has kept up her bi-monthly mixtapes that are always available for free download and streaming – and this year Hannah was given the opportunity to build on this with an Essential Mix for Radio One. 2015 has also seen the beginning of Hannah's own headline series of events, 'What Hannah Wants' – the party has been a sell-out success so far, filling famous clubs like Ibiza Rocks and Manchester's The Warehouse Project. With her fame rapidly spreading, she now frequently tours the US and Europe, and will be headlining the infamous Room 1 of Fabric, London later this month.
For more information on Hannah Wants, see
https://www.facebook.com/hannahwantsdj
https://twitter.com/hannah_wants
https://soundcloud.com/hannah_wants