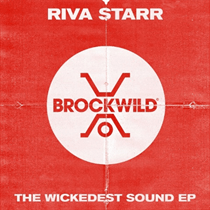 Riva Starr - The Wickedest Sound EP
Acclaimed DJ, producer and label boss Riva Starr is excited to announce the first release from his brand-new imprint, Brock Wild, entitled 'The Wickedest Sound' EP, out June 30.
Riva Starr has always been respected by fans and fellow tastemakers for his ambitiousness and creativity in his productions. Just look at his back catalogue, ranging from Hip-Hop tinted tracks with UK titan Roots Manuva to regular collaborations with House legend Green Velvet, and you'll see experimentation sits at the core of Riva and his other aliases.
Now, the Italian-Born London-based DJ/producer has founded Brock Wild, an imprint that specifically provides a platform to share left-field/bass heavy sounds, Riva explains:
​​"I've always been fond of left-field beats and big bass, therefore due to my eclectic taste and past background as a Hip Hop, Dub, Drum & Bass and Breakbeat DJ I've now decided to launch a new SNATCH! sub-label called BROCK WILD that'll be devoted to these type of sounds."
The EP's title-named track, 'The Wickedest Sound', kicks things off, serving up a free flowing, groove-laden cut that seamlessly blends elements of House, Hip-Hop and Breakbeat, encompassing; an abundance of lo-fi Rasta-esque vocal samples, ferocious synth blasts and an excellent use of dub-style effects.
Closing the EP is 'Pull Up', featuring Amsterdam-based artist, Zanillya – whose previous productions have garnered support from Mad Decent (blog/label of Diplo), one of the producers of Major Lazer and the Neptunes among others. The track begins with steady 4/4 groove and a deep sub bassline, gradually introducing several manipulated vocal snippets, a wealth of TR-909-laden percussion and other off-kilter effects throughout its six-minute duration.
'The Wickedest Sound' EP is available via Beatport on June 30th and the rest of the world two weeks later.
FIND RIVA STARR ONLINE:
www.facebook.com/rivastarr
https://soundcloud.com/rivastarr
https://twitter.com/rivastarr
FIND BROCK WILD ONLINE:
https://www.facebook.com/brockwildrec
https://soundcloud.com/brockwildrec
TRACKLIST
01. Riva Starr – The Wickedest Sound (Original Mix)
02. Riva Starr feat. Zanillya – Pull Up (Original Mix)
​​