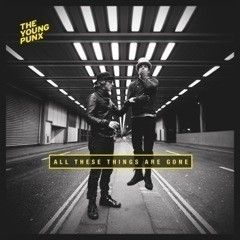 THE YOUNG PUNX – All These Things Are Gone
The Young Punx (Hal Ritson and Nathan Taylor) are the puckish agent-provocateurs of the dance music scene, simultaneously celebrating and challenging everything that club culture can and should be.
Hal Ritson; composer, producer and multi-instrumentalist has featured on or produced over 400 electronic tracks in his time, including tracks by Nas, Chase and Status, Rudimental, Pusha T & Dizzee Rascal, for whom he was Musical Director at his 2009 BBC Electric Proms show.
Nathan Taylor promotes cutting edge arts projects for Bristol's internationally renowned Situations. The duo also founded and manage respected record labels MofoHifi and Heavy Disco, home to esteemed producers such as Phonat and Bobby Tank.
Their 3rd album "All These Things Are Gone" is an alternately joyous and melancholic journey investigating the themes of the passage of time, and what is accidentally lost from culture in the name of progress. The album is built around the heart of the epic 14 minute title track, which deadpan catalogs over 60 things which are only connected by virtue of no-longer being around any more, against a constantly developing soundscape inspired by the bliss house of 90s artists like The Beloved and Saint Etienne.
Elsewhere on the album The Young Punx find their inspiration by journeying through time and space to different lost eras in music history, recording and producing in those vintage styles using 100% period correct equipment, and then 'sampling themselves' to make original tracks joyfully splicing together their favourite elements of the past and present. Whilst the genres referenced range widely from the fierce 70s JazzFunk of 'Harlem Breakdown' to the 30s big band carnage of 'Kowloon Kickback' to the revisionist 1980s synthscapes of 'Supersonic' and 'Heart Of The Night', the theme remains the same; a focus on history, culture and feelings being captured in memories and art rather than an empty obsession with fashion and the new. With added basslines.
'All These Things Are Gone' is out on MofiHifi on 24th February.