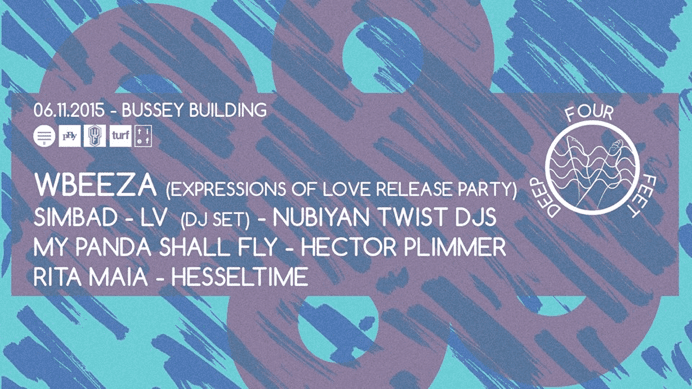 Tief, Turf and Wormfood Present: Four Feet Deep w/ Wbeeza, Simbad, LV, Nubiyan Twist and loads more
Four Feet Deep is a collaborative project from Turf, Wormfood and Tief, specialising in live acts and DJs playing electronic music with a global edge. The launch is on November 6th over two floors at The Bussey Building, with over 8 different artists performing.
As well as launching the new night, we are celebrating the launch of Wbeeza's long-awaited second album ' Expressions of Love', released on Third Ear. Hailed as "the flag bearer for the House sound of London" we're thrilled to hear not only what he's got in store for us, and also whats on the album when it drops on November 2nd.
Constantly travelling between Europe, Asia, Africa and The Americas, Simbad's exceptional sense of groove has built him a solid reputation along his travels. Recent production projects have seen him release solo projects on Sofrito and Raw Fusion aswell as collaborative projects with Mala and Browsnswood. Along the way he has become one of the most highly regarded DJs playing music from all around the world.
A culmination of musicians, DJ's and producers alike, Nubiyan Twist strive to encourage artistic and social unity between different cultures and musical styles. Their DJ sets are not to be missed as the afrobeat/hiphop/jazz/reggae masters Nubiyan Twist bring a mixture of upbeat sounds from around the world featuring live percussion + sax.
Links:
F: https://www.facebook.com/fourfeetdeepmusic
T: https://www.twitter.com/fourftdeepmusic
About Four Feet Deep
Four Feet Deep is Afrobeat, Jazz, Hip Hop, House, Detroit Techno, Beats and everything beyond and in between. Global Sounds for Global People