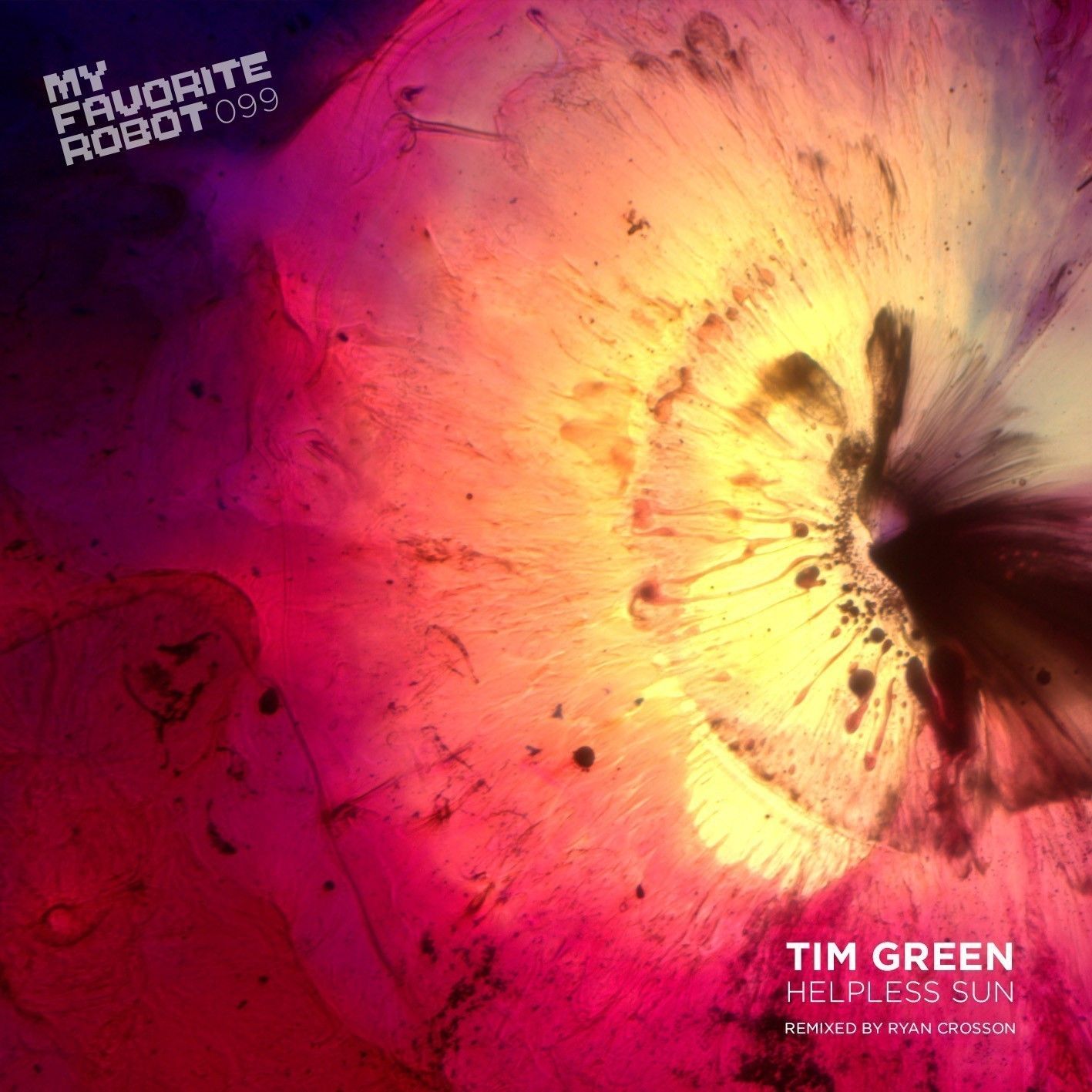 Tim Green – Helpless Sun
To accompany his fantastic EP on Canadian label My Favorite Robot, UK tastemaker and Disc Over label boss Tim Green has commissioned a spectacular new video that uses inventive techniques to combines the world of art, science, music and photography into a fantastically unfamiliar piece of moving art.
Directed by esteemed talent Steven McInery (who has worked with the likes of Jon Hopkins, Bloc Party and Vladislav Delay) and in association with visual designer Paul Skawinski, the video makes use of a custom Nano Projector "Illuminati 1.2" designed by Paul and is a refreshing break from the glut of digitally generated animation and imagery that makes up many music videos these days. In this instance, a real world, hands-on an analogue approach has been taken and the mesmeric results speak for themselves.
The video is based around a series of chemistry experiments, blending a variety of oils and acid base liquids spun at varying speeds and in various directions, whilst a wide range of coloured chemicals were pipetted into the mix. The resulting chemical reactions were recorded on film and provide a glimpse into a beautiful abstract world, which is largely invisible to the unarmed human eye. The extreme optical magnification of the camera lens, the super slow motion 240 frames per second filming and the very high 4k HD resolution of recording open the gates of secret universe of shapes and colours.
The results make for hypnotic, otherworldly and pleasingly synthetic viewing a world away from your average clichéd music video. Perfectly matching the lush, slowly evolving synthscapes and elastic basslines of Tim Green¹s fantastic original track, this video is a stunning work of art that truly takes things to the next level.

The Directors Story…
Steven McInerney is a director, curator and sound artist based in London. His work explores analogue, in-camera film techniques and psychedelic imagery. Steven had directed videos for Bass Clef, Circle Traps and Vessels as well as edited videos for Jon Hopkins, Bloc Party, Tim Exile, Wagon Christ, PVT, Vladislav Delay and many more. Steven is also the founder and director of Hackney Film Festival and experimental record label Psyché Tropes.
Paul Skawinski is an analogue visual designer and founder of Nano Projections. In 2009 Paul invented custom Nano Projector "Illuminati 1.2" (patent pending), which creates "organic projections" up to 20 meters in diameter of which are implemented in interior and exterior lighting. The content inside petri dish is subject to chemical & physical reactions that occur during mixing process.
Digital Snowball is a creative agency and production company based in East London. Their creative production facility consists on an in-house film studio and post-production suite in the cultural heart of Hackney Wick. Digital Snowball also support community-led organisations and regularly hold filmmaking workshops.

Credits:
Directors: Steven McInerney and Paul Skawinski
Production Company: Digital Snowball
Executive Producer: Shaf Elani
Camera: Rodrigo 'Greg' Rattazzi
Editor: Steven McInerney