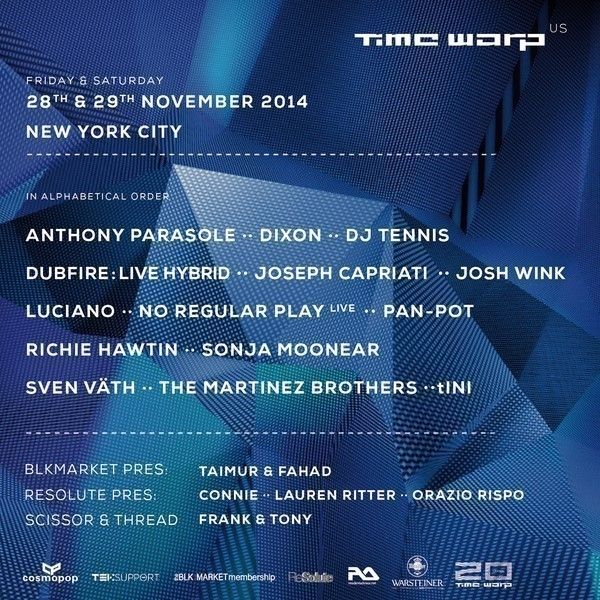 Time Warp US Announces Additional Artists
This Thanksgiving Weekend, dance music fans have even more to be thankful for, with the addition of Joseph Capriati, Josh Wink, Luciano, The Martinez Brothers, and the North American debut of Dubfire's live show to the inaugural Time Warp US taking place November 28 and 29, 2014 in New York City.
After recently debuting his new dubfire:liveHYBRID concept at this year's Amsterdam Dance Event, Dubfire is bringing his innovative live show to North America, with its first stop at Time Warp US. His critically acclaimed live show reinvents the concert experience by seamlessly weaving together elements of 2D and 3D animation with live audio and lighting to explore the intersection of science and technology – of man and machine – and their resulting evolution and inevitable fusion.
Drumcode's Italian maestro Joseph Capriati has quickly established a reputation as one of the principal profiles in techno. Joseph is no stranger to the Time Warp stage, having closed the main room in 2013 at Time Warp Mannheim, this time bringing his beats to the US edition.
Nearing the end of his own '20 Years of Ovum' year long anniversary celebration, Josh Wink adds another layer of depth to the strong lineup for the US stop of Time Warp's '20 Years Tour.' With his latest release "Talking To You" (listen here) and new track "Groove" (listen here) featured on 'Four Jacks Pt.2 – 15 Years of Poker Flat,' Josh Wink — a member of the Time Warp family since it's second installment in 1995 — keeps the momentum up as 2014 comes to a close.
Swiss-Chilean DJ, producer and Cadenza Records boss Luciano is one of the biggest stars of the global electronic music scene. Luciano's mixed Swiss and Chilean identity shows in his music, a somewhat mystical blend of deep techno and electro that integrates southern elements in rhythms and colorful patterns in sound.
New York will be well represented at the German festival's US debut with the addition of Bronx-bred duo The Martinez Brothers. The emerging leaders in underground house and techno have had a banner 2014: co-launching their label Tuskegee with Seth Troxler, to celebrate their cultural heritage, a busy season as Circoloco DC10 residents in Ibiza, and a debut EP 'Tree House' on their own Cuttin' Headz label due out on November 10 (preview here).
Warsteiner will proudly be served as the official beer of Time Warp US. Warsteiner, a long-time fixture in Germany's techno scene, joins in as a part of Time Warp's US debut. Two premium German imports are coming together for one unforgettable New York experience.
The world's longest running underground techno festival is making final preparations for its descent on the Big Apple and Time Warp US's new NYC venue to be announced soon!
General Admission and VIP 2-Day Passes available, while supplies last! Buy advance tickets now. Time Warp US is a 21 and over festival.
Time Warp US Artist Lineup (*denotes new additions):
Anthony Parasole
Dixon
DJ Tennis
*Dubfire:liveHYBRID
*Joseph Capriati
*Josh Wink
*Luciano
No Regular Play (Live)
Pan-Pot
Richie Hawtin
Sonja Moonear
Sven Väth
*The Martinez Brothers
tINI
BlkMarket Membership presents Taimur & Fahad
Resolute presents Connie, Lauren Ritter, Orazio Rispo
Scissor & Thread presents Frank & Tony
About Time Warp
Time Warp is the world's leading indoor festival for electronic dance music. Since 1994, Time Warp attracts the most important international stars of the club culture. Originating in Mannheim, Germany, Time Warp has successfully expanded in Europe and became a truly international dance brand with editions in Italy (since 2011), Holland (since 2008), Vienna (2006), and Prague (2005). In 2014, Time Warp celebrates 20 years and as part of the anniversary celebrations, Time Warp's 20 Year Tour had its first non-European destination with a debut in South America – Buenos Aires, May 30 & 31, to be followed by its North America two-day debut in New York City, November 28 & 29, 2014.
Time Warp US is part of leading Germany promoter cosmopop's festival portfolio and will be presented with local partner Teksupport WW. For two incredibly memorable nights, Time Warp is bringing their signature, elaborate stage designs across two stages, with unparalleled production, and state-of-the-art video, lighting and laser technology.
For more information, please go to: www.time-warp.de/usa.