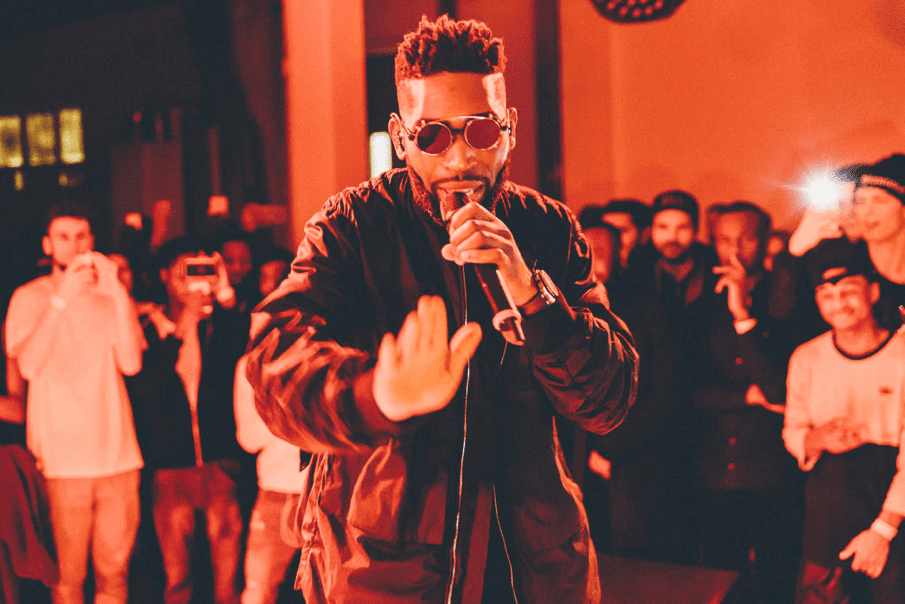 Tinie Tempah Plays Surprise Show With Special Guests To Launch Junk Food Mixtape
Still riding high from the release of the critically acclaimed 'Junk Food' mixtape, UK grime legend Tinie Tempah invites headline collaborators to perform at intimate London show.

Taking over Shoreditch's Studio 6 on a rainy Tuesday night, Tinie Tempah orchestrated a gathering of the UK urban scene's hottest artist to perform tracks from the brand new 'Junk Food' mixtape to an intimate crowd of around three hundred fans and music industry insiders.

Keeping the vibe decidedly underground, Tinie kicked of the evening by welcomeing long term friend and vocal sparring partner JME to the stage for a gritty performance of 'Been The Man' alongside fellow vocalist Ms Banks.

Next up Tinie was joined by Cadet and Young Teflon to perform 'Might Flip'.

Followed by Yungen for a high octane live take on 'I Could Do This Every Night'.

As an extra surprise for his fans Tinie invited Bugzy Malone to join proceedings (all the way from Manchester) to perform 'Peak', a track Tinie dropped this summer.

Adding to the all star line up J Avalance and M Dargg were next to take the stage alongside Tinie for a fire performance of collaborative track 'Mileage', before Mo Stack dropped in for an explosive rendition of single 'Autogas', which proved a firm favourite with the crowd getting reloaded now twice but three times!!! – Check out the video featuring Big Narstie above.

Much to the crowd's joy Tinie was then joined by Sneakbo, Mo Stack and the beautiful Aleesha Lee to perform 'We Don't Play No Games'.

The event was brought to a high energy climax when Wretch 32 and GFrsh took to the mics for a showstopping performance of 'All You'. Joined by Disturbing London's very own Sonny Reeves – who takes full production credit on the track – the guys took the opportunity to invite their fans on stage for an impromptu filming opportunity, shooting a series of scenes for the track's forthcoming video. With the opening shots having already been filmed in Dubai last week, the video is looking set to start the new year with a bang for Tinie Tempah

Tinie Tempah had this to say about the show:

"The 'JUNKFOOD' surprise show this week was a huge moment for me. It was so refreshing to do something so intimate and artistic purely for the fans with Rappers and Artists I have so much respect for from the scene. I haven't done anything like that for years and it took me right back to the first few shows we ever tried to do to get my name out there. Of all the gigs I've done this year this has been my favourite by far.