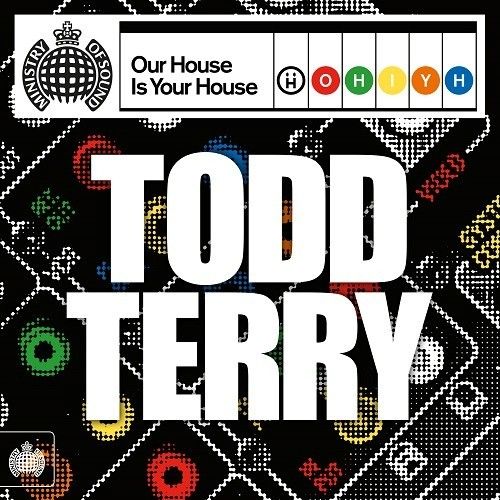 Todd Terry – Our House is Your House
Ministry of Sound proudly presents its new series of mixes, 'Our House is Your House', and announces Grammy Award-nominated DJ/producer Todd Terry as its first curator, with his two disc compilation set for release 30th March 2015.
A huge resurgence in house music over the past few years has led to a big focus on the DJs who were at its forefront, and this brand new compilation series is the perfect way to reflect the purveyors of that scene. Through focusing on the DJs/producers that shaped the sound of house music in the early days, and still have influence today, Ministry of Sound is on a mission to prove that 'their house is our house as we know it today.'
Widely regarded as one of the most influential producers to shape the house sound in the early 90s, there is no stronger artist to launch the series than Todd Terry. His remixes of Jungle Brothers' 'I'll House You' and Everything But The Girl's 'Missing' were two of the first key crossover house tracks. He then went on to have top 10 hits with his tracks 'Something Going On' and 'Keep On Jumping', becoming one of the most in demand DJs in the world, with regular appearances at Ministry of Sound.
This two CD compilation is a tale of two halves. On the first CD, Todd showcases the key productions and remixes that shaped his career, including the aforementioned 'Keep On Jumpin', 'Something Going On', and 'I'll House You', plus tracks from Maurice ('This Is Acid'), Nightcrawlers ('Push The Feeling On'), Class Action ('Weekend'), Junior Jack ('Thrill Me') and Armand Van Helden's incredible remix of Tori Amos ('Professional Widow')
The second CD brings things up to date with a selection of Todd's favourite current tracks and remixes, plus three brand new tracks from Todd himself, two of which are exclusive to the compilation: 'Give Me A Reason' feat. Robin S, and 'Go Away' feat. Martyna Baker. These two tracks will be made available before the release date with any pre-order of the album. CD2 also includes Todd's superb remix of Clean Bandit's 'Come Over' feat. Stylo G, alongside massive tracks from the likes of Sam Smith (Armand Van Helden Remix), Kerri Chandler, Huxley, Foamo, Harry Romero (Riva Starr Remix), plus Prok & Fitch's huge remix of CLS's 'Can You Feel It'.
As a globally recognised industry brand, Ministry of Sound sits at the forefront of the dance and electronic music scene, representing the most current and upfront developments across the globe. It was the first UK club to book house legends like Todd Terry and David Morales back in the early 90s, so it seems only fitting for them to celebrate the genre with 'Our House Is Your House'.
Exclusive previews of the compilation will be heard on 6th March when a Q&A will be held with the man himself and broadcast over Ministry of Sound Radio. Todd will talk about the record and answer questions from the press, competition winners, and questions tweeted in from the public.
This new compilation series is a celebration of house music's meteoric rise in the late 80s and early 90s as well as its resurgence in recent times. Todd Terry has been there with Ministry of Sound from the beginning and makes his compilation essential listening for house fans new and old.