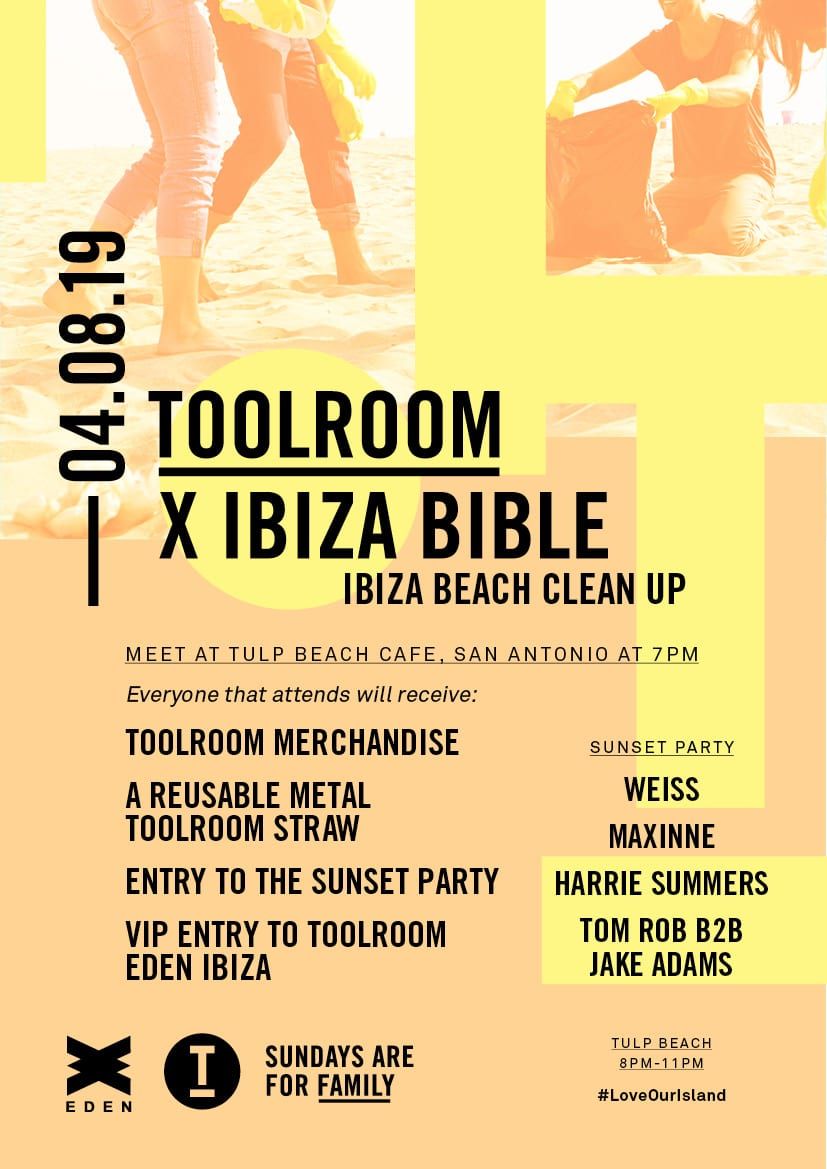 Toolroom Hosts Ibiza Beach Cleanup This Sunday
 #LOVEOURISLAND
Dear Friends,
We are writing to you as over the last 9 weeks, during our time on the White Isle this summer we have more and more strongly about a certain subject. That is, the state of our beaches in San Antonio and how they are left after every big day & night…
We understand that we are one of the reasons that they are left this way, because people leave our party having the time of their lives and without a care in the world. However, as fun as partying is, we shouldn't let our actions negatively effect the environment.
SO…. WHAT ARE WE GOING TO DO ABOUT IT!?
This Sunday 04 August we are teaming up with Ibiza Bible to host our first (of many) Beach Clean Up in San Antonio from 7pm-9pm! 
We will be meeting at Tulp Beach Cafe in San Antonio and everyone that joins us will get some free merchandise, free Toolroom Metal Straws, free VIP tickets to Toolroom that night and access to a special after-party at the end of the clean-up.
Weiss, Maxinne and a selection of DJs from the Island will be hosting the after party!
It's no longer time to bury your head in the sand — get involved!
#LoveOurIsland
The Toolroom Family xx
Toolroom hosts Sunday nights at Eden Ibiza every week until 22 September. Buy tickets:
https://Toolroom.lnk.to/ToolroomIbiza2019TP
https://www.ibiza-spotlight.com/night/promoters/toolroom
For more information on Toolroom Ibiza 2019, the Eden residency, and everything else Toolroom, head to www.toolroomrecords.com
——————————
TOOLROOM SOCIALS
www.toolroomrecords.com
https://www.facebook.com/toolroomrecords
https://soundcloud.com/toolroomrecords
https://twitter.com/toolroomrecords
https://www.instagram.com/toolroomrecords