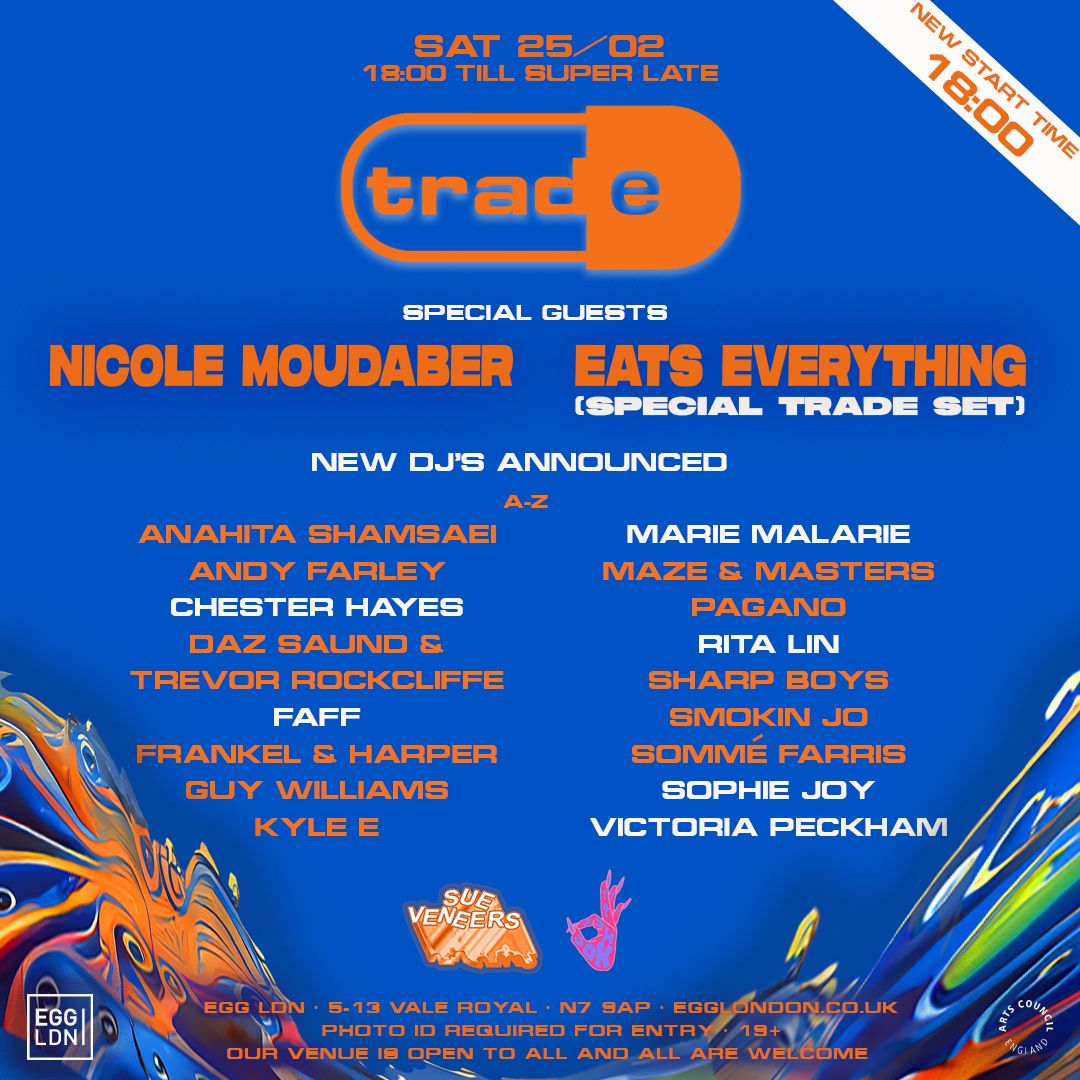 Trade Announces 2nd Wave Of Guests as UOKHUN? & Sue Veneers Takeover The Loft on Saturday February 25th
Following the sold-out Trade 30th Anniversary 24 hour clubbing marathon, the club that broke all the rules announces its return on Saturday February 25th running until super late.
"Trade was the club that inspired and taught me EVERYTHING I know. It's one of my favourite clubs – Sunday mornings was Trade. It was quite something with its incredible energy that it exuded and it was insanely good. From the music to the crowd, it was always consistent, it was totally hedonistic, and I loved every minute of it. " 
Nicole Moudaber
Announcing the 1st wave of DJs and leading the charge for Trade 25.2.23 is Nicole Moudaber and Eats Everything (Special Trade set) and in alphabetical order: Anahita Shamsei, Andy Farley, Daz Saund & Trevor Rockliffe, Frankel & Harper, Guy Williams, Kyle E, Maze & Masters, Pagano, Sharp Boys, Smokin Jo and Somme Farris.
'Often Copied, Never Equalled'…Trade returns for a huge gathering welcoming a whole cast of new DJs, performers, lasers, and like-minded promoters lining up alongside some of the iconic celebrated Trade Resident DJs & Special Guests Nicole Moudaber & Eats Everything playing a Special Trade Set.
TRADE (who undisputedly changed the rules of clubbing) promises to be a hugely mesmerising night, underpinned by iconic and cutting edge production all fired up on Egg LDN's huge sound system. Is anyone going home till the last beat drops from Egg's various dance floors and terraces!
Announcing its second wave of guests Trade sees East London's queer clubbing sensations Uokhun? and Sue Veneers takeover The Loft with an intergalactic cast of DJs and performers.
OG Trash Queens of the East London queer scene UOKHUN? have sprinkled their clubbing magic from notorious toilet raves in Ibiza super clubs to parties in London strip bars and church basements. With a house, disco and pop soundtrack from Resident DJs Victoria Peckham, Rita Lin, and Sophie Joy Uokhun? serving up beats, campery and chaos, it's all about the big love vibez at their Loft Takeover Trade session. Primed to keep things hot, sweaty and gagged…in the words of Shania…"Let's Go Girls!!
Uokhun have a Special Guest DJ to announce at the beginning of February.
Goin' in alongside Uokhun are Sue Veneers, an esteemed performance collective of DJs, dancers and hosts that have bought their unique day glo energy to festivals such as the Homobloc, El Dorado and Amsterdam's Milkshake. Founded by choreographer and resident DJ Chester Hayes, their Trade Takeover debut also features Bryony Masters, Faff and Marie Malarie. Performances on the night come from the creme de la creme of queer talent including Jane Norman, Kaiden Ford, Mairi Houston and Paris TuBoleyn. In the words of Jane Norman herself- 'Shall we have it??'
Bringing everyone together for one of early 2023's biggest dates in the clubbing calendar.
"It's amazing that Trade still touches a vital chord in the current electronic clubbing landscape and I think it's down to our constantly evolving and updating approach. We always honour what's been before but actually what's really exciting is keeping Trade at the cutting edge both musically and in terms of production. And of course our wonderfully inclusive up for it crowd that never want to go home. See you on the dance floor"
Laurence Malice, Trade Creative Director & Founder 
Trade continues to offer a safe space for everyone, one that's inclusive and also one that champions the ever-evolving sounds of underground clubbing. With a huge demand from its loyal following, Trade is ready to serve up a unique slice of clubbing as part of its long awaited return to the capital.
See Ya On The Dancefloor Hunz!
Listings Info
Event: Trade
Date: Saturday February 25th 2023
Venue: Egg London, 5 – 13 Vale Royal, London N7 9AP
Time: 6pm – 9am and beyond…
DJs Nicole Moudaber & Eats Everything (Special Trade set)
In alphabetical order: Anahita Shamsei, Andy Farley, Daz Saund & Trevor Rockliffe, Frankel & Harper, Guy Williams, Kyle E, Maze & Masters, Pagano, Sharp Boys, Smokin Jo, Somme Farris
Loft: Uokhun? featuring DJs: Victoria Peckham, Rita Lin, Sophie Joy + A Very Special Guest TBA
Sue Veneers featuring DJs:  Bryony Masters, Chester Hayes, Faff and Marie Malarie 
Performers Jane Norman – Kaiden Ford  – Mairi Houston and Paris TuBoleyn 
Admission: Early Birds Sold Out; 2nd ReleaseTickets from £25 from RA: https://ra.co/events/1627627
Event: https://www.facebook.com/events/1072945666908455
https://www.instagram.com/tradeclubuk/
https://www.facebook.com/groups/356346335242557
https://www.facebook.com/groups/24929225480