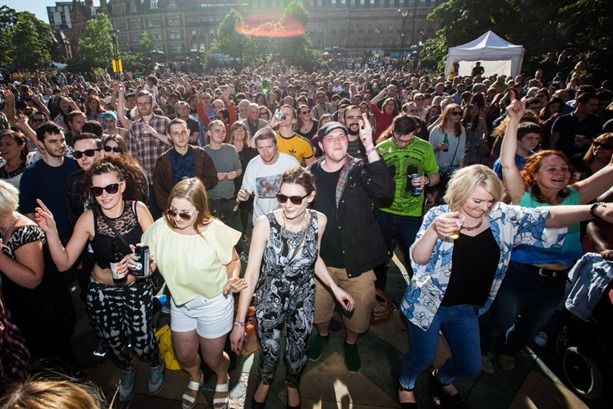 Tramlines Festival Announces 2016 Stage Times
Digital version of the full 2016 programme also available from 17 June. Festival-goers can now plan ahead to get the most from this year's Tramlines.
Tramlines Festival has announced the stage times for every act performing this year. Returning to Sheffield for its eighth year from 22 to 24 July, Tramlines is the UK's biggest inner-city festival and offers a genre-spanning and eclectic lineup. The bill, which features over 250 artists, includes the likes of Catfish and the Bottlemen, Jurassic 5, Dizzee Rascal, Kelis, The Dandy Warhols, George Clinton Parliament Funkadelic, Goldie, Gaz Coombes, Derrick Carter, Cut Chemist and many more.
With a digital version of the full 2016 programme also available from 17 June at www.tramlines.org.uk music fans can plan their Tramlines experience in advance, making sure they take full advantage of one of the most exciting and diverse festival lineups this summer.

Over three days, 100,000 music fans transform Sheffield city centre into a huge, vibrant festival site. Three outdoor stages and 18 indoor venues come alive to deliver a dazzling array of music and entertainment. From the 15,000 capacity Main Stage to the Sheffield Cathedral, the O2 Academy to Devonshire Green, The Leadmill to Hope Works; Tramlines offers a huge amount of choice and, with full stage times and a digital version of the 2016 programme, festival-goers can plan what music to enjoy at their leisure, avoid any clashes, and make Tramlines 2016 their best yet.

From indie to R&B, electronica to grime, folk to reggae and more, Tramlines has got it covered. In addition to the headline acts, the 2016 lineup also includes The Mystery Jets, Dawn Penn, Crazy P Soundsystem, Craig Charles, Public Service Broadcasting, Field Music, Little Simz, The Enemy, Norman Jay MBE, Toddla T, Young Fathers, My Nu Leng & Dread MC, David Rodigan, Skream, Tom Findlay (Groove Armada), Zero 7 (DJ set), DJ Woody, Big Narstie, The Crookes, Robert Hood presents Floorplan, Leon Vynehall, Everly Pregnant Brothers, Steve Davis, Ghetts, Nordic Giants and loads more.

Tramlines has a well earned reputation for discovering new talent, so the stage times announcement is also an opportunity to plan a schedule that takes in some of the fastest rising stars of the future, such as Mercury Music Prize 2015 nominee C Duncan, singer/songwriter Rukhsana Merrise, Irish techno producer LOR, BBC 6 Music favourite Laura J Martin and talented young rapper Little Simz.
Tickets for Tramlines Festival 2016 are on sale and, as ever, remain seriously good value. Night-time tickets and Sunday day-time tickets are now sold-out, but a weekend ticket comes in at the bargain price of £42 plus booking fee, covering all stages from day until night. To stay for the official closing parties on Sunday night, tickets are an added £5, making it one of the most competitively priced festivals around.

For up-to-the-minute information about Tramlines 2016 visit www.tramlines.org.uk or follow Tramlines on Twitter @tramlines

Tramlines 2016 Lineup
Dizzee Rascal / Catfish and the Bottlemen / George Clinton and Parliament Funkadelic / Jurassic 5 / Kelis
Basement / Big Narstie / Craig Charles / Crazy P Soundsystem / The Crookes / Cut Chemist / The Dandy Warhols / David Rodigan / Dawn Penn / Derrick Carter / DJ Hype & IC3 / DJ Woody / Dub Phizix & DRS / Eliza and the Bear / The Enemy / Everly Pregnant Brothers / Field Music / Footsie / Gaz Coombes / Ghetts / Goldie / Hinds / Inheaven / Jack Dat / Jane Weaver / Kate Jackson / Kiko Bun / Leon Vynehall / Little Comets / Little Simz / Machinedrum & Ragga Twins / Mica Levi (DJ) / Marika Hackman / Medlar / Moon Duo / The Mouse Outfit / Mr Scruff & MC Kwasi / My Nu Leng & Dread MC / Mystery Jets / Norman Jay MBE / Nordic Giants / Novelist / Paranoid London / Public Service Broadcasting / Quantic / Robert Hood Presents Floorplan / Skream / Steve Davis (DJ) / Teleman / Tom Findlay (Groove Armada) / Toddla T Takeover / Young Fathers / Zero 7 (DJ)
Agbeko / Akid / Alatt / Alibi & Skipz / All We Are / Al Zanders / Andy H / Amy Becker / ArcTanGent DJs / Ardyn / Arnivore / Aztec Doll / Banana Hill / Bang Bang Romeo / Beaty Heart / Bernard and Edith / Big Eyes Family Players / The Black Lagoons / Blasher / Blessa / Blood Sport / Bluewave / Boddika / Body Antoinette / Capo Lee / Caroline Francess / Cervo / C Duncan / Chris Welch / Clay / Clipboard (Quality Control) / Coco / Cowtown / CPSmith (Central Processing Unit) / Crisjn / Daniel Whitehouse / Dan Mangan / Da Rico / Deep Space Orchestra / Dego / Denham Audio / Denis Sulta / Dialects / DMK / Don't Look Now DJs / Dr Cryptic / Drumro[II] / DSL / Ekkah / Emily May / Emma Crowder / Es.Q / exmagician / Fleetmac Wood / Flibb / FOES / Future Wildstyle / FYI Chris / Gett Off / Giant Swan / Ginger Tom / Global Roots Soundsystem / Goat Head / Gold Teeth / Gramercy Park / Guttersnipe / Gwenno / He/aT/ The Herron Brothers / High Hazels / Holly Macve / Holy Esque / Hot Diamond Aces / The Hot Soles / Huddle / Hybrid Vigour DJs / Jasper James / Jayskilatah / Jim Ghedi & Toby Hay /Joe90 (Futureboogie) / Johnny Lloyd / JVC / K.O.G & The Zongo Brigade / King Capisce / Kuenta i Tambu / Last Japan / Laura J Martin / LEVELZ / Leroy / Linnemann / Little Mesters / Living Body / Lloyd SB / Loam / Logan Sama / LOR / Lo Shea / Lusts / Madam X / Marquis Hawkes / Matrixxman / MC Shinobi / Meilyr Jones / Micra.Soft / Miles From Kinshasa / Motional / Mt Wolf / Muad'Dib / Mumdance B2B Pinch / Napoleon IIIrd / NARCS / Neon Waltz / Negative Midas Touch / Nice Like Rice / North Adolescence / Ollie Bradley / Pareidolia / Pedram / Perc / Pixi / Pixx / Plenty Vibes / P Money / Proteus (DJ) / Pure Bathing Culture / Randall / Real Talk / Reflector / The Reflex / Rev. Austin / Revolver 50th Anniversary Performance / Rita Maia / Roseau / Roots / Rukhsana Merrise / Rye Wax / S-Unit / Saif Mode / Sammartino / Scuba / Sekt-87 / Silver Wilson / Simmerdown DJs / Sir Spyro / Skillzy / Sly & the Family Drone / Smorsli / Souljam / Sticky Blood / The Stars Band / Ste Roberts / STI / Stoaty / The SSS / Suited & Booted Dancehall Brotherz / Sundara Karma / Thomas Truax / Throws / Tom Trago / Tom Unlikely / Toucans / Trash / Triple Point / Trojan Explosion / True Fiction / Two Two / Unit 3 / Velocity Brown & the Hot Rods / Wheresnorth? / Yndi Halda / Zed Bias B2B Paleman / Zuzu.

Links
www.tramlines.org.uk
www.facebook.com/tramlines
www.twitter.com/tramlines
www.instagram.com/tramlines

Tickets available from:
http://tramlines.gigantic.com/