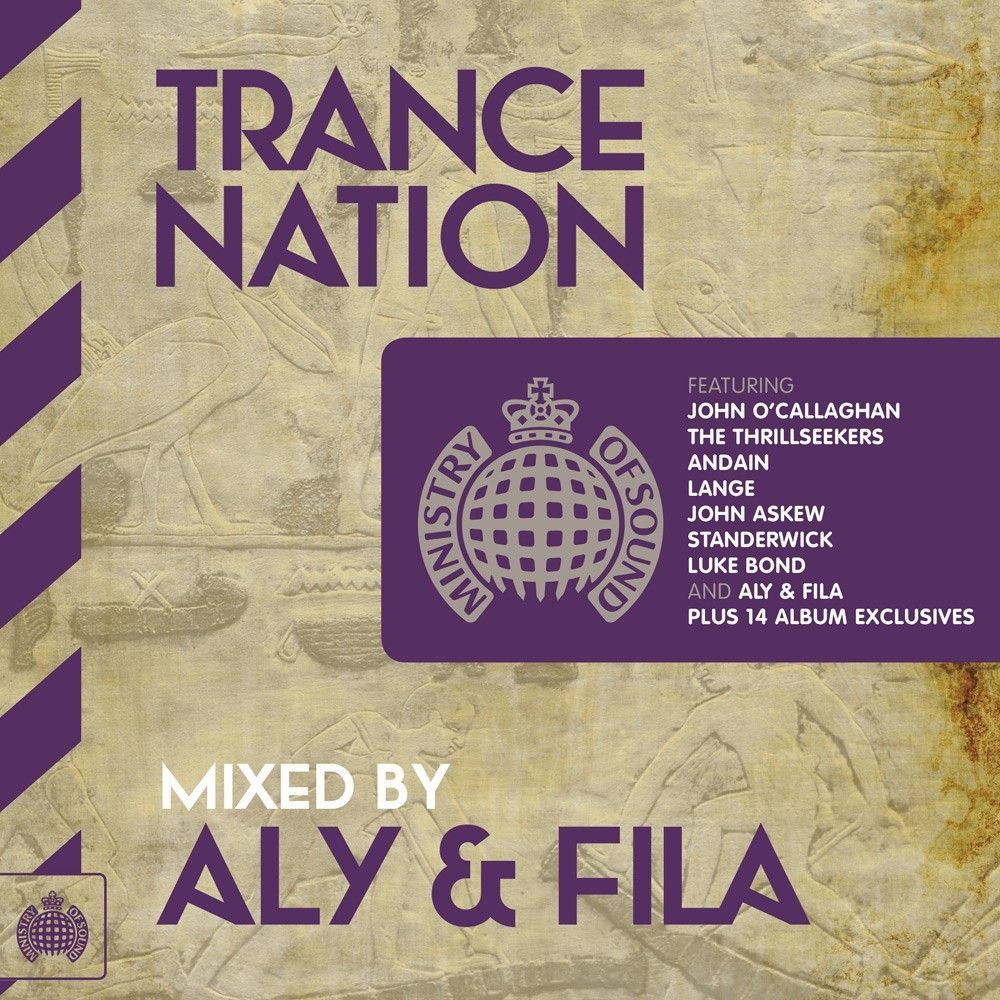 Trance Nation – Mixed By Aly & Fila
The 26th of May heralds the day many have seen coming in the stars for years – the gathering of Trance Nation – "the Super-Bowl of trance mix comps!" (MIXMAG) and those club rocking ultras, Aly & Fila.
Former compiler/mixers of the multi-million selling Trance Nation series have included UK DJ eminence like Above & Beyond, Lange and Andy Moor, as well as Euro-heroes Ferry Corsten, Cosmic Gate and Rank 1. Now, joining that illustrious list, and for the first time bringing the series some Eastern spirit, Ministry of Sound are proud to welcome Egypt's Aly & Fila to the Trance Nation honour roll. Past masters of the soundly rocked club, arena & festival and perennial Top 20 favourites in DJ Mag's annual poll, they now bring their sonic (fire)brand to Trance Nation.
With music procured studio-fresh direct from the desks of some of their most trusted production legion, Aly & Fila's Trance Nation contains a massive 14 never-previously-heard future-anthem exclusives. It also features work from numerous heavyweight trance operators, including the likes of John O'Callaghan, Thrillseekers, Lange, John Askew, Ronski Speed and, naturally, much from Aly & Fila themselves.
Sourced from some of Europe most established and reliable trance houses (Armada, Black Hole Recordings, Garuda, Subculture and own Future Sound Of Egypt), 2014's Trance Nation touches down in the thick of a synth firestorm. Aly & Fila immediately fan those flames with music from some of the scene's fast-tracking young-bloods. White hot studio-ware like James Dymond's Solidus Next Level' from Irish pairing
Sneijder and Bryan Kearney and A&F's entrancing re-paint of Luke Bond & Roxanne Emery's 'On Fire' all deliver high-arcing synths up top… and bass-bin kickin' LFO below!
The affecting vocal strains of Neptune Project's 'Lost All My Tears' opens the gateway to a sequential rush of scene-wide legends. Both Andain's classic 'Beautiful Things' and Aly & Fila/John O Callaghan collab 'Your Heart Is Mine' (in their newly remixed Fady & Mina forms) swell the sonics, as do the daisy-cutting drums of John Askew's 'Mechanism' and Ronski Speed's positively empyrean 'Fiero'.
With its climactic sound draft, Mix 1's final trance peaks are scaled by Thrillseekers & Standerwick's 138 lightning strike 'Like They Used To' and John O'Callaghan atom-smashing 'One Special Particle'.

On joining the DJ roll call for Ministry's renowned album series, Aly & Fila said: "The Trance Nation Compilations are legendary; we listened to the original Volumes mixed by Ferry Corsten over and over until we wore the CDs out. They were, and still are amazing compilations; we are very proud to have been asked to the Mix the latest Volume!"
Mix 2 dawns with Liam Wilson's 'Adventures In Stereo', which syntheses Goa and Psy elements into T.N.'s make-up. With the drums pounding heavier and bass resonating deeper, its tough trance stance is further developed by A & Z vs. Allen & Envy 303-ride 'Osiris', whilst synth-slinger Photographer scripts evermore uplift and energy into A&F's epic 'Laily'.
Supplying a box-out preview of Future Sound of Egypt's summer catalogue, the early to mid sections of Disc 2, bring an onrush of Aly & Fila's label's 'forthcomings'. The irrepressibly spirited 'Unbreakable' from Temple One, the gravity resistant synths of Will Atkinson's 'Eternally', 'Sailing Airwaves' – ReOrder & Ian Standerwick new SkyPatrol's outing and Standerwick's own ballistic 'Valyrian' keep the mix's needle firmly on the red line.
As the 2014 edition of Trance Nation reaches its culminating heights, the O'Callaghan remix of Lange's 'Unfamiliar Truth' and Bryan Kearney and Will Atkinson respective rebuilds of Aly & Fila's 'Where To Now' and 'Mother Nature' gives it its tour de force coup-de-grace!
Trance music delivered shot-glass-strong, 'Trance Nation Mixed By Aly & Fila' arrives May 26th!!
Tracklist:
CD1:
01. Mohamed Ragab & DoubleV – Erathia (Original Intro Mix)
02. James Dymond – Solidus (Original Mix) [Armada Music]03. Amine Maxwell – Olusia (Original Music) [Alter Ego]04.Kheiro & Medi Feat. Ameera – Hayati (Original Mix)
05.John Askew – Mechanism (Original Mix) [Mental Asylum]06.Luke Bond feat Roxanne Emery – On Fire (Aly & Fila Remix) [Garuda]07.UDM – Recollection (Original Mix) [Silent Shore Records]08.Neptune Project – Lost All My Tears (The Noble Six Remix)
09.Andain – Beautiful Things (Fady & Mina 2014 Remix) [Blackhole]10.Sneijder Vs Bryan Kearney – Next Level (Original Mix) [Subculture]11.Aly & Fila feat. Sue McLaren – Quiet Storm (Aly & Fila Club Mix) [Armada]12.Abstract Vision – Rocket (Photographer Remix) [Unique Sense Rexcords]13.Aly & Fila Vs John O Callaghan – Your Heart Is Mine (Fady & Mina Remix) [Armada]14.Ronski Speed – Fiero (Chris Metcalfe Remix) [Euphonic]15.The Thrillseekers Vs Standerwick – Like They Used To (Original Mix) [WAO138]16.Lostly – Never Forget (Dub Mix) [Discover]17. Nick Callaghan & Craig Meicha – Rectify (Original Mix) [Kearnage]18.John O'Callaghan – One Special Particle (Original Mix) [Subculture]
CD2:
01.Liam Wilson – Adventures In Stereo (Original Mix) [Discover]02.Andres Sanchez VS Omar Sherif – Until Amnesia (Original Mix)
03.A & Z vs. Allen & Envy – Osiris (Original Mix)
04.Aly & Fila feat. Karim Youssef – Laily (Photographer Remix) [Armada]05.Temple One – Unbreakable (Original Mix)
06.The Noble Six – Tapestry (Original Mix)
07.Neptune Project Feat. Polly Strange – In Your Mind (Original Mix)
08.Ferrin & Morris – Amatoria (Original Mix) [Transistic]09.ReOrder & Ian Standerwick pres. SkyPatrol – Sailing Airwaves [In Memory Of Matt Trigle] (Original Mix)
10.Will Atkinson – Eternally (Original Mix)
11.A & Z – Invocation (Original Mix)
12.Cold Blue – Black Rock (Original Mix) [Monster Tunes]13.Lange feat. Hysteria! – Unfamiliar Truth (John O'Callaghan Remix) [Lange Recordings]14.Aly & Fila feat Sue McLaren – Where To Now (Will Atkinson Gold Mix) [Armada]15.Aly & Fila feat. Rafif – Mother Nature (Bryan Kearney Remix) [Armada]16.Indecent Noise – Daybreak (Original Mix) [Mental Asylum]17.Standerwick – Valyrian (Original Mix)
www.alyandfila.com
www.facebook.com/alyandfila
www.twitter.com/alyandfila
www.youtube.com/alyandfila
www.ministryofsound.com
www.soundcloud.com/ministryofsound