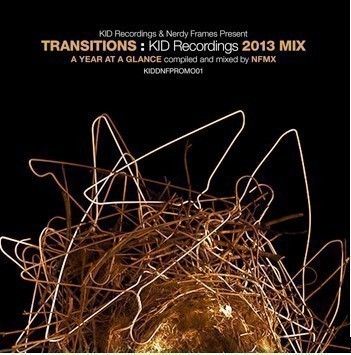 TRANSITIONS: KID Recordings 2013 MIX
KID Recordings and Nerdy Frames (New Zealand's Electronic/Indie Mouthpiece) team up for the promo-only compilation TRANSITIONS: KID Recordings 2013 MIX- A YEAR AT A GLANCE selected and mixed by Nerdy Frames main man NFMX. The 12-track, 45+ minutes mix serves as the perfect introduction to the New York-based indie imprint's dynamic and diverse musical vision and output and features tracks and remixes from their singular roster including VANESSA DAOU, BETTY BLACK, ALLIES FOR EVERYONE, GANGA, TOMMY BONES & LYDIA RHODES, FOLDING LEGS, SUNSHINE JONES (of pioneering San Francisco electronic act DUBTRIBE SOUNDSYSTEM) and more. Download it here.

The darkly seductive Betty Black starts off the set with Aram's remix of her smoldering "Fatality of Love" single that puts a dancehall infused electro spin on the track before gliding into Ganga's blissed-out "Glitter And Gold", which seamlessly fuses sweeping strings, accordion, percussion and redolent jazzy piano into an enveloping moodscape. Folding Legs follow with their fearless alt-pop sound that's equally volcanic, visceral and pastoral. Their contributions, "Double Time" and "Drown in Light", are just a glimpse of their thundering sonic expanse. The iconic Vanessa Daou's spellbinding voice cuts through everything to enrapture you in Manny Ward's Dangerous Vocal remix of her new single "Danger Ahead. Tommy Bones & Lydia Rhodes' propulsive anthem "What I Feel" delivers the collection's most fiery dancefloor assaults with two reworks by progressive house heroes Sted-E & Hybrid Heights and nu-disco titan The Night Owl (aka Matt Johnson of Boston-based outfit and latest KID Recordings singing Nightriders). Allies for Everyone's rounds out the proceedings with the Rubber Ross mix of "Supernatural" and closer "Feel Your Love", which transports you to midnight in the tropics before the beat explodes into the cosmos to end the journey.

The thread that unites KID Recordings' thrillingly diverse roster is a commitment to bold and daring artists, regardless of genre, who make uncompromising work that flies in the face of trends. Founder Craig Roseberry explains, "The focus is to build a solid stable of artists that inspire me…that I enjoy working with and can nurture on a more personal and grass roots level. This is a partnership based on full artistic creativity and mutual involvement where the artists and label share in everything. Artists have always wanted to be informed and understand intimately how the industry works on every level and working with KID provides them that opportunity. It's very empowering." TRANSITIONS: KID Recordings 2013 MIX- A YEAR AT A GLANCE is a testament to that vision.
Download at Nerdy Frames: http://www.nerdyframes.org/transitions-kid-recordings-2013-mix-a-year-at-a-glance/