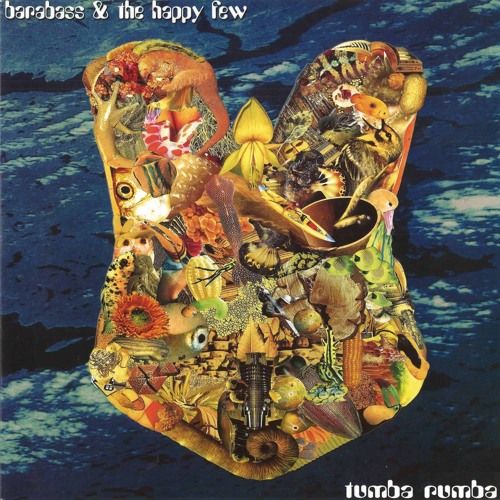 Barabass & The Happy Few - Tumba Rumba
Barabass & The Happy Few was a musical collective from Bergen, Norway. Now defunct, the band consisted of a standard DJ-keyboard-drums-bass-guitar line-up, but they could easily be fronted by a bluegrass-guitarist one moment and a jazz trumpet player the next. Barabass & The Happy Few's aim was to make instrumental music where humor goes along with improvisation, while keeping things funky and focused on the dance floor, especially in their wild live shows.
Happy Few Records has been reissuing the rare, original EPs, with Arizona and Madagascar delighting fans new and old over the last few months. Now Beatservice has released the third and final of the original EPs, Tumba Rumba. Originally released on vinyl in 2002, Tumba Rumba continues the eclectic approach and adds funkier elements. The title track showcases this with its wildly mesmerizing electric bass, cut-up beats, and stereo-swirling synth lines. "Fonk" is a mid-tempo excursion led by a pulsing synth bass and a theremin-like melody. "Luca Rossi," which also appears on the band's 2004 album Rali Rei, is another funk stomper, already receiving tons of play on streaming platforms. The EP closes with the breakbeat frenzy of "Dødt Nebb," complete with cool vinyl scratching, spacey melodies, and another fantastic bass line.
Label and Artist Links:
www.beatservice.no
www.happyfew.no/index.php?page=artists/happyfew