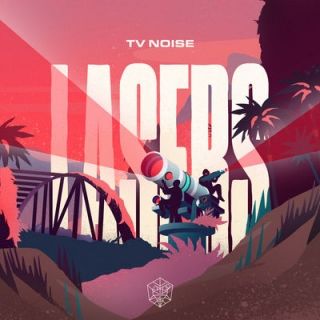 TV Noise – Lasers
TV Noise's 808 was one of the most played tracks of 2018 according to 1001tracklists.com and it's not hard to hear why. Channelling the duo's trademark larger-than-life, almost cartoon-like sense of sonic imagination, its fierce mix of classic 808 drum sounds and cutting-edge cut-up technique made it a surefire winner.
Now its naughty little brother is here to play. Lasers is the sequel to 808, taking the prototype one step further into madness with more of that hard-edged charisma oozing from every pore. The brand new track is already having some support from major artists, like Zedd who dropped it at the Ultra Miami main stage.
Pummelling sub bass weight hits us from the word 'go', with chopped vocals hyping up the feel. The breakdown lets those lasers fire at full pelt, beaming out big swathes of colourful sound before we slam into another manic drop where distorted vocal screams do battle with the heavy bass and chunky beats. A tense breakdown brings some eerie pad sounds that have an ominous undertone, and the pummeling tribal rhythm that follows takes things darker still. All that's left is for those lasers to thrust back into the life, signalling the beginning of another madcap dive into that weird and warped groove.
Handle with care: this one is another monster!
TV Noise 'Lasers' is released on STMPD RCRDS on Friday 3 May.