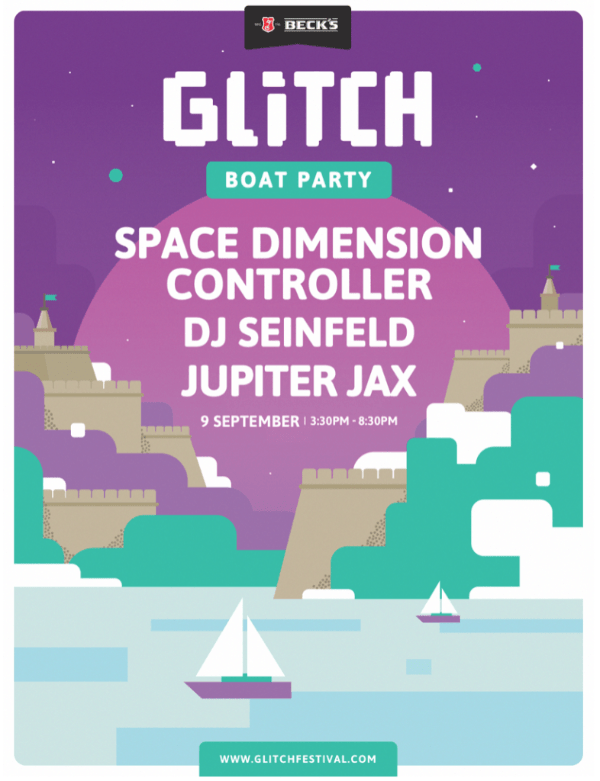 Two months until Malta's Glitch Festival
Last year, Maltese newbie 'Glitch' won over the underground with a fresh festival that captured the spirit of the Malta movement, and 2017 looks to go above and beyond, with Ben Klock, Maceo Plex, Marcel Dettmann, Jon Hopkins, Recondite, Mr. G, Palms Trax, Blawan, Dax J all on board. With just two months to go until the second outing, Glitch can announce their boat party with Space Dimension Controller, DJ Seinfeld and Jupiter Jax, happening the day after the main event 9th September. Set in the idyllic Maltese location Gianpula Fields between 7th-8th September, Glitch is the perfect balance of a sunshine trip and heads down party experience, all soundtracked by global heavyweights and premiere new acts. With tickets from just €69.90 and cheap return flights from most EU destinations, there's all the more reason to get involved with this end of summer affair.
Everyone knows that a sun-soaked festival wouldn't be complete without the boat party, and Glitch's nautical bill is a serious one, setting sail between 3pm – 8pm on the 9th September. Headlining is R&S affiliate Space Dimension Controller; known for his cosmic productions plus unbeatable skills as a selector. Joining SDC is lo-fi hero DJ Seinfeld, a break through who has pioneered the edgy, fuzzy sounds of the lo-fi wave. Finally, they'll be joined by Malta local and Glitch family, Jupiter Jax, another name creating other-worldly electronic explorations. Taking place on the 9th Sept, the boat party is a way to extend the Glitch experience, with five hours of vibes priced at just 26.90euro, purchase from here. It'll be a blissed out affair, the only way to round off the trip.
This edition of Glitch Festival takes place across 7th and 8th of September at Gianpula fields, framed against the skyline of Malta's fortified city, Mdina. Glitch boasts one of the most unique festival venues, where party people can discover, relax and lay back, all soundtracked by the most discerning crew of talent there is on offer. With sunshine, good vibes and the most blissful of settings, it's the ideal festival and holiday collab. With return flights at just £120 from most UK and EU airports, there's no better time to book an escape to Malta! There are plenty of accommodation options in the area, flights, apartment and ticket packages can be found through the Choice Holidays partner. Packages are flexible, offering thousands of flights from anywhere around the world. Find the fortress. Find the Glitch.
GLITCH FESTIVAL
7th – 8th September 2017
Tickets from 69euro: https://tickets.glitchfestival.com/