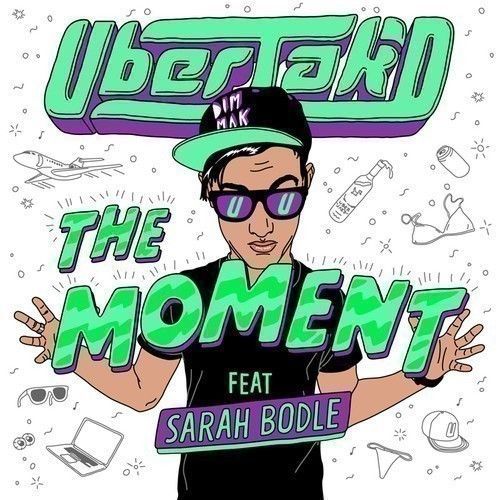 Uberjak'd – The Moment – feat. Sarah Bodle
Australian producer Uberjak'd, one of the newest additions to the Dim Mak family, is gearing up to release his upcoming single "The Moment" featuring vocalist Sarah Bodle March 11. The track is the lead single from his forthcoming Uberjak'd & Friends EP scheduled for release later this April. "The Moment" is a colorful array of angelic vocals, heart-pounding synths, and pumping basslines that perfectly exemplifies the production whiz at his best.

As one of the leading figures in the growing Melbourne bounce scene, along with comrades TJR and Will Sparks, Uberjak'd is taking the Australian-grown genre to global heights via the Uberjak'd & Friends EP. The 4-track set explores the Melbourne bounce sound in-depth and takes it to unknown territories featuring a mix of electro, house, and heavy bass.

Lead single "The Moment" will hype up crowds around the globe as the passionate and harmoniously structured vocals of Sarah Bodle mix as Uberjak'd builds the bass beyond limits. "Static" continues with enough bulky electro-bass to rupture eardrums worldwide. Uberjak'd joins fellow Aussie Chardy on the chugging "All Aboard," while closer "Kuzantip" with producer Krunk! packs a heavy big room bounce punch. Just in time for festival season, the Uberjak'd & Friends EP boast fierce growls set to rumble clubs across the globe this year.

In support of the Uberjak'd & Friends EP, Uberjak'd is going overseas for his inaugural North American tour along with fellow label mate Autoerotique. Presented by Dim Mak, the Auto Jak'd Tour will pair the two producers and take them across major clubs in the U.S. and Canada.

The complete track listing for Uberjak'd's Uberjak'd & Friends EP is as follows:
• The Moment feat. Sarah Bodle
• Static
• Uberjak'd & Chardy – All Aboard
• Uberjak'd & Krunk – Kuzantip

Uberjak'd is at the forefront of the new wave of Australian club producers impacting the global electronic scene with freshly signed deals across Steve Aoki's Dim Mak, Ministry of Sound Australia, and Laidback Luke's Mixmash.
Having mixed Ministry of Sound's Clubbers Guide 2013 and The Annual 2014, Uberjak'd has been on the road touring from end to end, whilst delivering the freshest tunes to his loyal followers via his monthly podcast—currently the #1 music podcast on iTunes Australia with a monthly audience of 100,000. Testament to his quick rise to the top, Uberjak'd stormed into the top 10 in this year's inthemix 50 (Australia's largest DJ poll).
Having been tapped to remix tracks for Example, Luciana, Autoerotique, and Oliver Twizt, plus releases on the cream of dance labels such as Mixmash, Downright, Hussle, Dim Mak, Island and Neon, with his tracks being played by EDM luminaries Chuckie, Tristan Garner, Laidback Luke, Carnage, David Guetta, Nari & Milani, Afrojack, Morgan Page to name a few, Uberjak'd is staring down a jam-packed schedule in 2014 across Europe, America, Australia, and everywhere in-between.
Not that it fazes him. "Music shouldn't be taken too seriously," says Uber. "And if it is, then you're seriously doing something wrong," says Uberjak'd.

For more information on Uberjak'd visit:
www.uberjakd.com
www.facebook.com/uberjakd
www.twitter.com/Uberjakd
www.soundcloud.com/uberjakd
www.youtube.com/uberjakd

For more information on Dim Mak Records, visit:
www.dimmak.com
www.facebook.com/dimmakrecs
www.twitter.com/dimmakrecs
www.youtube.com/dimmakrecords
www.soundcloud.com/dimmakrecords
www.instagram.com/dimmakrecs