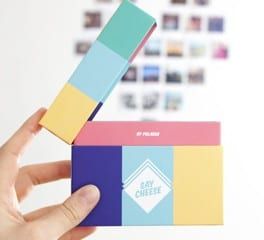 UK launch of simplest way to print smartphone & social media images
With over 40 million smartphone users in the UK, we take hundreds of photos, anywhere, anytime, memories we want to keep forever. Friends, parties, outfits, that delicious meal, that amazing holiday or festival. Cheerz is an innovative young lifestyle brand launching in the UK on the 17th August 2015, bringing a simple, fun, stylish and fully customisable way to print and enjoy the best moments from our smartphones lives in an authentic Polaroid format. Just like the good old days but with a modern twist, the super simple Cheerz website and app for iOS and Android allows those special moments in our lives to be cherished forever with just a click.
In 2015 the printed image is back, a whole generation is rediscovering the magic experience of sharing physical polaroids with loved ones. And as Google's vice-president Vint Cerf raises the stark warning that digitally stored images and information could be wiped out by tech upgrades and deteriorating files, it has become more important than ever to not allow memories to live and die on a hard drive. 'If there are images you care about print them out', Vint Cerf 2015.
Fully integrated with all devices, social networks and Dropbox, Cheerz is the fun way to select, print and hold photos in your hand, all wrapped up in beautiful packaging in just a few days. Not only providing a fashionable quality print, personalisation is super easy. Cheerz products can be customised to users specifications, with impressive filters, background colours and text in an array of fonts, each order can be mixed and matched to suit any occasion or setting or tell any story.
From fashioning creative displays within the home to that special vintage selfie or the perfect gift for friends and family, Cheerz presents a stylish way to celebrate and decorate our lives. Images can be applied to any product from their contemporary range. The Polabox Classic is sure to become a summer must-have with quality packaging and inventive design, Polabox ID brings some photo booth magic, while other products include square magnets and authentic polastyle prints.