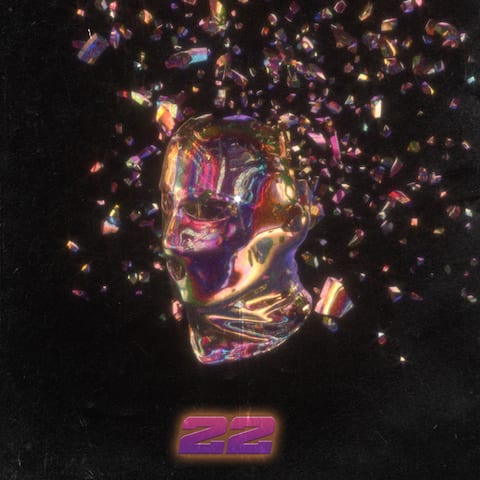 UKNWN Releases 22 Ep & 'To The Moon' Single
19th June 2020, London: Today enigmatic British rapper UKNWN releases his 22 EP alongside new single 'To The Moon'.
UKNWN's 22 EP sees him collaborate with producers Honeywoodsix, Jaime La Cree, Jay Youngs and Cagebeats.  Following UKNWN's independently released eponymously titled debut EP (2017) and Leper EP (2018), 22 is his first long player project to be released via Relentless Records, who he signed to earlier this year, joining label mates Headie One and Frosty.
"The process for 22 was so different compared to my other projects.", says UKNWN. "I was going through a period of change as an individual and wanted that to be reflected throughout my music. Every song on the EP is unique and tailor made – it is truly 1 of 1″
Produced by Jaime La Cree, 'To The Moon' is the third track to be lifted from UKNWN's 22 EP, and follows the May released single 'Bussdown' and March released single 'Adele' with the accompanying music video directed by Meeks and Frost.  Following a trajectory of genre-bending melodies and wavy, spaced-out beats, 'To The Moon' is the ultimate escapism, consistent with the signature sound that UKNWN has now become acclaimed for: "To The Moon is supposed to be a vibe. Ultimately, it's a reflection of the vibes in the studio when it was made."
Re-joining forces with The Midnight Club (who created the visualizer for 'Bussdown' and also have worked on campaigns for Nike, Adidas and more), the visualizer for 'To The Moon' once again hollers at UKNWN's love for gaming, with a Grand Theft Auto inspired, retro and spacey aesthetic.
Through working with some of the UK's hottest underground Trap producers, UKNWN has crafted his own distinctive take on the Wavy, Trap sound.  The London based rapper of Indian heritage has garnered support from the likes of Complex, GRM Daily, Mixtape Madness and more. Renowned for his elusive persona, UKNWN is an artist, who in his own words is "heard not seen". His trademark balaclava is a tribute to all the misfits and outcasts of the world with whom he identifies: "I don't enjoy being the centre of attention. Genuinely someone who doesn't fit in – I'm an outcast".
UKNWN chose the title 22 for his debut EP, not only because he's twenty-two years old, but also because '22' is considered the greatest of all numbers as it symbolizes building a firm foundation for future plans and can help turn big dreams into realities. Considering UNKWN's 22 EP is set to cement the British rapper's steady trajectory towards being one of London's most hyped newcomers, it could not be more appropriately named.
UKNWN'S 22 EP & 'TO THE MOON' SINGLE ARE AVAILABLE TO DOWNLOAD/ STREAM NOW:
To The Moon: http://smarturl.it/UKNWNTOTHEMOON
WATCH/ SHARE THE 'TO THE MOON' VISUALIZER HERE:
DOWNLOAD HI-RES ARTWORK & PRESS SHOTS HERE:
Follow Uknwn here:
For media enquiries please contact:
Kate Head at Stoked PR [email protected] // 0203 816 0410
Julie Smith at Stoked PR: [email protected] // 0203 816 0410