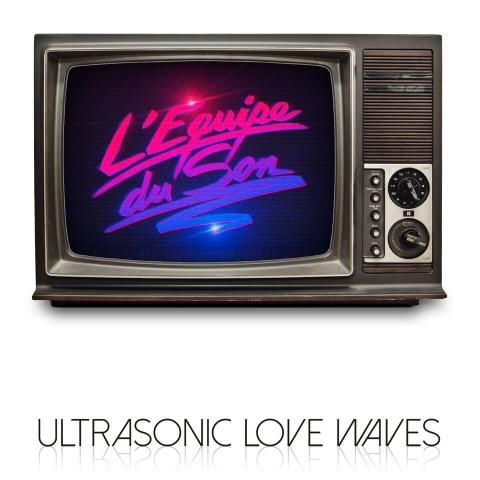 L'Equipe Du Son - Ultrasonic Love Waves
L'Equipe du Son is a long time DJ and music producer also known as Rutger Van Der Kraats. His musical odyssey started at the age of 14, producing music on an Atari ST1024 with cubase, an Akai S01 sampler and a Roland Juno 106. Although Rutger works with modern day software, he still loves to work with synths to kick start the creative flow, or to finish a software based project.Rutger has produced music for a wide variation of media platforms including videos, films, apps and games, he has released music on different record labels under many aliases.

L'Equipe Du Son defines not one single genre or style but a mixture betweenglo-fi, disco and tech house. Rutger explains; "I don't like to be pinned down to one sound, I think that is a struggle many artists have. It's like a long island iced tea, I sometimes like vodka, and sometimes I like rum or gin or tequila even". My DJ sets can range from funk and disco to deep and techy. It really depends on the venue and the atmosphere of the crowd".

In 2010 L'Equipe launched the record label, Silhouette Music, 6 years on and the record label has become one of the most influential underground labels of the electronic Amsterdam and European scenes. Releases have been supported by Hugo Boss, Abercrombie & Fitch, Air France as well as other established names in the industry.

Last year Rutger launched a tech house sub label called Silhouette Noir,representing a more darker and techno oriented sound for the stage. Their first release came from John Beltran, his Safaric EP was immediately picked up by big names such as Vince Watson, Richie Hawtin, Angel Molina and Nino Dos Santos. The track caused some what of a frenzy across all popular digital outlets.

Ultrasonic Love Waves the album was inspired by L'Equipe Du Son's love of80s teen flicks and 70s sci-fi. A homage to the movies that made an imprint on the artist's life, which unconsciously has been the core inspiration for all his music productions in general and to date. "The story holds many different scenes, I tried to make music that expresses the 'feeling' of a particular scene, whether it is a love scene or an intergalactic battle." It was only natural that these two genres would organically merge together, and strongly represent the storyline.
The debut album Ultrasonic Love Waves by L'Equipe Du Son is a multi media phonic experience, with an international actor who narrates the storytelling. Rutger's ideal choice for the voice over was Richard Dreyfuss who featured in the cult film starring the late River Phoenix, Stand By Me, but sadly Dreyfuss wasn't available due to prior work commitments. It was by chance that Rutger met "J.C." whilst working as a composer/producer on a watch brand commercial. Rutger realised that J.C's voice was just the perfect measure of heavy bass and sultry tones for USLW.
The tale of Ultrasonic Love Waves by L'Equipe Du Son, takes the listener on a journey with a group of high school students, experiencing their first sexual encounters and romantic endeavours, with an unexpected turn of events.
Ultrasonic Love Waves

Track list
1. Virgin Girl
2. Night Drive
3. Confessions
4. Trebuchet
5. Something in Your Head
6. This Is The Night
7. Familiar Stranger
8. First Base
9. Love Scene Number 2
10. Dark City
11. Midnight In Space
12. Legend Of The Space Broncos
13. The Planet Destroyer
14. Can't Hide The Feeling
15, Your Heartbeat
16. Battle For Akir
17. Good Vibes