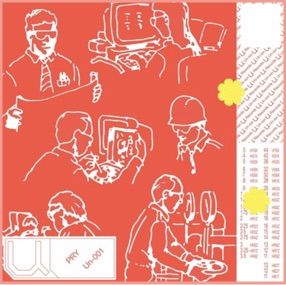 PRY - UN001
Introducing UNION – a newborn label born from the UK, geared towards releasing experimental, electronic inventions inspired by the mundane and the mechanical. Stepping up for the inaugural release from UNION is 'Pry' with his 'UN-001' release, made up of four raw, gritty techno cuts that perfectly personify UNION'S left-leaning sound. SHIFT LOOP will be available to buy on vinyl from 08/12/2017, then digital to follow, with label artwork created by esteemed designer Alex McCullough. This young label should be on the agenda for any fans of dark, underground obscurities – there's much more to come across the next 12 months.
Distinctly raw production elements and an abrasive edge runs through the EP, with opener and title track A1 'SHIFT LOOP' being a stripped back, trippy techno number laced with a modular effects. A2 'NIL MOVEMENT' is more of an electronic obscurity, a pulsing journey filled with nervous energy. On the flip, B1 'FLAT LAPPING' is the third track on the release, made up of cosmic analogue sounds and a intense heartbeat which builds across five minutes. B2 'OFFSET' is a more somber number, dreamy waves of electro layered on top of each other for a hazy, spaced out close to the EP. With titles like SHIFT LOOP, NIL MOVEMENT and OFFSET CYCLE it's an EP inspired by the factory, the mundane and the mechanical. Exploring the man and machine.
Ran by Pry himself and ROYAL SUN, UNION is bringing something new to the table, operating in the leftfield electronic world. Born from the UK, the team have a string of solid releases ready to drop across the next 12 months – there is a lot to watch out for from this team.