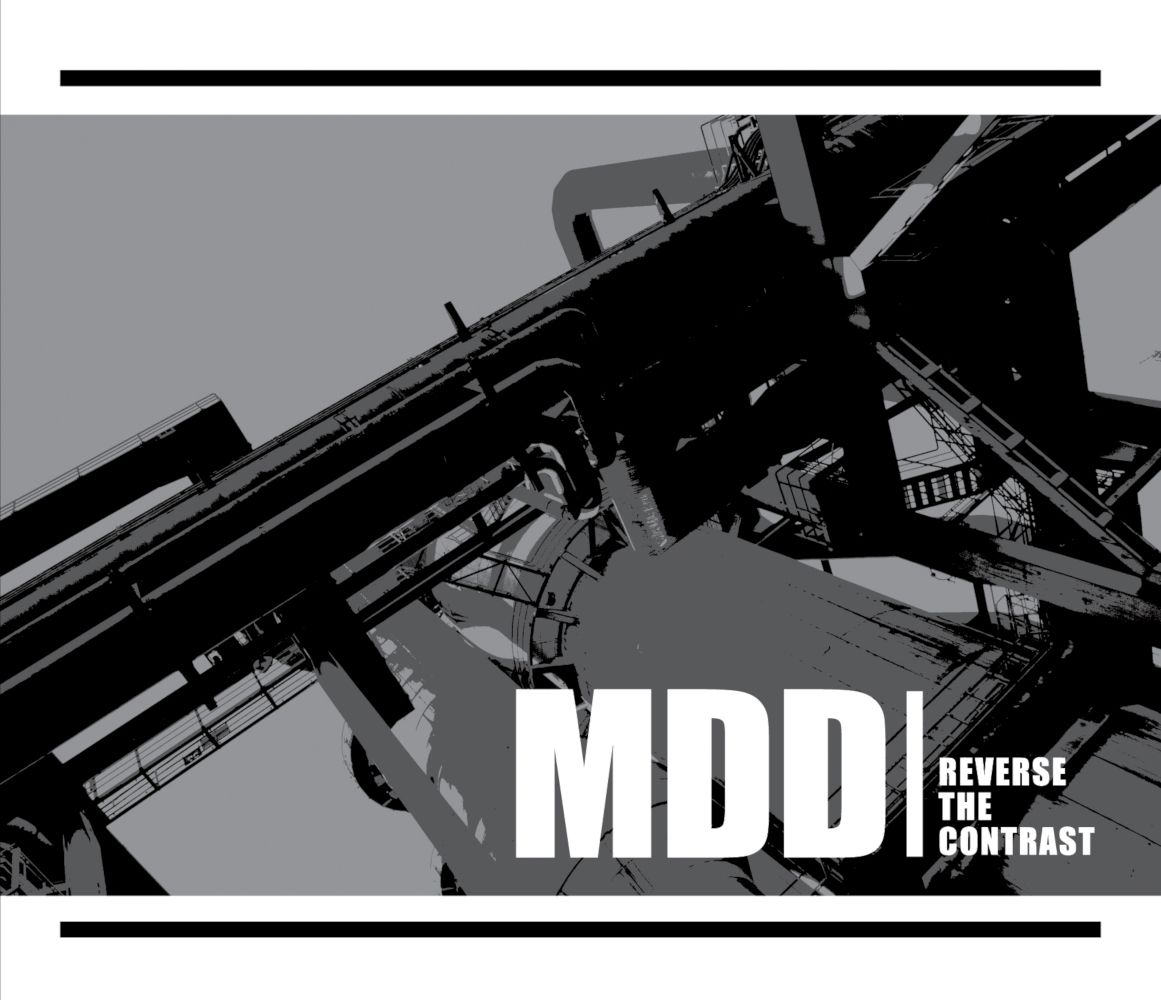 MDD - Underlight
Canadian duo MDD present their latest full-length offering 'Reverse The Contrast' on HANDS Productions, delivering more of their signature hard-hitting drum rhythms, undulating basslines and raw punk aggression. This pair, comprising individual producers Measure Divide and Dolgener, build upon two 12" vinyl releases with this latest heavy effort, expertly blending industrial, techno and post-punk influences.
Toronto-based Measure Divide, the solo project of pioneering techno producer Fahad Ahmad, has been pushing the boundaries of techno music for over a decade at the same time as founding his events brand Format, which has counted names such as Jeff Mills and Ben Sims amongst its many bookings. Dolgener favours a trippier sound, often avoiding the four/four techno trope in favour of hypnotic beats that swerve their way through his songs, creating everything from indie electronic to harsh industrial music. These two together form part of the new wave of industrial techno, delivering their take on the genre in an endlessly diverse array of sounds and meticulously curated production.
We begin with 'Intro', a throbbing hum that gets into your head and sets the stage for what is yet to come, which then segues into 'Crushed'. Noise bubbles up and gives way to blast beats, from which an erratic noisy rhythm forms before breaking down into industrial riffs and a clanging undercurrent. The first bars of 'Underlight' then launch us into a pounding cycle of noise urged on by mechanical voices, which evolves into an ultra-kinetic cycle of drums. 'Grind' delivers a slower start and builds a sense of foreboding, then breaks into an echoing beat with an unrestrained sense of drive. This beat gallops forward into 'Breath' as drums rumble beneath, accompanied by a harshly mechanised vocal track. 'Valium' is far from the sedating effect that the name would imply, instead allowing a powerful rhythm to break free of an all-encompassing noisescape of screamed vocals and ringing harsh noise. Blasts of raw sound permeates throughout, combining into an awe-inspiring techno hit.
A double drum kick then flings us into the raw aggression of 'Submission', co-produced withFormat rave resident, producer and vocalist AADJA, whose mysterious vocal work flows from enigmatic harsh delivery to ethereal voices that float over the top. 'Second Injection' launches forwards with frantic beats undercut by buzzing synths, and its undeniable sense of momentum will make you unable to keep still even for a second as it blasts you with raw energy. 'Transition Pull' shows no mercy as driven, relentless drum rolls carry you through the bleak but all-powerful industrial landscape of the track. As it draws to a close, feel yourself be drawn into the world that 'Dives' creates, spiralling between euphoric highs and intense, gripping lows. To close the album,MDD launch an all-out assault with every weapon in their arsenal in 'Still Frame', harking back to elements of old-school industrial music whilst effortlessly maintaining their own sonically fresh interpretation.
This release is brought to you by HANDS Productions, a pioneering label dating back to the mid-90s with over 300 releases to its name. The label is known for discovering the most exciting new artists all across the electronic music spectrum, and counts names such as Ancient Methods, Orphx and End.User amongst its impressive roster. They will release MDD's 'Reverse The Contrast' on digital platforms and in a run of CDs on the 8th of March 2019.
CD: www.handsproductions.com/mailorder.asp
Digital: www.handsofficial.bandcamp.com
Tracklist:
01. Intro
02. Crushed
03. Underlight
04. Grind
05. Breath
06. Valium
07. Submission (feat. AADJA)
08. Second Injection
09. Transition Pull
10. Dives
11. Still Frame
MDD socials:
https://www.residentadvisor.net/dj/mdd
https://www.facebook.com/mdd.noise
https://soundcloud.com/mdd_noise
HANDS socials:
https://www.residentadvisor.net/record-label.aspx?id=11550
https://www.discogs.com/de/label/1877-Hands-Productions
https://www.facebook.com/hands.official
https://handsofficial.bandcamp.com/
http://www.handsproductions.com/