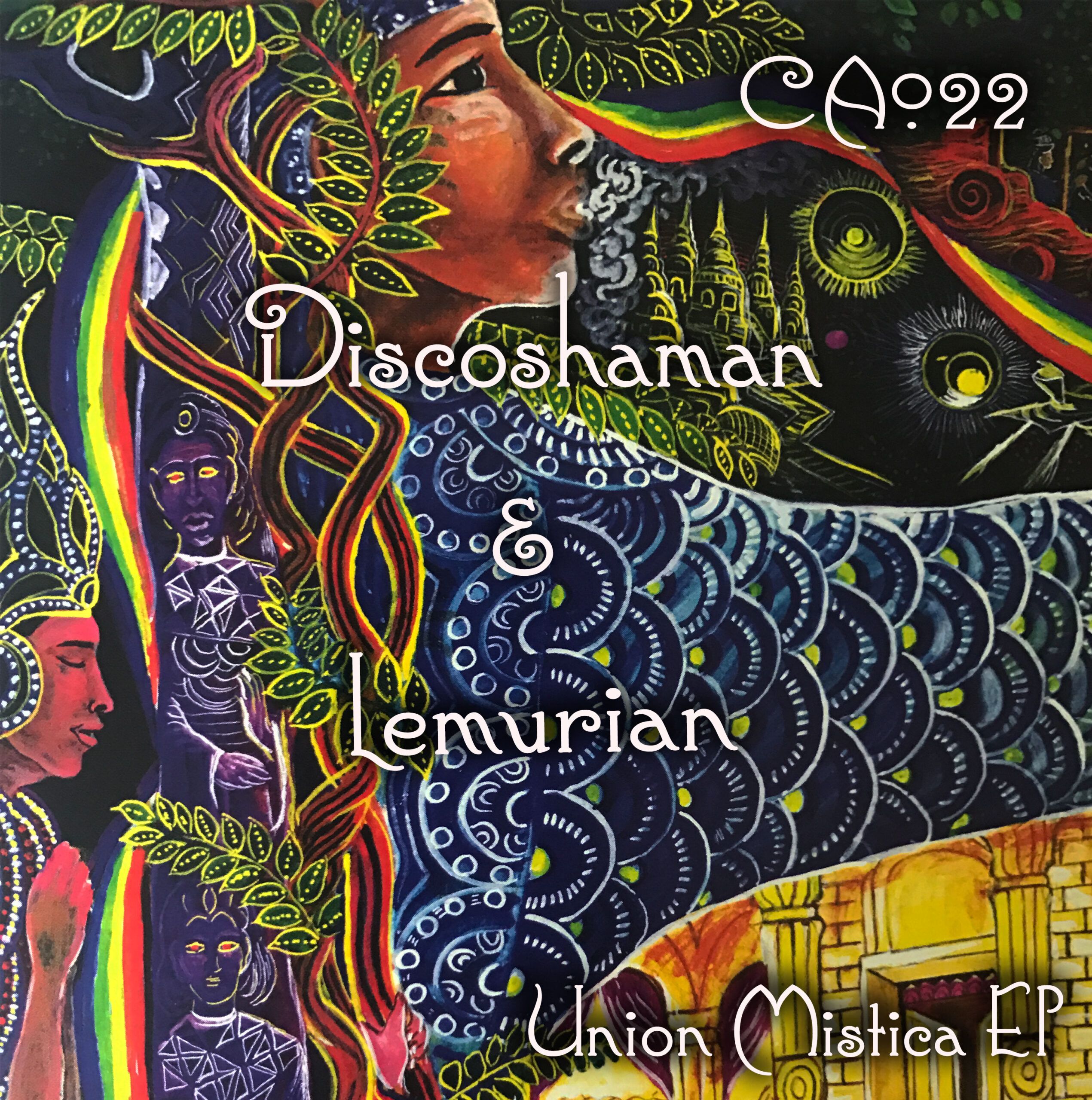 Discoshaman & Lemurian - Union Mistica
Discoshaman from Denmark makes music informed by the shamanic history of using rhythm for healing. His sonic therapy comes with catchy melodies and lands on labels like Cosmic Awakenings & Stingray Vision. Here he links with Lemurian who is part of the new movement called "Spiritual Electronic" and who uses organic sounds in his sets to make people feel grounded.
This adventurous EP started with the connection of two individuals with the same music perspective but living in different parts of the world, Lemurian from Miami and Discoshaman from the Danish capital of Copenhagen. They connected via the online music system 'Splice' which, for those that are not familiar with it, is a cloud platform for music creation, collaboration and sharing which meant that these producers have never met in person before but just by feeling the same music connection they started using this technology to create and share their gifts with the world. Lemurian affirms that "Technology well used can create more bridges in between creatives." And from that blueprint was born 'Union Mistica'
This miraculous EP opens with the title track "Union Mistica", a new age melting pot of string sounds, undulating drums and tender piano notes. Foreign tongue opera female vocals lend an exotic feel up top and the whole thing casts a beautiful spell as you get lost in amongst it all.
Then comes the splendid "Sufi spin", a perfectly loose and organic groove with bird calls, elastic beats & tribal calls all stitched together. the result of this intoxicating and escapist as it takes you deep into some steamy jungle then woos you with synth smears, trippy pads and bold bass.
Remixing is a main man at the Amselcom label, aka German Rafaele Castiglione who plays all over the world and is part of the Nuernberg based event series La Ola Electronica. His plodding version has a lazy feel that lulls you into a trippy state as claps, watery droplets and heavenly chords all elevate things to a higher spiritual plane.
The last Remix is of "Union Mistica" and is from Rodrigo Gallardo, a composer, musician and producer of the renowned band Matanza. His version is an experimental fusion of sound designs, folkloric strings, ancient winds, hypnotic drums and elongated synth lines that are beautifully slow and purposeful.
This is a fascinating EP that is coloured with plenty of heady and organic world sounds.
Tracklist:
1. Union Mistica (Original Mix)
2. Sufi Spin (Original Mix)
3. Sufi Spin (Rafaele Castiglione Remix)
4. Union Mistica (Rodrigo Gallardo Remix)