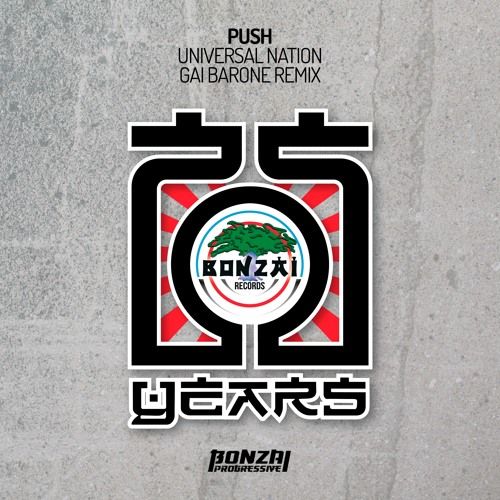 Push - Universal Nation – Gai Barone Remix
Next up in Bonzai Progressive's series of remixed classics, celebrating their 25th year is a contemporary take on one of their most recognisable anthems from back in the day. Progressive maestro Gai Barone takes the driving seat on this one as he delves deep into the anatomy of 'Universal Nation', penned in 1998 by a stalwart of Belgian trance – Push.
From the very first play out, this one became an instant classic with its soaring synths, chugging bassline, swirling melodies and driving beats. It quickly gained a massive worldwide following as it spearheaded a burgeoning scene creating a multitude of hands in the air moments for the masses.
Overwhelmed by the response, Push aka M.I.K.E. soon found himself travelling the world and playing out in front of thousands, both as a DJ and using a live band set-up. The track also spawned a plethora of remixes from a wide range of artists including Ferry Corsten and Oliver Lieb among others. In 2016, 'Universal Nation' was voted number 1 on Studio Brussel's The Greatest Switch Top 100 tracks which, stands as a testament to the high regard this track and its creator is held among music lovers.
While release date is scheduled for March 13th, you can have an exclusive listen here on iHouseu.
Gail Barone Online
https://www.facebook.com/gaibarone
https://twitter.com/GaiBarone
https://soundcloud.com/gai-barone
https://www.instagram.com/gaibarone
https://www.youtube.com/user/gaibarone
Bonzai Progressive Online
http://www.bonzaiprogressive.com
https://www.facebook.com/bonzaiprogressive
https://twitter.com/bonzaimusic
https://soundcloud.com/marnikbonzai