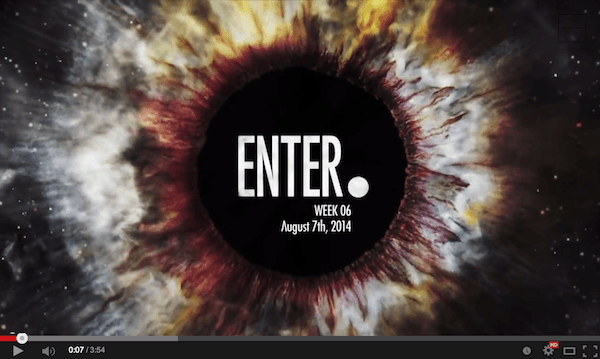 Upcoming at ENTER.
Having established itself as one of the biggest nights in Ibiza over the last few years, ENTER. continues to re-invent itself, drawing in the crowds every Thursday night with Richie Hawtin curating four rooms built on the principles of music, sake, technology and experience. Take a look at the highlights from Week 6 which includes an interview with ENTER. resident Recondite.


With 8 weeks left to go, the line-up at ENTER. continues to impress. Tonight, japanese Sake bar ENTER.Sake takes centre stage from 9pm as Richie Hawtin opens the evening with a special early set. Over in the main room, Minus friends Hobo and Matador will both perform before Hawtin steps up for his second set of the night. The famed Space Terrace will play host to ENTER. resident Nina Kraviz plus Magda, Barem and Bella Sarris whilst ENTER.Mind will deliver cutting-edge experimental electronic music from Voices From The Lake and Matthew Hawtin.
Highlights coming up over the next few weeks include Richie Hawtin and Sven Väth performing in the main room on August 21, an exclusive all night long set from Dixon on August 28 and an all night long session on the terrace from Parisian trio Apollonia on 18 September. Other guests scheduled to play at ENTER. throughout August and September include Etapp Kyle, Guy Gerber, Luke Hess, Mano Le Tough, Marcel Dettmann as well as residents Nina Kraviz, Maya Jane Coles, Maceo Plex, Recondite, Tale of Us, Dubfire, Gaiser, Matador, Matthew Hawtin, Paco Osuna and Hito.
ORBIT, an interactive music installation in the ENTER.CNTRL room, transforms the party experience on Space's open-air roof terrace, by placing the music directly in hands of partygoers from around the world. This large circular instrument contains six unique slices, each allowing anyone to take over and manipulate one aspect of the mix. The area also features a section to test the Subpac – a tactile sound device that adds onto your normal headphone or speaker listening experience of music, adding lower frequencies to the music and reconnecting you to a full spectrum sound experience, which neatly ties into the ENTER. ethos of MUSIC & EXPERIENCE. ORBIT is designed by Ean Golden and DJ TechTools, who are the worlds leading experts on DJ technology and music hardware and the area is supported by Red Bull.
ALL ACTS FOR ENTER.2014
ADAM BEYER. ALEX UNDER. AMBER. APOLLONIA. ARTEFAKT. ATEQ. BAREM. BELLA SARRIS. BLOND:ISH. CHRIS LIEBING. CHRISTIAN SMITH. CLAUDE VON STROKE. DANIEL MILLER. DEEPBASS. DEEPCHORD. DIXON. DJ TENNIS. DUBFIRE. E/TAPE. EAN GOLDEN. ETAPP KYLE. FABIO FLORIDO. FERNANDO COSTANTINI. GAISER. GUTI. GUY GERBER. HEIDI. HITO. IDA ENGBERG. JACKMASTER. JOHN ACQUAVIVA. JORAN VAN POL. JOSH WINK. JPLS. JULIAN JEWEIL. JULIAN PEREZ. LUCIANO. LUKE HESS. MACEO PLEX. MANO LE TOUGH. MARC FAENGER. MARC HOULE. MARCEL DETTMANN. MARKUS GUETNER. MARTIN BUTTRICH. MATADOR. MATTHEW HAWTIN. MAYA JANE COLES. NESS. NINA KRAVIZ. PACO OSUNA. PETAR DUNDOV. PYE CORNER AUDIO. RANDALL M. RECONDITE. RICHIE HAWTIN. SETH HODDER. SOUTH LONDON ORDNANCE. SVEN VÄTH. TALE OF US. THE JASS. tINI. TM404. VINCE WATSON. VOICES FROM THE LAKE
ENTER.2014
Explore. Discover
Week 7 August 14
Main. Richie Hawtin, Matador, Hobo
Terrace. Nina Kraviz, Magda, Barem, Bella Sarris
Sake. Richie Hawtin, Ean Golden, Hito, Fabio Florido
Mind. Voices From The Lake, Matthew Hawtin
CNTRL. Interactive Technology Area
Week 8 August 21
Main. Richie Hawtin, Sven Väth
Terrace. Maceo Plex, Claude VonStroke, South London Ordnance
Sake. Dubfire, Hito, Bella Sarris
Mind. Luke Hess, Alex Under
CNTRL. Interactive Technology Area
Week 9 August 28
Main. Richie Hawtin, Gaiser, Paco Osuna
Terrace. Dixon (all night long), Bella Sarris
Sake. Claude VonStroke, Hito, Bella Sarris
Mind. Pye Corner Audio, Etapp Kyle
CNTRL. Interactive Technology Area
Week 10 September 4
Main. Richie Hawtin Vs. Dubfire, Christian Smith, Paco Osuna
Terrace. Mano Le Tough, Guti, Blond:ish
Sake. tINI, Hito, Bella Sarris
Mind. Artefakt, The Jass.
CNTRL. Interactive Technology Area
Week 11 September 11
Main. Richie Hawtin, Recondite, Dubfire
Terrace. Nina Kraviz, Guy Gerber, Julian Perez
Sake. Gaiser Vs. Matador, Fabio Florido, Hito
Mind. Ness, Matthew Hawtin
CNTRL. Interactive Technology Area
Week 12 September 18
Main. Richie Hawtin, Adam Beyer, Paco Osuna
Terrace. Apollonia (all night long), Bella Sarris
Sake. Maya Jane Coles, Hito, Bella Sarris
Mind. Markus Guentner, Matthew Hawtin
CNTRL. Interactive Technology Area
Week 13 September 25
Main. Richie Hawtin, Matador, Chris Liebing
Terrace. Maceo Plex, Heidi b2b Jackmaster, Amber
Sake. Tale Of Us, Hito, Bella Sarris
Mind. Deepchord, JPLS
CNTRL. Interactive Technology Area
Week 14 October 2
Main. Richie Hawtin, Gaiser, Marcel Dettmann
Terrace. Maya Jane Coles, Nina Kraviz, Tale Of Us, Bella Sarris
Sake. Paco Osuna, Hito, Fabio Florido
Mind. Recondite, Ateq
CNTRL. Interactive Technology Area
ENTER. Tickets
€5 discount for anyone with the ENTER. black dot logo on their body
Before 2200h 15€ (10 w dot)
Before 2300h 30€ (25 w dot)
Before 0000h 40€ (35 w dot)
After 0000h 60€ (55 w dot)
Advance Tickets priced at €50 available from Space Ibiza and Resident Advisor
ENTER. Opening Hours
ENTER.Sake 21.00h – 6.30h
ENTER.Terrace 23.30h – 6.00h
ENTER.Mind 23.30h – 5.00h
ENTER.CNTRL 00.30h – 6.00h
ENTER.Main 00.00h – 6.30h
ENTER. Location
Space Ibiza, Playa d'en Bossa, s/n 07817 Sant Josep de sa Talaia, Ibiza.
T: +34 971 39 67 93
http://www.ENTERexperience.com